What Brian Laundrie's Sister, Cassie, Has Said About Seeing Him Amid Gabby Petito Case
Brian Laundrie's sister, Cassie Laundrie, is being accused of making conflicting statements about her interactions with her brother amid the disappearance and murder of his fiancée, Gabby Petito—but she denies she ever hid anything.
Laundrie, a person of interest in Petito's death, was reported missing on September 17, days after his parents said they last saw him. He never spoke to police before he vanished and he and his parents faced criticism for not helping law enforcement locate Petito, as her family considers it suspicious.
The one family member who has spoken out about the situation is Cassie, who's given multiple interviews and addressed the situation with protesters outside her house.
In an interview with Good Morning America that aired in September, Cassie said that she'd been cooperating with police "every way that I can." She added that she wished she had more information, but gave the police everything she has.
She also said that she hasn't "been able to talk to him," in reference to her brother.
"I wish I could talk to him. I know that it's all because the lawyers are advising them not to say anything," Cassie said.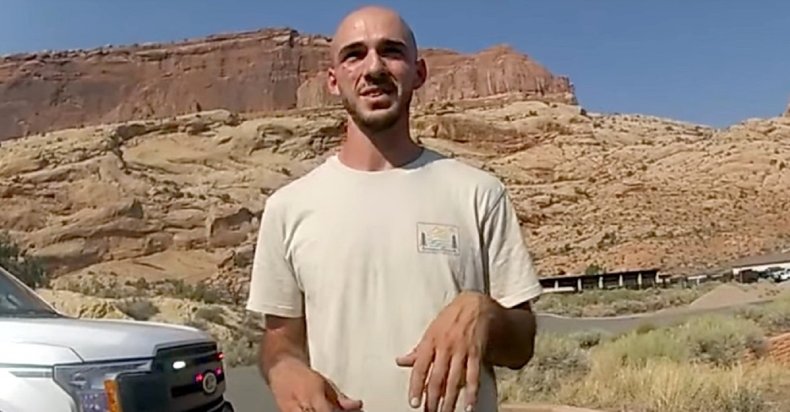 Petito's body was found in Wyoming in late September and the FBI confirmed the cause of death was homicide. They encouraged anyone with information about Laundrie's location or Petito's death to come forward and share what they know with law enforcement.
Her disappearance garnered national attention, as she'd been chronicling her trip with Laundrie on social media. The two had gotten into an argument days before Laundrie made his way back to Florida, where the couple lived. Although the pair left on the road trip together, Laundrie returned without Petito, an occurrence that struck her father, Joseph Petito, as extremely odd. Even if they got into an argument and Laundrie left her behind, Joseph told Dr. Phil that he would have expected her fiancé to let her family know so they could bring her home.
At the time of the Dr. Phil interview, Petito's body had yet to be found and her father called on Laundrie's parents, who lived at the same house as the couple, to help with the search for his daughter.
Protesters have been targeting the Laundrie family in an attempt to pressure them to speak out about what, if anything, they know about Laundrie's whereabouts or Petito's murder. That includes Cassie, who told protesters outside her home that she didn't know if her parents were involved.
She also told protesters that she joined her family for a camping trip at Fort De Soto on September 6. She said they arrived around 2 p.m. and left around 8 p.m. because the "kids had school."
She confirmed that her brother was with her parents when she arrived at Fort De Soto, but she denied he said anything about Petito.
"Nothing came up," she said. "We've told the FBI everything...the world does not need to know what the FBI knows."
In an interview that aired Tuesday on Good Morning America, Cassie confirmed the last time she "physically saw" and "physically spoke" to her brother was on September 6. She added that she's tried to reach out to him but has been unable to get ahold of him because his phone went to voicemail.
Again, she said there was "nothing peculiar" about the family's behavior on September 6.
"There was no feeling of grand goodbye," Cassie said. "I'm frustrated in hindsight that I didn't pick up on anything."
Some took the admission that Cassie saw Brian on September 6 as a contradiction of her initial comment that she hadn't "been able to talk to him." However, Steven Bertolino, the Laundrie family attorney, told NewsNation that any previous comments that don't reflect her seeing Brian at her home on September 1 and at Fort De Soto Park on September 6 is "simply a difference of relating an answer to a question misinterpreted by Cassie or poorly posed by the inquirer."
Cassie told Good Morning America that there was nothing secretive about the family outing and that she told police about it right when she learned about Brian's disappearance.
"It was not hidden from law enforcement," she said. "I've been cooperating with the police from day one."