What Businesses Are Affected by Los Angeles' Strict Vaccine Mandate?
The Los Angeles City Council approved a new COVID-19 vaccine ordinance on Wednesday, which is expected to impact numerous businesses across the city.
The ordinance will mandate that businesses such as indoor restaurants, gyms, bars, shopping centers, movie theaters, hair and nail salons and other entertainment venues, require patrons to show proof of full COVID-19 vaccination before entering. The ordinance will also apply to bowling alleys and museums.
The ordinance does not apply to grocery stores and other retail establishments, according to local news station KABC-TV. Under the city's new ordinance, events with more than 10,000 people, such as sports games and concerts, will require patrons to show proof of the COVID-19 vaccine or a negative COVID-19 test, the outlet reported.
The ordinance, which received an 11-2 vote of approval, is set to go into effect on November 4.
Under the ordinance, patrons can still show a religious or medical exemption instead of proof of vaccination. If a patron chooses to provide a vaccine exemption, the business will be required to notify them that they can only use outdoor facilities. If a business does not have an outdoor area, it must require the patron to show a negative COVID-19 test.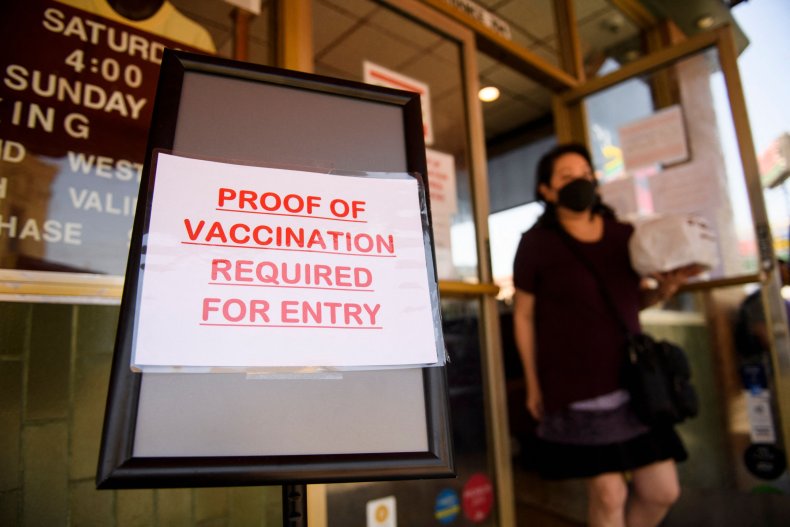 Any indoor business that violates the COVID-19 vaccine requirements under the ordinance will face a warning for the first violation and then increasing fines for subsequent violations. If a business violates the ordinance four times, it will face a $5,000 fine.
The ordinance also applies to city-owned facilities. However, it states that those who are unvaccinated will be given "alternative arrangements for access to government services," according to the Los Angeles Times.
Los Angeles County previously imposed a COVID-19 vaccine mandate for employees and customers of indoor bars, wineries, breweries and distilleries.
Councilman Paul Krekorian previously disputed arguments in opposition to the ordinance saying, "Nothing in this ordinance requires you to go and get vaccinated at all," the LA Times reported. Krekorian noted that there are some places in the city that "you will not be allowed to go to put other people at risk."
"You have rights. You have liberties. But with those rights and liberties come obligations to protect fellow members of your society as well," Krekorian added.
In a statement sent to Newsweek, Los Angeles Mayor Eric Garcetti said, "These new rules will encourage more people to get the shot, and make businesses safer for workers and customers—so that we can save more lives, better protect the vulnerable, and make our communities even safer as we fight this pandemic."
"Vaccinating more Angelenos is our only way out of this pandemic, and we must do everything in our power to keep pushing those numbers up," he added.
In August, New York City became the first city in the U.S. to impose a COVID-19 vaccine mandate for employees and patrons of indoor restaurants, entertainment venues and gyms.