What Busta Rhymes Has Said About COVID and Mask Mandates
Busta Rhymes' rant about masks went viral this week after the rapper blasted mask mandates on stage.
The "Break Ya Neck" hitmaker went on a rant against the pandemic and the "little weird-a** government policies" that came with it in a show earlier in the summer.
"This is my second show in front of human life in the last 15 f****** months," he said at the Seoul Taco's 10th-anniversary block party in Missouri back in June.
However, the rant went viral again this week, prompting controversy on social media.
The rapper—whose real name is Trevor George Smith Jr.—was filmed complaining about the mask mandate in an expletive-filled rant at the gig.
"COVID can suck a d***. All these little weird-a** government policies and mandates [can] suck a d***," he said.
He claimed that the government was trying to "take our civil liberties away" by imposing the wearing of masks.
"It's called the God-given right of freedom, right?" he continued. "No human being is supposed to tell you that you can't even breathe freely. F*** your mask. ... Some of y'all might feel differently, but f*** your mask.
"I can't rhyme to you with a mask on. We can't eat food with a f***** mask on. We can't even see each other's smiles with a mask on."
He then discussed how mask wearing has impeded him from flirting.
"I come from a time where before I used to even want to holler at a chick," the 49-year-old New Yorker continued. "I used to have to do shit with my face to let her know that I'm into her. But all of that energy gets blocked when your mask is on. Energy is important, and we are all conductors of f***** good energy."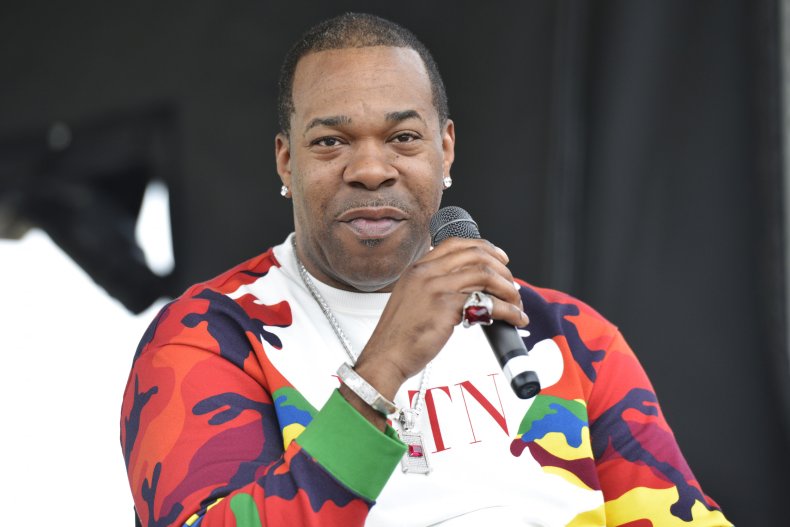 Busta finished his rant by apologizing for getting "a little political."
A clip of the rapper's speech has prompted a discussion on Twitter, with some criticizing him for being "irresponsible."
Journalist Ernest Owens labeled Busta "dumb" for his anti-mask rant.
"Busta Rhymes is dumb AF for this," he tweeted. "The reason why you're 'back outside' is because people like me are wearing masks and getting vaccinated to help bring these numbers down compared to last year. Had we followed your advice from the jump, more people would be dead."
While TV host Joy-Ann Reid tweeted: "As an O.G. @BustaRhymes fan this is so disappointing. Black Americans are dying disproportionately from COVID. And they're being bombarded with disinformation on social media and from influencers who are NOT DOCTORS OR SCIENTISTS. Below are the right questions. #getvaxxed #maskup."