Andrew W.K., John Legend and Caligula on How to Throw a Party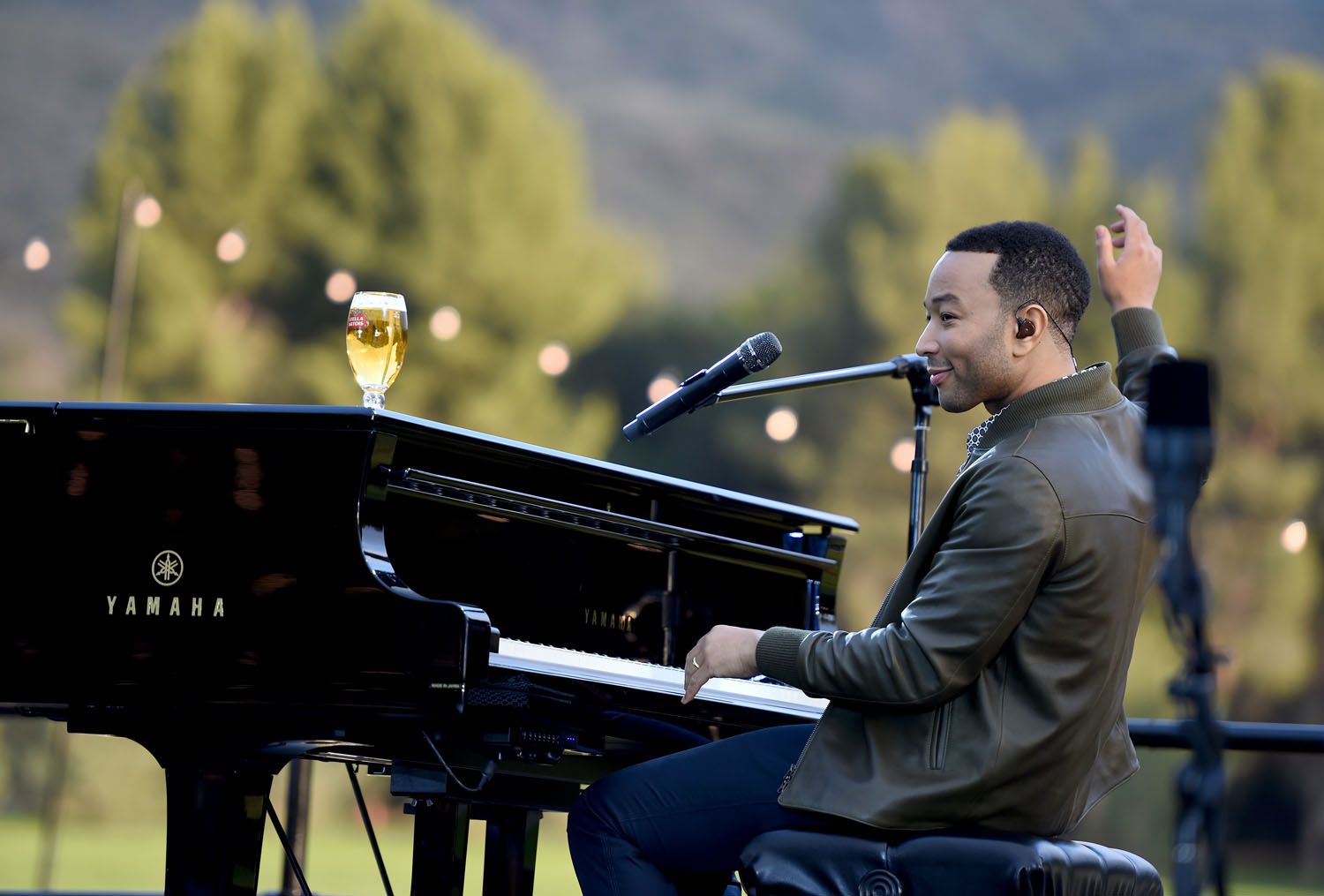 Caligula was the original king of partying. The Roman emperor (A.D. 37–41) was infamous for hosting lavish orgies, but he often made his guests uncomfortable. At one bash, the notoriously cruel ruler supposedly laughed to himself. Asked what was so funny, he said, "If I nodded once to my guards, I could have all your throats cut."
Andrew W.K. must fancy himself the modern-day heir to Caligula, in the sense that he calls himself the "king of partying." The "Party Hard" singer, Village Voice advice columnist and part-owner of New York's Santos Party House has gone viral by tweeting "party tips" to his 322,000-and-counting followers. ("PARTY TIP: Wearing mismatched socks is perfectly party.") The reigning king doesn't think Caligula's approach made for great soirees. "There's only one rule of partying," he tells me over the phone from Los Angeles. "Do what you want as long as it doesn't impinge on someone else's ability to party the way they want."
Sean "Puff Daddy" Combs wouldn't agree. In 2004, the rapper and White Party host threw a 29th birthday bash for himself that he called the "Greatest Party of All Time." He sent the 1,500 invitees an extensive all-caps list of rules titled "THE PARTY POLICY," which included a mandatory dress code ("IF YOUR SHOES ARE SCUFFED YOU'RE GOING TO HAVE A PROBLEM") and grooming tips (for ladies: "HAIRDOS, WAXING, MANICURES AND PEDICURES" were a "MUST"). In a postscript, Puffy warned: "DO NOT DISTURB THE SEXY."
Which brings us to singer-songwriter John Legend, who has not only been to Combs's parties, but also affirms that the rapper is a splendid host and "his reputation is deserved." Legend says Combs makes guests feel like they are the Chosen. "When you feel like you're lucky to be at a party, you enjoy it more," says Legend. The downside? "That approach could backfire if guests feel too nervous and hold back." There's a fine line between disturbing the sexy and letting it be.
Last week, Legend dipped a toe into the modern party-etiquette discussion. He partnered with Belgian beer company Stella Artois to launch "Host Beautifully," an ambitious campaign to redefine hosting for an Age of Oversharing in which the smallest party blunder becomes #PartyFoul.
The program kicked off with a shindig at Disney's Golden Oaks Ranch in Santa Clarita, California, where guests sat and posed in front of rustic landscapes, nibbled a six-course meal with five-fork place settings, listened to Legend's piano stylings and floated in hot-air balloons. Alas, Legend's supermodel wife, Chrissy Teigen, was not invited: She has her own campaign with competitor Captain Morgan.
So how, exactly, was Stella Artois inspiring beautiful hosting? First, by picking up the entire tab. Most guests arrived from Los Angeles in town cars and limos, compliments of the beer company. Few knew Legend would be playing. The invitation mentioned only "a special acoustic performance by an award-winning musician." Evidently, even the possibility of Vanilla Ice singing a cappella didn't deter 300 freeloaders from showing up. An open bar and hot-air balloon rides were the vanilla icing on the cake.
Though there was a red carpet, no marquee celebs walked it. Ricardo Marques, vice president of high-end marketing at Anheuser-Busch, says all the invitees were "influencers." Meaning bloggers, sometime-actors and assorted PR flacks. About the only faintly recognizable face belonged to Gregg Sulkin, the heartthrob from MTV's bi-curious teen series Faking It. Too bad the Teen Choice nominee's million Twitter followers are below the legal drinking age.
Back to the Future fans recognized the setting as the Peabody Farm, and vermin fans, as the backdrop from the mangy 2014 horror film Zombeavers. Stella Artois transformed the back lot into a mise-en-scène suitable for a prep school prom. One partygoer even posted "Beer prom, here we go!" on Instagram. Fortunately, there were plenty of opportunities to get tanked: Meringue-topped chalices of brewski were handed from a stainless steel truck to servers outfitted in what looked like Vampire Academy uniforms.
The more the influencers drank, the more they snapped pictures. They posed together in the field amid red-and-white flower arrangements and red-and-white upholstered chairs (Stella Artois High's school colors). "Official" photos were taken in a covered space decked out like a barn, except with a white leather couch, a chandelier and a croquet set. Influencers who forgot their selfie sticks could sample the shots taken by the drones whirling overhead.
The invite advised to dress "casual chic," and influencers (mostly 20- and 30-somethings) dolled themselves up like festival season VIPs. Women piled on enough silver necklaces to ransom Cleopatra while men donned fedoras and finely knit baseball caps. "Are we at Coachella, weekend 72?" asked a shivering blond model I met at the phone-charging station.
"More like Cold-chella," cracked her guy. He looked more like limoncello, with a swath of bleached yellow hair tied up in a man-bun.
This chicly casual couple meshed perfectly into the revelers and seemed to have an undeniable connection, at least where Wi-Fi was concerned. Throughout the festivities, Robesman and Vape Teen incessantly posed for selfies and posted updates to Twitter. Ironically, Vape Teen kept asking other influencers to light her Marlboros.
Asked about the difference between parties now and in previous epochs, Marques, the marketing exec, said: "Today, you can post it on Facebook." So what's the diff between party hosting and Web hosting?
About an hour into the event, we influencers chowed down with TV chef Aliya LeeKong. Her spread was close-up ready: The first few courses were so brightly hued that even a Valencia filter couldn't tone them down.
Vape Teen and Robesman got tweety the moment they spied the table.
#HostBeautifully pic.twitter.com/Hi1v0UmvZF— robesman (@robesman) May 19, 2015
During course No. 2, Legend made his entrance at an ersatz stage in front of the dining area. Turns out the "All of Me" singer is the ultimate selfie backdrop. Vape Teen and Robesman trained their iPhone cameras on "Ledge" (as Robesman called him on Twitter) and his baby grand. On Vine, @Robesman posted, "Watching a guy make $250,000 in 15 mins dam." While filming Ledge's performance, @Robesman revealed an influencer smartphone photo trick: "It's important to zoom your phone camera in and out because a guy playing piano by himself is kind of a boring." Clearly, Host Beautifully had already taught Robesman a great deal about how to give parties more pizzazz.
From that point in the festivities, things only went up. But not by much. Legend had tweeted that the balloon ride would "take hosting to new heights." Regrettably, those heights were only about 15 feet off the ground. Both the wait and the queue were endless. @Robesman captured the entire airborne experience in an eight-second Vine video. After her reentry to Earth, Vape Teen tweeted, "Also went on a hot air balloon." Vape Teen knows from hot air.
When I tell Andrew W.K. about my experience at the Stella Artois party, he says the Digital Age of partying is turning surreal. "It's almost as if the idea of participating in a party is more important than actually going there," observes the 21st century king. For his part, he's still partying like it's 1999. Literally. He says that, with rare exception, he's worn white Levis and a white T-shirt every day since that fateful pre-millennium year. He has so many pairs of white jeans that he rented a storage facility to hold the overstock.
Nearly 2,000 years before Instagram, Caligula achieved renown for his display parties. His tables were sets of culinary theater. He presented guests with unpalatable dishes like pure gold loaves of bread, meat shaped into statues of lions and elephants, and seafood dyed blue to seem like it was still in the ocean. And if his catering didn't get enough likes? The emperor had more old-school ways to inspire better hosting. Caligula was nothing if not cutting-edge.