What Is Caravan Paranoia? Border Militia Movement Torn Apart by Conspiracy Theories: Report
The armed and unregulated militia groups making their way to the southern border in anticipation of the arrival of thousands of Central American migrants have tried to put on a united front, claiming to be brought together by a common cause: stopping illegal immigration.
But a recent report by the Southern Poverty Law Center tells a different story of "infighting and backstabbing" between militia groups and border vigilantes who have been driven towards the border largely by unfounded rumors about Central American migrants.
From rumors that the caravans of Central American asylum seekers could include "Islamic militants," or be "secretly trained by the United Nations," "funded by billionaire George Soros" or overrun by "MS-13" gang members, militia members appear to have heard it all—and they believe it. And many of those rumors have been spread by the man they view as their commander in chief: President Donald Trump.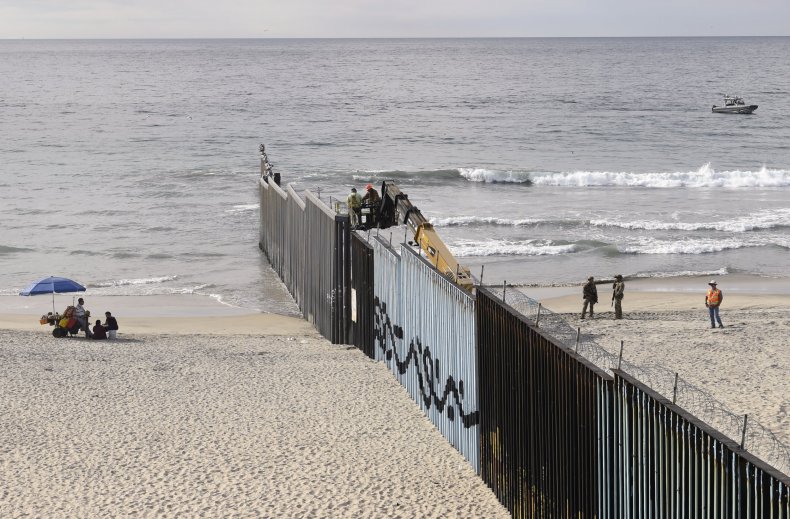 "Our information comes from the very top," self-proclaimed border militia leader Johnny Horton Jr., whose real name is Larry Mitchell Hopkins, told the SPLC in a late October interview.
While Hopkins, who calls himself the national commander of the United Constitutional Patriots militia group, wouldn't say where exactly his information was allegedly coming from, he said it came from "very high agencies."
'If we're fired on...we will fire back'
But whether it be from sources at the top, or from online platforms spreading conspiracies about the caravan, Hopkins said he views the unfounded rumors about caravan members as facts, despite the reality that many have fled their home countries over fears of violence and political and economic instability.
Hopkins appeared to suggest that he expected violence at the border, telling the SPLC that he had been "pre-warned" by "very high level" law enforcement sources that "armed groups" were "planning on flanking us...to shoot us."
"If we're fired on," he said, "we will fire back."
His comments reflect Trump's own warnings that the thousands of military troops he has deployed to the southern border in anticipation of migrants' arrivals would "fight back" if clashes were to break out at the border.
"I hope there won't be that, but I will tell you this: anybody throwing stones, rocks, like they did to Mexico and the Mexico military Mexican place, where they badly hurt police and soldiers of Mexico, we will consider that a firearm," Trump said earlier this month.
'Keyboard commandos' and 'Walmart warriors'
But while militia leaders like Hopkins claim to be prepared for armed combat at the border, others, such as Robert Crooks, who leads the Mountain Minutemen—a group founded more than a decade ago with the self-assigned mission of keeping watch of the southern border—say much of it is all talk.
As militia groups claimed to be sending hundreds to the southern border, Crooks told the SPLC in late October that he was completely alone standing watch, despite receiving online support and financial donations.
"I'm alone right now. I don't have anybody," Crooks said. "It's all lip service, you know? These keyboard commandos, these Walmart warriors, they go down to Cabela's and buy all these s****y looking goods—stuff to make 'em look good in the mirror."
Splitting ties
After hearing Crooks' comments, Jim Peyton, a self-proclaimed militia "general" of another border watch group called the Patriots of the Constitution, which claims to work in conjunction with Mountain Minutemen, seemed slighted.
"Really? Really? OK," he told the SPLC. "It cost me over a thousand dollars out of my own pocket just to get down here. So what kind of a keyboard warrior is that?"
"I don't know why he would say that when we just sent him money!" Peyton said.
But Crooks' Mountain Minutemen wasn't the only group Peyton's Patriots of the Constitution appeared to have fallen out with.
Peyton told the SPLC his group had also "split ties and affiliation" with Hopkins' United Constitutional Patriots."
"We don't deal with them any longer," he said. "And we have our own reasons for doing so. And I just can't get into that with you."
Read more: Border troops preparing for threat of armed, unregulated militias, leaked documents show
Then, less than a week after speaking with the SPLC, Peyton announced yet another departure: his own, from Patriots of the Constitution.
"I, General James F, (sic) Peyton, do hereby submit this letter of resignation to General Terry Kelley of the Patriots of The Constitution," he wrote, according to the SPLC. "I will still retain the rank of General that was given to me by (sic) former Commander, prior to General Kelley, and will be willing to assist any Patriot group in need of assistance."
Despite all the infighting and apparent disorganization within and between militia groups, the Pentagon has had the armed and unregulated militias on its radar, as Newsweek revealed in a recent report.
An intelligence assessment prepared for Pentagon officials by the Joint Force Land Component Commander Threat Working Group in late October, which was obtained by Newsweek, showed that the Defense Department anticipated encounters with militia members, asserting that they "operate under the guise of citizen patrols supporting CBP [Customs and Border Protection]."
The documents, which were marked as "UNCLASSIFIED//FOUO//LES," meaning, the documents are for official use only and are law enforcement sensitive, suggested that officials consider "when and where" unregulated militias might "pose a threat" to forces.