What Caused the California Fires? Evacuations Underway as Nearly 450,000 Acres Burn
Nearly 450,000 acres of land are on fire throughout California, with experts pointing to lightning storms, an unprecedented heat wave and low humidity as causes for the massive blazes.
A total of 367 fires have ignited between the San Francisco Bay area and Los Angeles this summer, forcing an unknown number of evacuations. Officials said 26 of them are considered major, including the LNU Lightning Complex and the SCU Lightning Complex fires, which comprise several individual blazes and are burning in 10 counties.
Residents in parts of Lake, Napa and Sonoma counties, where the LNU Lightning Complex Fire is burning, were urged to evacuate as soon as possible, according to the California Department of Forestry and Fire Protection (Cal Fire).
According to a California fire and map tracker published by the San Francisco Chronicle, a total of 449,384 acres throughout the state are ablaze. The map shows that only three out of the 18 fires being tracked are nearly contained, with the vast majority of the blazes beginning just within the past four days.
Experts have pointed to two primary causes for the blazes: lightning and a historic heat wave. Around 11,000 lightning bolts struck California during an intense period of storms within a 72-hour period this week, Cal Fire spokesman Jeremy Rahn said during a news conference.
These lightning strikes are the most widespread burst seen in California since 2008 and came with little rain, a combination bound to worsen the fires, Reuters reported.
"The size and complexity at which these incidents are burning is challenging all aspects of emergency response," Rahn said. "Firefighting resources are depleted as new fires continue to ignite."
In some parts of California, temperatures have reached above 100 degrees for several days. Combined with the low humidity levels and wind speeds, the weather conditions are aiding the fires' spread, CNN meteorologist Derek Van Dam said.
The scorching temperatures arrived in the state Friday, caused by a high-pressure dome hovering largely over the American Southwest, which also created ideal conditions for the lightning storms, weather officials said.
This led to short-term blackouts reported throughout California's electrical grid, causing more than 400,000 homes and businesses to lose air conditioning, Reuters reported.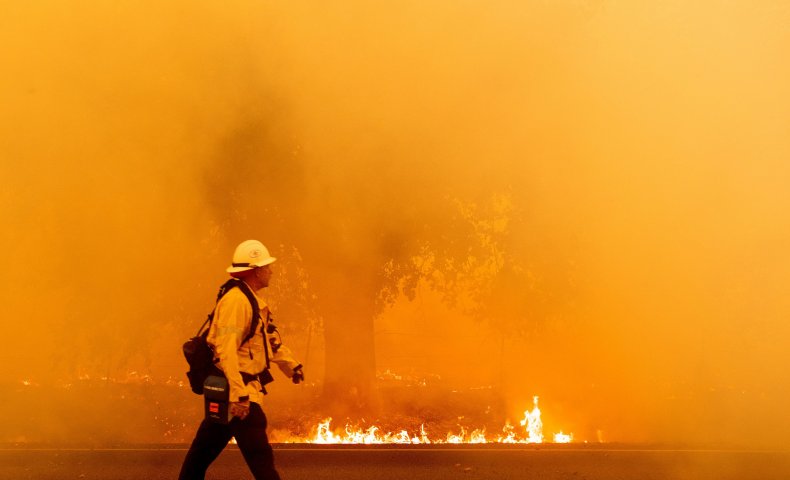 Of all the wildfires currently reported in the state, the LNU Lightning Complex blaze in Northern California is the largest, at 124,100 acres, according to Cal Fire. None of the fire was contained as of late Wednesday night.
In addition to putting out the blazes, firefighters are dealing with the coronavirus pandemic, which has made resources in the state "stretched totally thin," Cal Fire Local 2881 President Tim Edwards told Newsweek.
Approximately 130 firefighters from Cal Fire, which is responsible for handling blazes in over 96 million to 99 million acres of California's nearly 101.7 million total acres of land, are in quarantine because of coronavirus infection or exposure.
California has the most coronavirus cases of any U.S. state, reporting 638,831 as of August 18, according to the state's Department of Public Health. More than 6,000 new cases and 181 deaths were reported that day.
Mark Ghilarducci, the director of the state's office of emergency services, told The New York Times that the pandemic had presented "an almost oppressive level of complexity" to fire planning even before the season began. Experts are linking rising levels of climate change to California's wildfire season, which has expanded from August through November to nearly year-round.
"And if that's not bad enough," Ghilarducci told the Times, "now we have to deal with a worldwide pandemic. In a fire season. With the power off. What else do you want from us?"
Cal Fire spokesman Brice Bennett attributed the fires partly to changes in weather not typically seen in the San Francisco Bay area.
The region is usually cooled by breezes coming off the ocean, but it has recently seen gusts of hot and dry wind coming from the desert. The combination of these different winds created the lightning siege, which is what sparked many of the wildfires, he told Newsweek.
"All of it kind of aligned in the perfect storm to create the fire siege," Bennett said, adding that Cal Fire wasn't afraid to say that the difference in weather could "absolutely" be attributed to climate change.
On Tuesday, California Governor Gavin Newsom declared a statewide emergency as a result of the wildfires, allowing him to use more resources to handle the crisis.
"We are deploying every resource available to keep communities safe as California battles fires across the state during these extreme conditions," Newsom said in a statement. "California and its federal and local partners are working in lockstep to meet the challenge and remain vigilant in the face of continued dangerous weather conditions."
Update (08/20/20, 4:38 p.m.): This article has been updated to include comments from Cal Fire.