What Caused the Last Chicago Riots in 1968?
On Sundays, looters smashed business windows along Chicago's Magnificent Mile following a police-involved shooting that is believed to have happened in the Englewood neighborhood of the city. Chicago Police confirmed that the shooting took place around 2:30 PM on Sunday afternoon. Clashes broke out later in the day involving the incident between police and protesters.
Additionally, videos on social media depicted people breaking into business and looting, along with vehicles being set on fire.
The phrase "Chicago riots" is already indelibly printed on the minds of longtime residents of the Windy City. The 1968 Chicago Riots, which lasted from April 5 to April 7 were caused by the assassination of Dr. Martin Luther King Jr, who was fatally shot on April 4 of that year in Memphis, Tennessee.
Dr. King stood on the balcony of the Lorraine Motel and was shot at, and pronounced dead an hour later. Riots broke out in major U.S. cities such as Washington, D.C., Baltimore, Detroit, New York, and Chicago.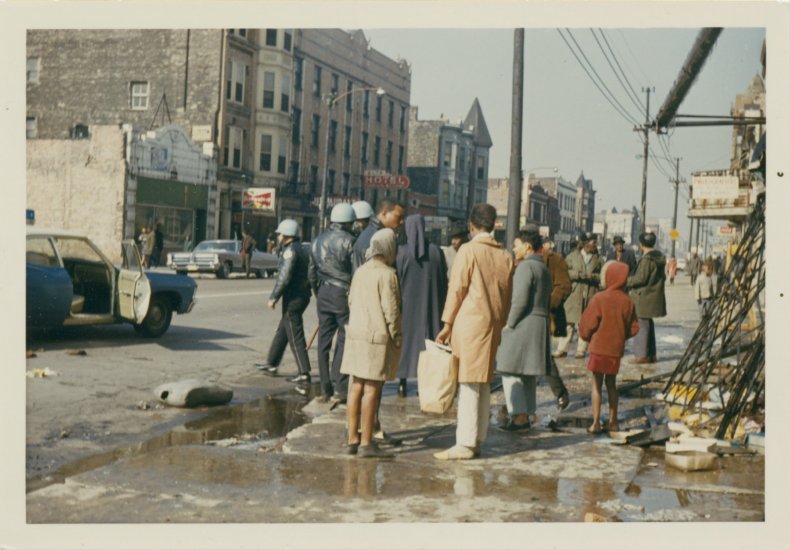 During that chaotic weekend in the Lawndale and Austin neighborhoods on Chicago's West Side and in the Woodlawn neighborhood on the South Side, police were swamped with calls of men, women and children breaking into stores and looting them. Items like food, liquor, clothes and television sets were taking from businesses. Fires also blazed throughout the city.
On April 6, according to The Chicago Tribune, then-mayor Richard Daley allowed police "to shoot to kill any arsonist or anyone with a Molotov cocktail in his hand ... and ... to shoot to maim or cripple anyone looting any stores in our city." The use of tear gas was also authorized. A curfew was also placed in order for anyone under 21, closed streets to automobile traffic, and banned any sale of guns and other types of ammunition.
Over 10,000 police officers were sent in, and 6,700 Illinois National Guard troops were deployed in Chicago on April 6, The New York Times reported at the time. Additionally, President Lyndon B. Johnson ordered 5,000 soldiers from the 1st Armored and 5th Infantry Divisions to be sent to Chicago that night at the request of Lieut. Gov. Samuel H. Shapiro.
The Chicago Tribune revealed that after the riots, 11 Chicagoans were reported dead and 350 were arrested for looting. 162 buildings were also destroyed by arson throughout the weekend, along with roughly $9 million in property damage. Hundreds were left homeless and thousands throughout Chicago had no electricity, Chicago Mag reported.
By Monday morning on April 8, things throughout Chicago became relatively quiet.