What Caused the Notre Dame Fire? Inquiry Calls Blaze an Accident, Rules Out Arson
Following the devastating fire at Notre Dame Cathedral in Paris, investigators said they were working on the assumption that the fire was started "involuntarily," ruling out a criminal motive for the blaze or arson.
France's newspaper Le Monde reported that the Paris prosecutor's office had opened an inquiry late Monday into "involuntary destruction by fire," which excludes any "a priori criminal motive." Despite the initial judgments, investigations entrusted to the Regional Directorate of Judicial Police are expected to be drawn out before any definitive findings are made public.
According to initial findings, the fire began shortly before 7 p.m. local time in the heart of a vast renovation project launched last summer. Le Figaro reported the inferno stripped away the cathedral's roof, which had been made from ancient timbers between the 12th and 14th centuries.
Firefighters have said the "difficult fire" was started in the attic of the iconic cathedral, spreading quickly and engulfing the spire, which collapsed under its own weight. The extent of the destruction, especially in this hard-to-reach area surrounded by scaffolding, was so great that material evidence showing the cause of the fire will not be easy to come by—and may already have been destroyed.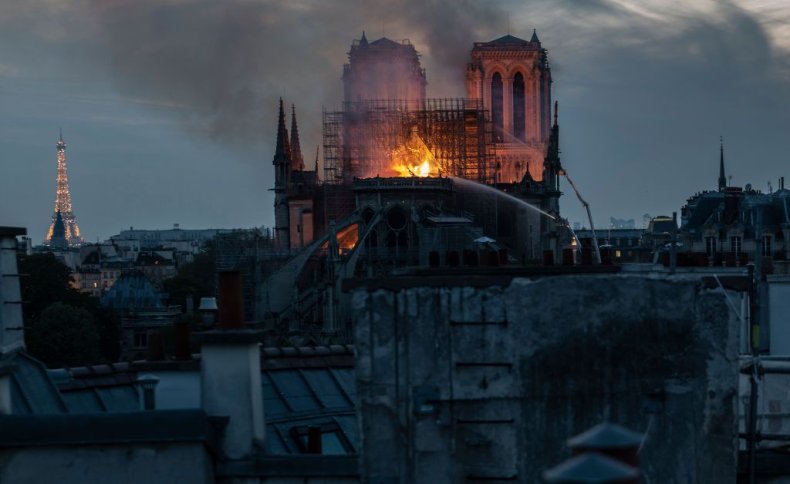 As firefighters put out the last remnants of the fire late last night, investigators has already begun to ascertain who had been working on the site, with their testimonies collected. Several workers spoke to judicial police during the night, though investigators were denied access to the site because the structure of the building remained compromised.
"It will be a long, complex investigation, which will combine police work with technical elements and expertise," an unnamed police official told Le Monde. The official added that the case was "extraordinary," despite there having been no casualties.
According to The Associated Press, the 850-year-old structure left firefighters with few options. "Very often when you're confronted with something like this, there's not much you can do," said Glenn Corbett, a professor of fire science at John Jay College.
The features that make Notre Dame such a tourist attraction—its vast interior, its Gothic masonry and tree-trunk-size wooden beams—also made it a tinderbox. "When a fire gets that well-involved it's very difficult to put enough water on it to cool it to bring it under control," U.S. Fire Administrator G. Keith Bryant said, adding that the narrow streets around Notre Dame would also have been an encumbrance to firefighters as they attempted to quell the flames and maneuver their trucks.
The graphic below, provided by Statista, illustrates the history of the famous Notre Dame cathedral.