California Wildfire Update: What Caused It, How to Help Fire Victims, Smoke Map
Wildfires in California have burned through hundreds of thousands of acres, destroyed homes and claimed lives. As firefighting efforts move towards full containment, relief efforts have begun and an investigation has been launched into the cause of the blaze.
Two fires that both began on November 8 have collectively burned almost 250,000 acres as of Sunday evening, according to the California Department of Forestry and Fire Protection (Cal Fire).
How did the California Wildfires Start?
The Camp Fire, which ignited in Butte, County, California, is burning in the northern part of the state and claimed the lives of 77 people, making it the deadliest wildfire in California's history.
While burning more than 150,000 acres of land in California, the Camp Fire destroyed 10,364 homes, 418 commercial buildings and 2,992 other structures. As of Sunday evening, firefighters had the flames 65 percent contained and Cal Fire estimated full containment would be reached on November 30.
The cause of the fire is still being investigated, according to Cal Fire, but some are looking to Pacific Gas and Electric Co. (PG&E), a utility company that operates in the area, for answers. On November 9, one day after the fire began, PG&E reported a problem with a line to regulators, according to the San Francisco Chronicle. The problematic line was located near a spot believed to have been near an ignition point for the Camp Fire. On Friday, the company reported another problem with its equipment near what is believed to be a second origin point, according to the San Francisco Chronicle.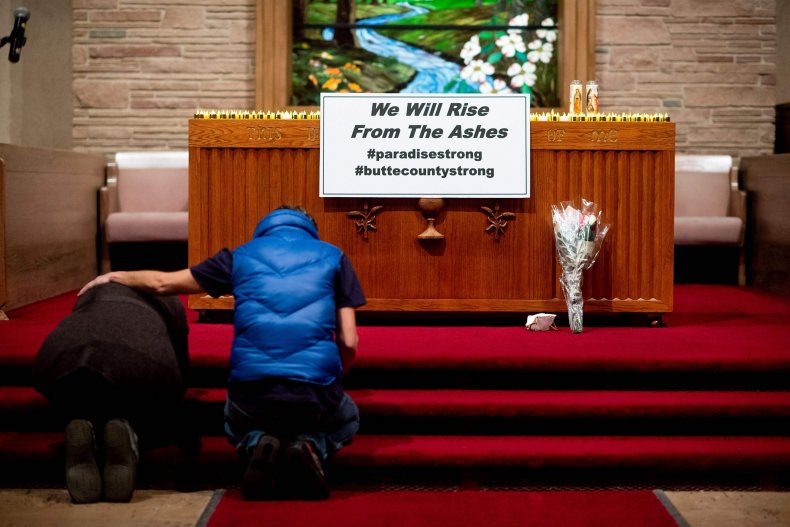 South of the Camp Fire is the Woolsey Fire, which burned 96,949 acres in Ventura County and Los Angeles County, as of Sunday evening. Since it began on November 8, the fire claimed three lives and caused injuries to three firefighters. Almost 1,500 structures were destroyed and an additional 337 were damaged, according to Cal Fire.
Firefighters were able to make headway on the fire over the weekend and as of Sunday evening, it was 91 percent contained. Evacuation orders in Ventura County and parts of Malibu, California, were lifted and full containment was expected to be reached on Thursday.
The cause of the fire is still being investigated, according to Cal Fire, but just like with the Camp Fire, some are looking at a utility company. Southern California Edison reported an outage near where the Woolsey Fire broke out just two minutes before the flames started, according to the Venture County Star. Spokesman Steve Conroy told the Ventura County Star that the company hasn't been informed if or how its equipment is involved in the Woolsey Fire.
California Smoke Map: Where is the Wildfire Smoke?
Smoke from the wildfires deteriorated the quality of California's air, with some parts of the state reaching very unhealthy and hazardous levels. Reports of air deemed unhealthy by the Environmental Protection Agency (EPA) were issued from Bakersfield, California, to Chico, California on Monday morning. Near Paradise, California, which was almost entirely decimated in the Camp Fire, air conditions were identified as very unhealthy on the EPA's Air Quality Index.
The National Weather Service (NWS) in Sacramento, California, reported that northeasterly winds helped improve the air quality in some areas, but added poor air quality remained an issue. The Sacramento area was forecasted to receive some rain through Saturday, which the NWS reported would help improve air quality.
On Monday, the National Oceanic and Atmospheric Administration forecast showed smoke from the wildfires traveling as far east as Kentucky.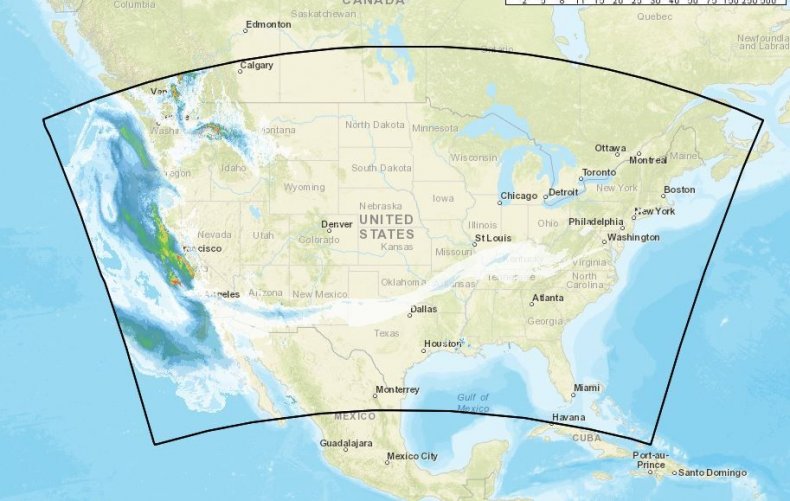 Ingesting smoke from wildfires can have harmful effects on human health and residents were encouraged to wear an N95 respirator mask and limit time spent outdoors. Several cities offered masks for free but had to end the program because of a shortage of supplies.
How To Help the California Fire Victims
Even after the fire is fully contained, many residents in California will still have a long road ahead of them as they rebuild from the ashes. Whether you're in a neighboring community or across the country, there are a number of ways to help victims of the wildfires.
Anthony C. Tornetta, a spokesperson for the Red Cross, told NBC News that a great way people can help those affected by the wildfires is to sign up to volunteer. He added that the fires caused the organization to cancel blood drives and encouraged people to donate blood, which he said is always needed.
"Whatever time you can commit, whether it's a week or eight hours — we will welcome your support," Tornetta said. "Please sign up and call first, as we can't necessarily stop in the middle of an operation if you just show up."
Both United Way Greater Los Angeles and United Way Northern California are accepting donations for their disaster relief funds. Following the wildfire, many people, especially those who are already low-income individuals, feel an immediate financial effect. The relief fund helps provide victims with immediate and long-term assistance.
Thousands of people have been displaced because of the Woolsey Fire and Camp Fire, and people in need of a temporary place to stay can find one free of charge on Airbnb. From November 8 to November 29, people displaced by the fire or those coming in to aid relief efforts can book a free place to stay as part of the company's Open Homes program. To help provide shelter to those in need, residents who have space to spare are encouraged to list their home on the company's website.
Given the rapid speed of the fires, many people who evacuated did so without having the time to pack their things, leaving them with just the clothes on their back. The California Fire Foundation's Supplying Aid to Victims of Emergency (SAVE) program provides firefighters with $100 MasterCard gift cards to distribute to evacuees in need. The gift card helps people purchase basic necessities such as food, clothing and medicine.