What Celebrities Are On 'The Masked Singer' Season 2? Fan Predictions Ahead of Premiere
Season 2 of The Masked Singer doesn't premiere until next week, but fans already have several theories on the celebrities who will appear.
The show will host 16 famous people disguised in extravagant costumes, and each identity will be revealed as the person is voted off the singing show. This season, the celebrities have a combined 19 Emmys and 10 Grammys, according to Decider.
Each season, the show releases the costumes and a few clues ahead of the premiere. Here are a few of the assumptions from fans. Clues and predictions come from Reddit, Twitter and CinemaBlend.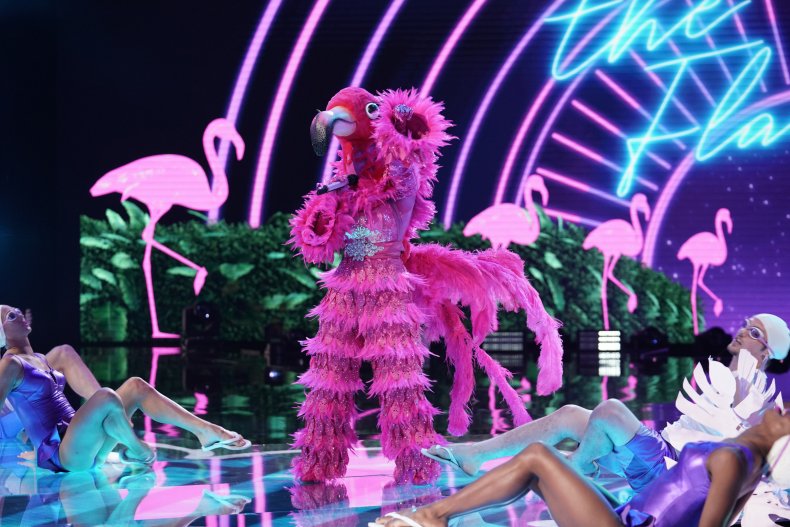 Ice Cream
Clue: "I live for half of February" was part of the introduction, along with a shoutout to February 14.
Possible Celebrities: Freddie Highmore of Charlie and the Chocolate Factory. Highmore's birthday is February 14, and the ode to sweets could be a clue to his past role.
Fox
Clues: Promotional footage included a shot of Studio 46, which could imply this celebrity is an actor, according to CinemaBlend.
Possible Celebrities: Ray Fischer. The actor has a similar bionic eye board in Justice League as the Fox seems to have on stage. Others seem convinced actor Jeremy Renner is behind the mask.
Flamingo
Clues: Flamingo loves the color pink and loves to wear mascara.
Possible Celebrities: Adrienne Bailon. The former Cheetah Girl has been seen in pink for much of her career, and also has a single titled "Shake Your Tail Feather." Others have named Kylie Jenner, likely because of the mascara reference. Katy Perry was also one of the guesses on Twitter.
Eagle
Clues: Personal bandana to represent celebrity and clue that said: "If you know and Eagle's body temperature, you may be hot on my tail."
Possible Celebrities: Alice Cooper. Predictions pointed to his hometown of Phoenix, some repertoire and other small details that imply the classic rocker. Willie Nelson and Bruce Springsteen were also among the guesses from Twitter users.
Rottweiler
Clues: Rottweiler's clues were more generic than most, one of which is that celebrity is a perfectionist.
Possible Celebrities: A few names thrown around for the dog were Bruno Mars, Chris Daughtrey and Kevin Kwan.
Egg
Clues: Egg's clue said they work hard for the "first and last vowels of the alphabet." The first and last vowels are "A" and "U." Scientifically, that means gold. Could Egg be an athlete, who has shaped their career around striving for gold?
Possible Celebrities: Beyond a possibility Egg is an athlete, some Twitter users allege it could be BTS rapper JHope (also known as Hobi). Other users brought up Iggy Azalea and Matthew Perry as possible celebrities.
Flower
Clues: The number 314 appeared in a promotional shot behind the artist. A social media post from The Masked Singer also brought up a famous pageant statement: "She's beauty and she's grace." Typically, that phrase refers to Miss America.
Possible Celebrities: Twitter users seem to think Flower could be either The Big Bang Theory actress Mayim Bialik, Danica Patrick or Carrie Underwood.
Penguin
Clues: In real life, Penguin changes their hairstyle often.
Possible Celebrities: With such a vague clue, Penguin is one that is hard to pin down. Some fans have guessed Cyndi Lauper, Lady Gaga and Sia. Others named Vanilla Ice in reference to the celebrity's mask choice.
Panda
Clues: Panda could be a chef, as they mentioned how they prepare bamboo.
Possible Celebrities: Twitter users mentioned Real Housewife and chef Bethanny Frankle.
Butterfly
Clues: Butterfly is afraid of falling down because of the heavy costume.
Possible Celebrities: Some have mentioned Destiney's Child singer Michelle Williams, who famously fell on the show 106 & Park. Most Twitter users had the same idea, and said the voice is distinctively Williams'. Others, however, pointed toward Kesha.
Black Widow
Clues: No specific clues were given for the spider, except for a tarot card in the promotional video.
Possible Celebrities: Very few guesses for Black Widow exist right now, but some names guessed are Iggy Azalea (likely because of her song of the same name) and Jada Pinkett Smith.
Tree
Clues: Tree has a big family who comes to the set often, all wearing masks to hide their identity. The person seems to be in touch with nature, as their secret identity would suggest.
Possible Celebrities: Some are mentioning both Martha Stweart and Rachel Ray. Others, however, think Tree is Real Housewife Teresa Guidice. It is well-known that Giudice's fan base call themselves "tree huggers."
Thingamajig
Clues: Thingamajig is incredibly tall, standing at 7 feet. They also called the show their "Thingdom." There was also a Star Wars reference.
Possible Celebrities: Wayne Brady or Victor Oladipo. Oladipo's birthday happens to be May 4, or "Star Wars day." John Boyega was also mentioned on Twitter as a possible celebrity.
Skeleton
Clues: The preview show revealed a gravestone with the numbers 4261.
Possible Celebrities: Some pointed out this is the birthday of Christopher Meloni, who used to be on Law & Order: SVU. Others thought Bobby Bones could be behind the face.
Leopard
Clues: The Leopard has been "spotted with the President."
Possible Celebrities: While President Donald Trump has been seen with countless celebrities throughout his career, it's also possible the person behind the mask is connected to the Trump administration. It wouldn't be the first time a former Trump employee went on a reality show. Former White House press secretary Sean Spicer, is currently on Dancing With The Stars, and Omarosa Manigault was on Celebrity Big Brother. Some even think Manigault could be the person behind the mask.