What Chelsea Handler, Jo Koy Have Said About Each Other Post-Breakup
Chelsea Handler has spoken out about her split with Jo Koy to say she's sick of talking about the breakup.
Handler and Koy, both comedians and TV hosts, started dating in 2021, but had broken up by the summer of 2022. Both have also spoken out about the split since then too, with Handler being asked about it on multiple podcasts to the point where she said enough is enough.
During a recent episode of the Call Her Daddy podcast, Handler was talking about her relationship with Koy before stopping herself. She said she wasn't there to promote a "breakup from six months ago."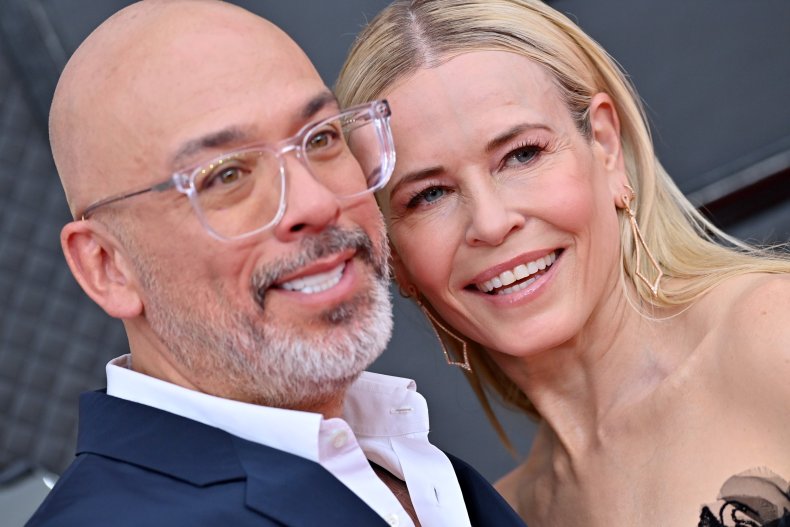 They announced themselves as a couple on social media in September 2021, and then fittingly announced their breakup on social media too in July 2022, suggesting they'd broken up a month before.
"It is with a heavy heart to announce that we have decided together that it is best for us to take a break from our relationship right now," Handler wrote in a caption on Instagram.
Ironically, the caption was shared alongside a video of themselves celebrating their one-year anniversary, which they had filmed ahead of time. Handler continued "To be loved and adored by @jokoy has been one of the greatest gifts of my life. He renewed my faith in men, in love, in being 100 percent who I am, and I've never been more optimistic for the future."
Since then, Handler has spoken out the most about their relationship, though Koy has also addressed it in interviews too.
Not long after announcing their split, Handler appeared on the We Can Do Hard Things with Glennon Doyle podcast to share an update on how she was doing. She said that she was happy that she and Koy handled the breakup in "an honest way." She added, "dealing with it in real time [...] instead of distracting, deflecting and doing all these things to say 'I'm fine! I'm fine!'"
Reflecting on their time as a couple, Handler said there were sometimes some compromises. "It's nice to compromise, it's nice to show your love publicly. That was something I was never able to do for anybody but I believe Jo needed that," she said.
Koy was the director of Handler's Netflix special Chelsea Handler: Revolution. It was released in December 2022, but the taping took place last summer, three weeks before the pair broke up.
In September 2022, Koy was a guest on The Kelly Clarkson Show where he confirmed that the pair are still friends.
"Especially when you have a kid, I have a son, and when you go through a breakup you want to be a role model as well, right? You lead by example," Koy told Clarkson.
In December, Handler told Brooke Shields on her podcast that she really was in love with Koy.
"There were just some behaviors that we couldn't agree on, and it felt to me like I would have to abandon myself, which maybe I would have been OK to do if I were 20 or 25, but I wasn't willing to do that," the 47-year-old Handler explained on the Dec. 27 episode. "No matter how much I loved this person, and I loved him so much, I was not going to abandon myself."
Now we've entered 2023, it appears Handler is trying to talk about the breakup less as she moved away from the topic on the Call Her Daddy podcast.
After saying how thankful she was she could share her comedy special with Koy, she continued, "I'm not promoting a breakup from six months ago. I'm here to talk about all the other things I'm doing. And I understand people are interested but it's just like, it's run out of gas."