While the Taliban's takeover of Afghanistan and its recent establishment of a new Islamic Emirate government have grabbed the world's attention, nowhere have these developments had more impact than among the country's immediate neighbors.
All six nations are grappling with the fallout.
On Wednesday, the most senior working diplomats of China, Iran, Pakistan, Tajikistan, Turkmenistan and Uzbekistan took part in their first-ever virtual summit to discuss a regionwide approach to their common neighbor. The meeting came days after their special representatives met via virtual link while marking an intensified focus on the situation in Afghanistan.
"Afghanistan today stands at a crossroads in history," Chinese Foreign Minister Wang Yi was quoted as saying by his ministry. "The United States and its allies hurriedly withdrew, and the power politics, military intervention and so-called 'democratic transformation' promoted by the United States and the West ended in failure."
"However," he added, "Afghanistan is still facing severe challenges, such as humanitarian issues, people's livelihoods and the COVID-19 pandemic. Some international forces may also use political, economic and financial means to create new troubles for Afghanistan."
Reacting to the Taliban's announcement Tuesday of a new interim government made up of senior group officials, Wang said the "interim" nature of the administration "shows that there are still many uncertainties in Afghanistan's future."
In the meantime, he called on the Taliban "to unite all ethnic groups and factions, build a broad and inclusive political structure, pursue a moderate and prudent domestic and foreign policy, draw a clear line with terrorist forces, and establish and develop friendly relations with countries, especially neighboring countries."
And while he felt that Washington and its allies had a responsibility to support stability in Afghanistan after their two-decade war effort there, Wang felt the neighboring countries "should play a unique role in addressing their own legitimate concerns and providing a good external environment for Afghanistan's stability and reconstruction."
He pointed out six areas of potential coordination, including anti-COVID-19 assistance, maintaining trade via land corridors, management of refugee flow of immigration, humanitarian assistance, counterterrorism and counter-narcotics operations. China has especially emphasized the need to crack down on any militant or separatist activities, particularly those involving the Uighur organization known as the East Turkistan Islamic Movement, or Turkistan Islamic Party.
Wang hailed the "very timely and necessary" virtual summit, saying that it "will express the common voice and clear political signals of Afghanistan's neighboring countries."
He made particular note of his nation's approval of the process.
"China supports the continuation of this unique mechanism, through this platform to share policy ideas, coordinate each other's positions, and jointly respond to challenges," Wang said.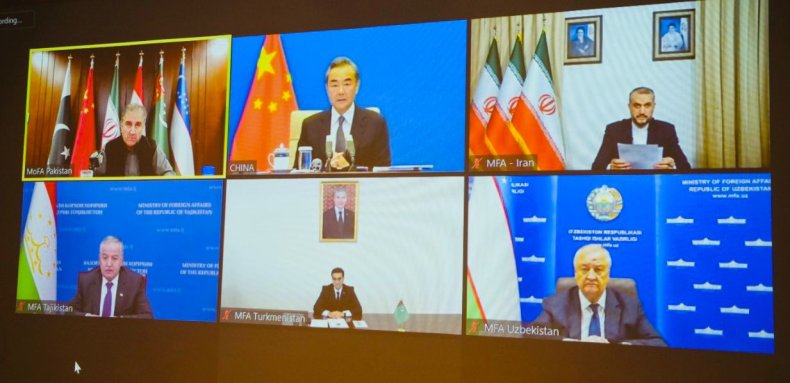 Iran also sought a collective strategy toward Afghanistan among the involved countries. As did China, it placed the principal blame on the U.S. for the situation there.
Speaking with the official Islamic Republic News Agency on Wednesday, Iranian Foreign Ministry spokesperson Saeed Khatibzadeh said that Foreign Minister Hossein Amir-Abdollahian took the opportunity to express "Iran's principled positions in this meeting, the most important of which was emphasizing that the main cause and responsibility of the current situation in Afghanistan lies with the U.S. occupation and more than two decades of illegitimate presence in this country."
Citing Amir-Abdollahian, Khatibzadeh said that "the use of military means and foreign intervention is a repetition of a mistake that has occurred several times in the contemporary history of Afghanistan, and everyone must adhere to dialogue as a fundamental principle, and neighboring countries must help prevent foreign intervention."
The new Iranian foreign minister, who was appointed last month by recently inaugurated President Ebrahim Raisi, was also said to have rallied those at the meeting to support Afghanistan in its efforts to "achieve a lasting peace." He said that to do so would require forming "an inclusive government that reflects the ethnic and demographic composition of Afghanistan."
Khatibzadeh also cited Amir-Abdollahian as saying humanitarian assistance would be key, and urging the new Taliban leadership to "distance itself from terrorism and not allow the scourge to re-emerge in the country."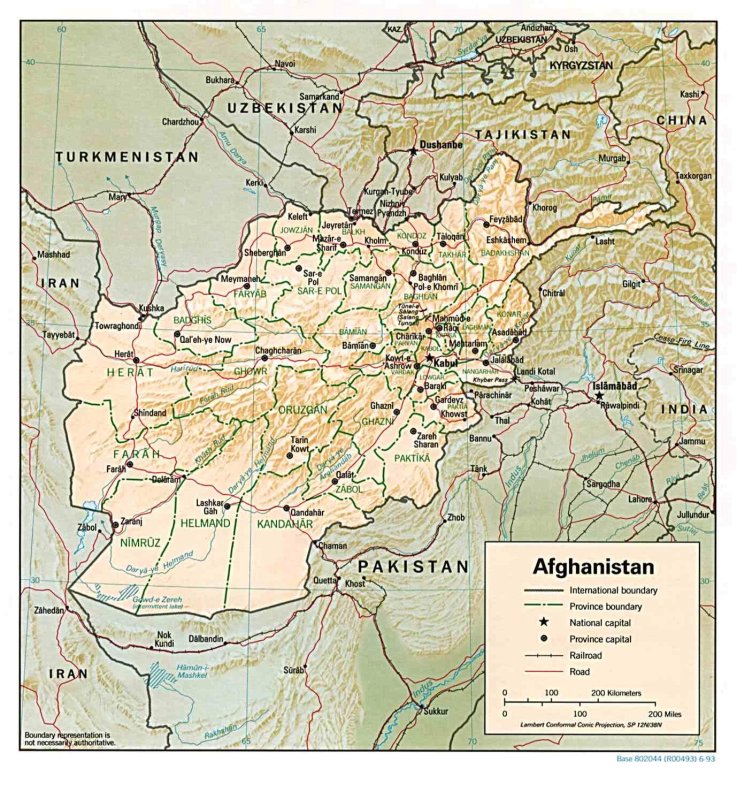 A map shows Afghanistan, neighbored by China, Iran, Pakistan, Tajikistan, Turkmenistan and Uzbekistan.
Central Intelligence Agency
Amir-Abdollahian later tweeted that he "Emphasized on security, stability & development by formation of an inclusive gov reflecting diversity & will of Afghan ppl; dialogue instead of violence; rejection of foreign intervention."
"We support intra-Afghan talks & agreements," he added.
Pakistan chaired Wednesday's gathering. Pakistani Foreign Minister Shah Mahmood Qureshi highlighted four "key principles and priorities" during his remarks, according to his ministry.
He said that Afghanistan's six neighbors must "affirm our full support and solidarity with the Afghan people"; "reaffirm our full commitment to the unity, sovereignty and territorial integrity of Afghanistan"; "stress that Afghan issues have Afghan solutions"; and "make clear that Afghan soil should not be allowed to be used against any country."
He also emphasized the need to focus on the economic revitalization of a nation that has suffered from decades of conflict and unrest.
"At the center of our endeavors must remain well-being of Afghan people, who have suffered enormously due to conflict for over 40 years," Qureshi tweeted after the ministerial. "In the wake of recent developments, the key priorities are to prevent a humanitarian crisis & to take steps to prevent economic meltdown."
Pakistan is the only country among Afghanistan's neighbors to have supported the Taliban, and was one of three nations along with Saudi Arabia and the United Arab Emirates to have recognized the Islamic Emirate when it was previously established a quarter of a century ago.
That government collapsed after a U.S.-led intervention weeks after 9/11, which was orchestrated by Al-Qaeda, then headquartered in Taliban-led Afghanistan.
And while the Taliban has vowed not to allow transnational militant groups to use Afghanistan to attack other nations, the group's return to power has yet to receive any international recognition.
Among the countries most opposed to the new Taliban rule is Tajikistan, which has especially raised the alarm of ethnic minority rights. Tajiks make up the second-largest ethnic group in Afghanistan after Pashtuns, of which the Taliban largely consists, and ahead of Hazara, a largely Shiite Muslim community, and Uzbeks.
At Wednesday's talk, Tajik Foreign Minister Sirojiddin Muhriddin "noted that an inclusive government with the participation of all ethnic groups and national minorities should work in Afghanistan to urgently resolve the political problems and security of the country," according to his ministry.
"He added that we do not recognize any government formed without a referendum and representatives of all ethnic groups," the ministry said.
For fellow Central Asian state Turkmenistan, Deputy Foreign Minister Vepa Hajiyev stood in for Rashid Meredov amid speculation that the top diplomat has fallen ill. Turkmenistan is one of only five countries in the world, along with Nauru, North Korea, Tonga and Tuvalu, to have not reported a single case of COVID-19 since the beginning of the pandemic.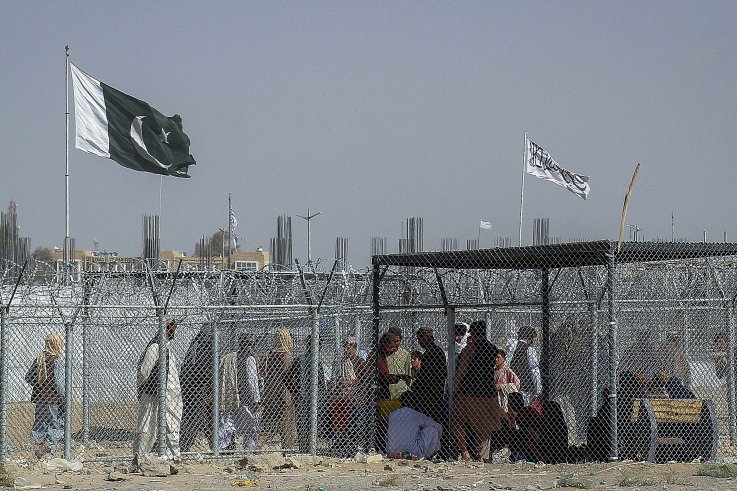 Afghan and Pakistani nationals walk through a security barrier to cross the border as a national flag of Pakistan and a Taliban flag fly in the Pakistan-Afghanistan border crossing point in Chaman on August 24, following the Taliban's military takeover of Afghanistan. Afghanistan's neighbors, especially Iran and Pakistan, have raised the alarm on the outflow of refugees due to turmoil in the country.
AFP/Getty Images
Hajiyev said his country, known for its strict neutrality in international affairs, found the gathering useful to establishing a mutual strategy for supporting Afghanistan's stability.
"The current meeting is regarded as an opportunity to work out a consolidated regional approach to peace and security in Afghanistan and the further comprehensive development of this country," Hajiyev was said to have emphasized during his remarks, according to the Turkmen Foreign Ministry.
The Uzbek Foreign Ministry, represented at Wednesday's talks by Foreign Minister Abdulaziz Kamilov, shared in its own readout regarding what it said was the consensus reached among the six parties.
"The participants in the meeting, expressing support for the sovereignty, independence and territorial integrity of Afghanistan," the ministry said, "as well as their commitment to ensuring peace, security, national reconciliation, the principles of non-interference and sustainable development of Afghanistan, stressed that the future of the country should be determined by its people."
"It was noted that a stable, peaceful and prosperous Afghanistan meets the interests of the entire multinational Afghan people and the world community," it added. "The importance of sustainable international engagement with Afghanistan, in particular supporting its humanitarian development needs, was pointed out."
Finally, the Uzbek side said all six nations agreed to continue to work together to tackle the problem of Afghanistan and other regional issues.
"The need for joint work to solve common problems and strive to further strengthen cooperation and good-neighborly relations between neighboring states in the name of promoting peace, security, stability, regional interconnection and economic integration was emphasized," the Uzbek Foreign Ministry said.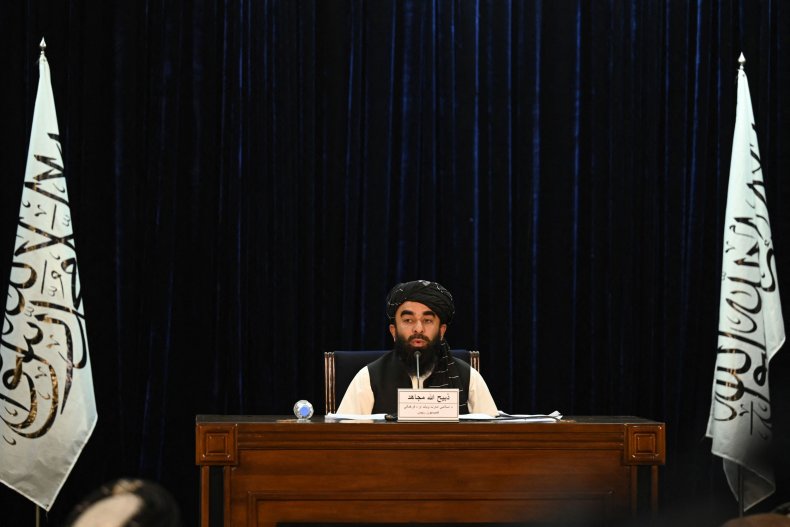 Afghanistan's unrest has elevated regional security issues to the forefront of the agenda among an array of nearby countries, including major powers China and Russia.
Russia has a particularly painful history in Afghanistan, having waged a decade-long war in the 1980s as the Soviet Union attempted to shore up a communist government in Kabul.
Today, a buffer zone of independent Central Asian nations separates Afghanistan from Russia, which is concerned about the potential fallout of contemporary turmoil next door. Moscow has set out to shore up its commitments to these countries, especially Collective Security Treaty Organization members Kazakhstan, Kyrgyzstan and Tajikistan.
Later this month Tajikistan will host a highly anticipated heads of state meeting of the Shanghai Cooperation Organization, which includes China, India, Kazakhstan, Kyrgyzstan, Pakistan, Russia, Tajikistan and Uzbekistan as members. Iran, an observer state, is set to become a full-time member as well.
But as the East coalesces, the West has also sought a stake in Afghanistan's outcomes, and the United States is looking to follow up the end of its 20-year military mission with a robust diplomatic approach.
Also on Wednesday, the U.S. led a ministerial of its own on Afghanistan involving diplomats from Australia, Bahrain, Canada, France, Germany, India, Italy, Japan, Kuwait, Norway, Pakistan, Qatar, Saudi Arabia, South Korea, Spain, Turkey, Turkmenistan, the United Arab Emirates, the United Kingdom as well as the representatives of the European Union, NATO and the United Nations.
Secretary of State Antony Blinken, speaking from Germany, outlined three core objectives for engagement on Afghanistan, including holding the Taliban to its commitment to allow the safe passage of foreigners and locals who seek to leave the country, its commitment to combat militant groups and its responsibility to allow the flow of aid among the population.
Blinken stated that "all three of these core objectives will require engagement with the Taliban," which he said had an opportunity to establish formal with the international community.
"The Taliban can earn that legitimacy gradually, over time," Blinken said, "through a sustained pattern of action that demonstrates a genuine commitment to core expectations that are enshrined in the Security Council resolution adopted on August 30th, which include freedom of travel, not allowing Afghanistan to harbor terrorists, humanitarian access, respecting the basic rights of the Afghan people — particularly women and minorities — not carrying out reprisals, and forming an inclusive government that can meet the needs and reflect the aspirations of the Afghan people."
"Needless to say, the names in the caretaker government do not inspire confidence in that last regard," he added. "We'll have to see what emerges in a more permanent government."