What China's Xi Jinping Said About Cutting Emissions, Climate Change at Summit
Chinese President Xi Jinping addressed a U.S.-led virtual climate summit on Thursday and spoke extensively about climate change and cutting carbon emissions.
"We should protect nature and preserve the environment, like we protect our eyes," Xi said. "Second, we must be committed to green development.... To protect the environment is to protect productivity, and to improve the environment is to boost productivity. The truth is as simple as that."
Xi went on to say that the world needs to be focused on a "people-centered approach" to help the environment.
"The environment concerns the well-being of people in all countries. We need to take into full account people's longing for a better life and good environment, as well as our responsibility for future generations," Xi said.
He added that the "principle of common but differentiated responsibilities is the cornerstone of global climate governance."
During his virtual address, Xi also stressed the importance of assisting developing countries as they "accelerate the transition to green and low-carbon development."
Xi went on to discuss China's "constant pursuit" of man and nature living in harmony and said his nation will "continue to prioritize ecological conservation and pursue a green and low-carbon path to development."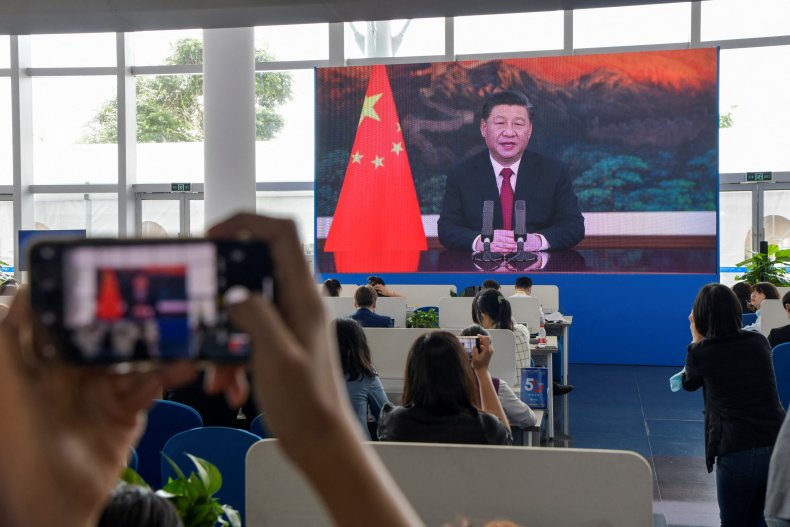 China continues to be one of the world's largest carbon emitters, but during his virtual address Xi said the nation will enact more emissions cuts.
"China will strive to peak carbon dioxide emissions before 2030 and achieve carbon neutrality before 2060," the president said. "China has committed to move from carbon peak to carbon neutrality in a much shorter time span than what might take many developed countries, and that requires extraordinary hard efforts from China. We will strictly control coal-fired power generation projects. We will strictly limit the increase in coal consumption over the 14th five-year-plan period and phase it down in the 15th five-year-plan period."
Xi ended his address by saying, "I am confident that as long as we unite in our purposes and efforts we will rise above the global climate and environment challenges and leave a clean and beautiful world to future generations."
Newsweek reached out to the Chinese Foreign Ministry for further comment but did not receive a response in time for publication.
Xi's remarks came after the Biden administration announced a new climate initiative, saying the U.S will seek to "achieve a 50-52 percent reduction from 2005 levels in economy-wide net greenhouse gas pollution in 2030."
During the climate summit, Biden told the other world leaders, "Meeting this moment is about more than preserving our planet." He added that this is "a moment of peril but a moment of opportunity."
"The signs are unmistakable, the science is undeniable, the cost of inaction keeps mounting," the president said.