What Chuck Schumer Has Said About $2,000 Stimulus Checks
Outgoing Senate Majority Leader Mitch McConnell has repeatedly blocked a vote in the upper chamber after the House passed a measure to boost the second stimulus check amount from $600 to $2,000. But incoming Senate Majority Leader Chuck Schumer will soon be the lawmaker who decides which bills reach the upper chamber floor.
Schumer on Tuesday pledged to prioritize delivering further COVID-19 emergency relief and stimulus checks when he takes up leadership. "The job of COVID emergency relief is far from complete," the Democrat wrote in a letter. "Democrats wanted to do much more in the last bill and promised to do more, if given the opportunity, to increase direct payments to a total of $2,000"
"We will get that done."
Democrats currently hold a slim majority in the House and 50 seats in the Senate with the two newly-elected Georgia congressional members, Jon Ossoff and Raphael Warnock. Vice President-elect Kamala Harris has the tiebreaking vote.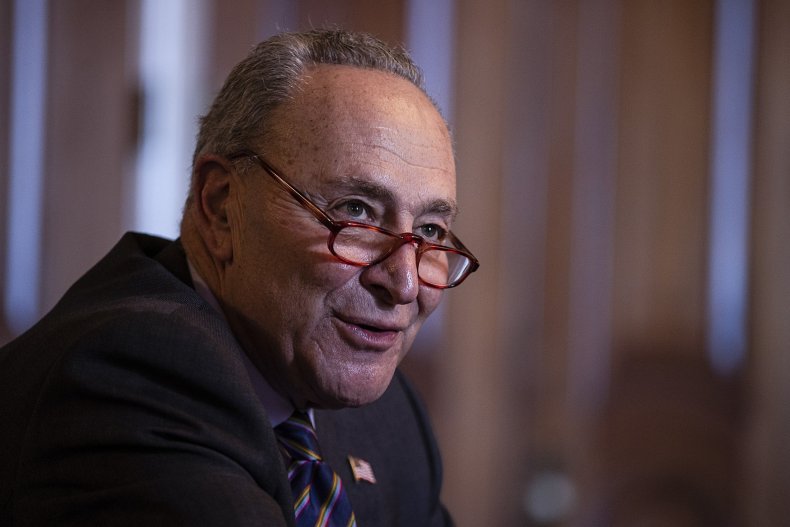 Democrats aggressively campaigned on fattening the $600 checks to $2,000 in the weeks leading up to the Senate runoff elections.
After Ossoff and Warnock won, President-elect Joe Biden and Schumer vowed to make good on that promise. "We need more direct relief flowing to families and small businesses, including finishing the job and getting people $2,000 in relief," Biden said Friday. "Six hundred dollars is simply not enough when you have to choose between paying rent or putting food on the table and keeping the lights on."
Allowing a vote on the checks would be "one of the first things that I want to do," Schumer said.
Schumer doubled down on his commitment to the $2,000 checks in his Tuesday letter sent to congressional colleagues. We will "immediately" start on the "first order of legislative business" of the new Senate, he wrote.
The top Democrat's remarks came amid mounting concern that a potential impeachment trial could delay the plan to deliver more money to Americans amid the worsening pandemic.
"We're going to have to do several things at once but [Democrats have] got to move the agenda as well," he told Buffalo News on Monday. "Yes, we've got to do both."
Biden is expected to release his multi-trillion dollar stimulus plan on Thursday, which will likely include a provision for additional direct payments, as well as further unemployment benefits and funding for vaccine distribution.
However, with one Democrat—Joe Manchin of West Virginia—already indicating opposition to $2,000 checks, it is unclear whether the measure will pass the Senate. The runoff wins have secured Democrats a 50-50 split. Without Manchin, the party has 49 votes and will likely need to find at least one GOP Senator to deliver the bill if the budget reconciliation procedure is used.
Newsweek reached out to Schumer's office for further comment. This story will be updated with any response.