What College Football Coaches Have Said About the Season Not Going Ahead
A host of college football head coaches have publicly supported a large contingent of players in asking the NCAA to proceed with the upcoming college football season, despite the novel coronavirus pandemic.
Scheduled to begin at the end of the month, the 2020 college football season appears increasingly unlikely to be played in the fall. For some conferences, in fact, it may not be played at all.
On Saturday, the Mid-American became the first FBS Conference to postpone football until the spring of 2021, while commissioners from the Power 5 conferences—the Atlantic Coast Conference, Big 12, Pac-12, Big Ten and the Southeastern Conference (SEC)—held an emergency meeting the following day night to determine the fate of the upcoming college football season.
"I want to play, but I want to play for the players' sake, the value they can create for themselves," Alabama head coach Nick Saban told ESPN on Monday.
"I know I'll be criticized no matter what I say, that I don't care about player safety. Look, players are a lot safer with us than they are running around at home.
"We have around a two percent positive ratio on our team since July 4. It's a lot higher than that in society. We act like these guys can't get this unless they play football. They can get it anywhere, whether they're in a bar or just hanging out."
His stance echoed an argument Clemson quarterback Trevor Lawrence raised on Sunday, when he, along with several other college players, pleaded with the conferences to allow the season to go ahead.
In a series of tweets, Lawrence said he felt players would be safer within their college programs instead of being back home.
"People are at just as much, if not more, risk if we don't play," the Heisman Trophy hopeful wrote.
"Players will all be sent home to their own communities where social distancing is highly unlikely and medical care and expenses will be placed on the families if they were to contract COVID-19."
President Donald Trump has also waded into the debate, calling for the season to go ahead.
"The student-athletes have worked too hard for the season to be canceled," Trump wrote as he retweeted Lawrence's statement on Monday.
A few hours later, the president reiterated the message and simply tweeted: "Play college football!"
The SEC is yet to make a decision on the upcoming season and on Monday commissioner Greg Sankey insisted the conference will continue to adopt a patient approach.
"We know concerns remain," he tweeted on Monday.
"We have never had a FB season in a COVID-19 environment. Can we play? I don't know. We haven't stopped trying. We support, educate and care for student-athletes every day, and will continue to do so every day."
Speaking to ESPN, Saban praised the SEC's stance but acknowledged campuses would have to be managed carefully, particularly if players mix with other students in schools that don't hold online classes.
"It's going to be a challenge when the other students get on campus, and I get that, he explained.
"But we really don't know what that entails until it happens. It's a big reason we pushed the season back [in the SEC], to assess that, which is the prudent way to do it."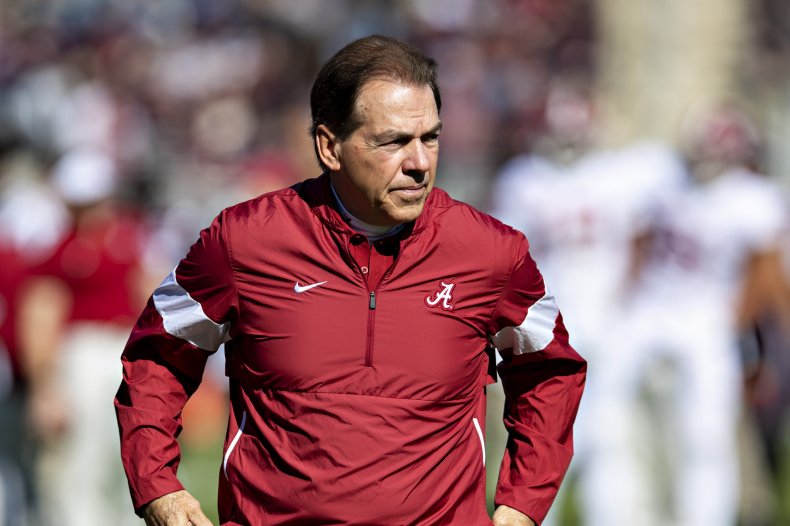 Michigan head coach Jim Harbaugh is also among the advocates for a football season in the fall. In a statement released on Monday, Harbaugh explained the Wolverines had developed a strict testing protocol he felt would allow the school to play in the fall.
"We have developed a great prototype for how we can make this work and provide the opportunity for players to play, he said, noting the program had returned zero cases of COVID-19 in 353 tests.
"If you are transparent and follow the rules, this is how it can be done. [...] We will continue to follow all health and safety guidelines, teach, train, and coach those young men and their families that have put their trust in us while advocating for a football season in the fall."
Harbaugh's feelings are shared by his counterparts at fellow Big Ten behemoths, Ohio State's head coach Ryan Day and Nebraska's Scott Frost, who both suggested scrapping the season would be premature.
On Monday, the Detroit Free Press reported the Big Ten will officially cancel the season on Tuesday.
On the same day, sports radio host Dan Patrick added the Pac-12 will join the Big Ten in canceling the season on Tuesday.
Asked for his thoughts on the reports the Big Ten may cancel the season at some point this week, Day's stance was unequivocal.
"I would say we cannot cancel the season right now," he told ESPN's College Football Live on Monday.
"We have at the very least postpone it and give us a little bit of time to keep evaluating what's been going on. If we need to take a deep breath, let's take a deep breath. We owe it to these kids to exhaust every single option we possibly can and we go from there."
Frost stopped short of suggesting the Big Ten couldn't cancel the season, but insisted Nebraska remained committed to playing this year. According to Patrick, Nebraska and Iowa were the only two of the 14 Big Ten schools to have voted in favor of the season going ahead.
"We want to play a Big Ten schedule, I hope that's what happens," Frost explained during a conference call on Monday.
"Our university is committed to playing no matter what. No matter what that looks like and how that looks. We want to play no matter who it is or where it is. So we'll see how those chips fall. We certainly hope it's in the Big Ten and if it isn't we're prepared to look for other options."