What Comes Next for Michelle Carter? Woman Involved in Suicide-Texting Case Released Early From Prison
Michelle Carter, the woman convicted of involuntary manslaughter after she encouraged her boyfriend to commit suicide by carbon monoxide poisoning in his truck, was released from prison Thursday, according to WCVB 5.
Originally scheduled to be released on May 5, Carter was let out from the Bristol County House of Corrections in Dartmouth, Massachusetts based on good behavior. She was previously sentenced to 15 months in prison.
Carter was reportedly seen being driven out of the prison Thursday morning with her parents. Following her early release, she is now required to serve five years of probation, which allows Carter to serve the rest of her sentence out of prison. While individual probations can differ, most require that the offender routinely check in with a probation officer, prohibits them from moving or leaving the country without permission, and expects no future crimes be committed.
The 23-year-old woman was convicted in 2017 after she urged her boyfriend, Conrad Roy, who reportedly made earlier attempts at suicide, to kill himself. While Carter was not at the scene of Roy's death at a Kmart parking lot in 2014, she was linked to text messages and a phone call in which Carter is said to have told Roy to "get back in" to his truck, which he had filled with carbon monoxide. While the phone call was not recorded, a judge cited this as fact according to a text Carter sent to her friend.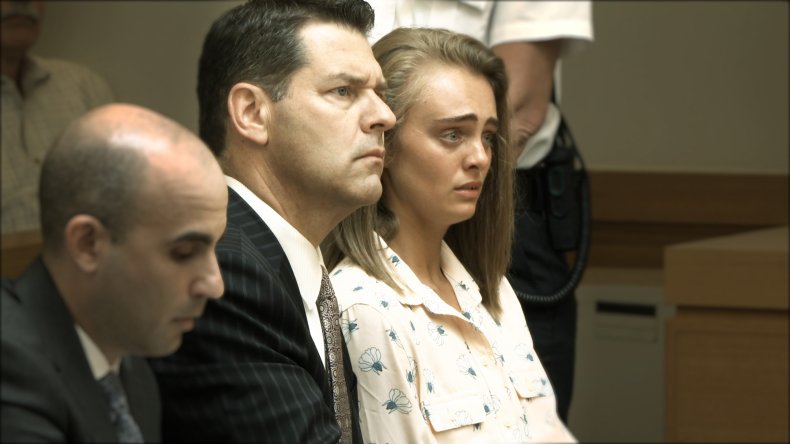 In a segment that was scheduled to air on the Dr. Oz show, according to a report last November, Roy's mother, Lynn Roy, said she "doesn't think about" Carter when questioned if a shorter sentence is appropriate.
"It is what it is. You know, I don't think about her at all," Lynn Roy said at the time.
The case surrounding Conrad Roy's death raised issues about the First Amendment and whether someone's words can be considered a weapon in suicide cases, which Carter's legal team used as a defense.
"The trial judge's verdict and the [state supreme court] affirmance leave no doubt that Carter was convicted for her words alone—what she said and failed to say to Roy," Carter's lawyers explained, according to ABC News. "Carter neither provided Roy with the means of his death nor physically participated in his suicide."
However, the Supreme Court declined to hear Carter's appeal. As reported by the Boston Herald, the court stated: "The evidence against the defendant proved that, by her wanton or reckless conduct, she caused the victim's death by suicide. Her conviction of involuntary manslaughter as a youthful offender is not legally or constitutionally infirm. The judgment is therefore affirmed."
The Carter case garnered media headline, and was retold in the HBO documentary I Love You, Now Die: The Commonwealth Vs. Michelle Carter.
If you have thoughts of suicide, confidential help is available for free at the National Suicide Prevention Lifeline. Call 1-800-273-8255. The line is available 24 hours, every day.
What Comes Next for Michelle Carter? Woman Involved in Suicide-Texting Case Released Early From Prison | U.S.