'What the Constitution Means to Me' Shows How to Solve Some of the Document's Problems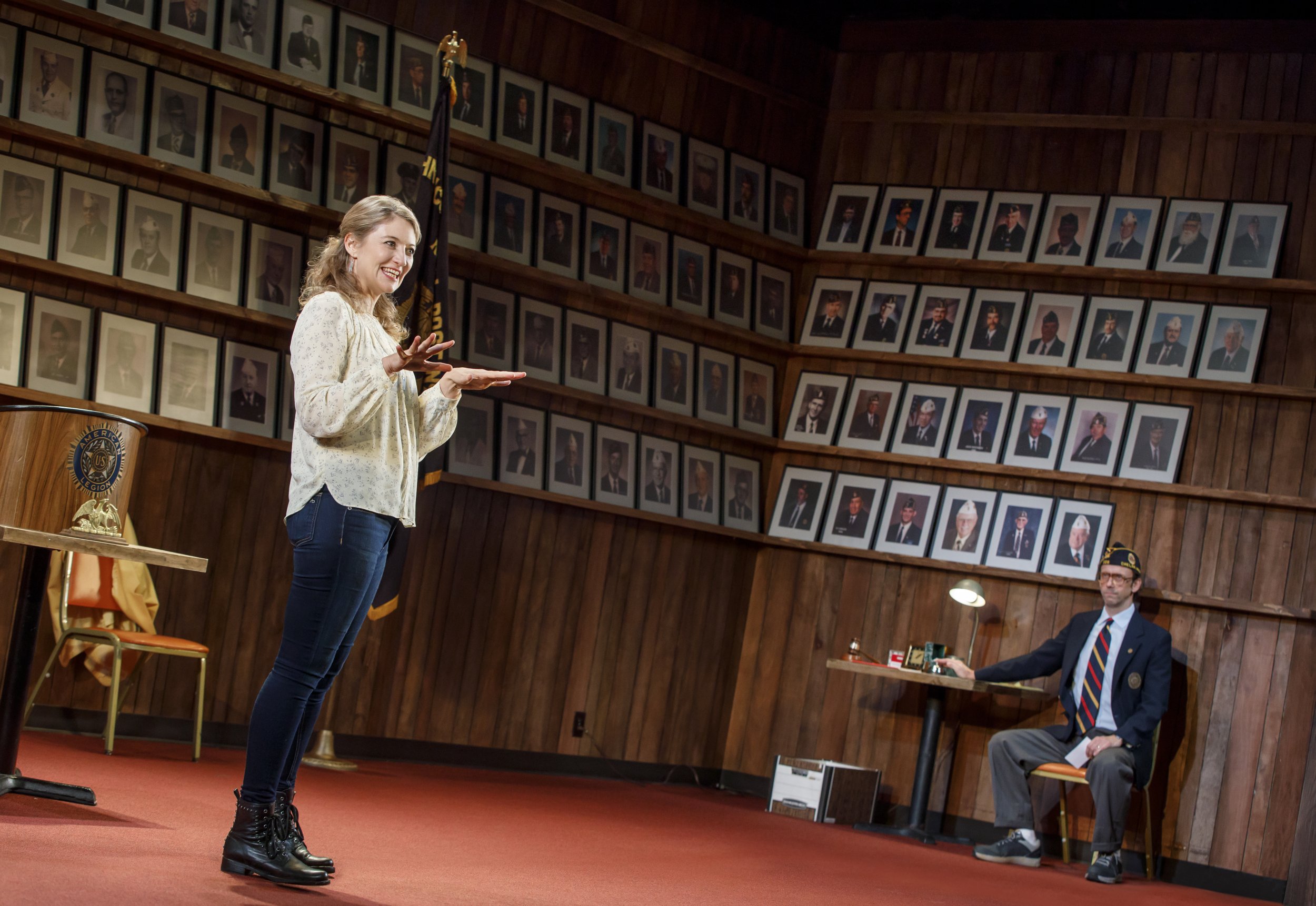 The title What the Constitution Means to Me, might seem like the theme for a high school civics paper or a debate, but Heidi Schreck's play, which had its Off-Broadway premiere in in 2018 at New York Theatre Workshop, is much more. It is simultaneously a parody of a debate, and homage to debates and an actual debate, but mostly it is a meditation on the Constitution, specifically the 14th Amendment and on human rights. It is also a story of how the Constitution and its interpretations have affected Schreck's family. And ultimately, the play calls into question whether or not the Constitution should continue to exist in its present form.
It so happens that What the Constitution, which is now playing on Broadway at the Helen Hayes Theater, actually did have its genesis in a high school debate, where Schreck won a contest and then took her act on the road. With the money she earned, she paid for her college tuition. When she got the idea to create this play, Schreck turned to director Oliver Butler for a collaborator and used her debate story as a point of departure. They spent many months working on it, which was itself an educational experience for both of them.
"There was a lot of research," says Butler. "We both did it—listening to old Supreme Court cases and reading articles. Even Heidi will say she is not a constitutional scholar, but she did really well in getting source material and talking to knowledgeable people. We shared articles we had found and things that she had heard on various Supreme Court cases. And she would also share writing she had done in the past—some of it we weren't even sure we would use."
The play was originally was going to be about the Ninth Amendment, which states basically that citizens have rights other than those explicitly listed in the Constitution. But when Schreck read the 14th Amendment:
No state shall make or enforce any law which shall abridge the privileges or immunities of citizens of the United States; nor shall any state deprive any person of life, liberty, or property, without due process of law; nor deny to any person within its jurisdiction the equal protection of the laws.
she saw that it related to events in her family's history.
Schreck's great-great grandmother was a German mail-order bride brought to Washington state. Her story is tough to hear: The relationship was abusive and violent, and she died of what was called "melancholia."
When Schreck shared this story with Butler, he was "sad and deeply horrified," but "I knew she was telling a deeply important story. I can't say I was excited. I was sad, and I also knew it was going to make a really, really interesting and deeply important story on stage.
"My first reaction was: what a unique story, unique to Heidi and her own family. But as I have talked to other women about their experience growing up in the world, you learn that on any given night, by the numbers, a quarter of our audience have had a story similar to one of Heidi's."
While her family story of abuse might seem topical, even ripped from the headlines, that was not the case. "We started working on this before the #MeToo movement and before people were talking as openly about their experiences," says Butler. "We do have a human rights crisis in the world and in America that relates to the violence that women—and men—are subjected to every single day."
One of the problems with the Constitution that jumped out to Schreck is that it is more concerned with negative rights than positive rights. It tells you what cannot be done, rather than what can be done. It's like the difference between the Old Testament and the New Testament. (Or as Mark Twain said: The god of the New Testament is like the god of the Old, who got religion. Compared to newer constitutions, ours needs—figuratively speaking—religion.) In spite of what the Constitution might seem to imply, her great-great grandmother had no rights.
"When we started the process of putting this play together," says Butler, "I didn't know about positive rights and negative rights."
Further complicating matters for Schreck and Butler is the argument of the importance of safety over freedom. This was not a black-and-white case. "Safety vs. freedom I think that was a really important movement in the development of the play," he says. "We needed to create something that had a structure, that provides safety but also provide freedom for her."
For Butler, this dilemma helped form the throughline of the show, and gives it a depth and elevates What the Constitution above standard problem plays: "Part of the message of the show is being able to hold two things simultaneously together even if those things have contradictory paths."
F. Scott Fitzgerald said as much, "The test of a first-rate intelligence is the ability to hold two opposed ideas in mind at the same time and still retain the ability to function," which is not a popular concept these days—not in Washington, not in a lot of places. "A huge part of this show," say Butler, "is building the ability of holding two opposing thoughts at once."
While is seems to have a free-form structure and, What the Constitution is actually pretty tightly scripted, but Butler says Schreck can depart a little when she feels it necessary. "Heidi knows the material well enough and she is a good enough performer that she can cut something early on and bring it back later. But that is rare."
This keeps the show fresh and helps it work on multiple—often clashing—levels. It also allows for a different resolution from night to night.
What the Constitution ends with Schreck and a local student debating the topic: "Should the Constitution Be Abolished?" The debate is unscripted and an audience member chooses the winner.
Most of the time, Butler says, the verdict has been to not abolish. His position, however, has become a little more complex as he has worked on the show: "The decision to keep or abolish the Constitution changes from night to night. Originally, I thought of this as an exercise, that of course we're going to keep the Constitution. But I think as we've done the show, we've seen real-time immediate problems with the Constitution. I think we've—well at least I have—become open to if not 'abolish,' then 'radical change.'
"I didn't know that there were these other constitutions that had been drafted recently. That was what changed my mind. I originally thought, We'll you can't just change the Constitution. That's impossible; that doesn't happen.
"Then the fact that there are real-life examples of it happening and working, and you just say, 'Wait a minute. The Constitution is so old. The world has changed; we should be allowed to consider that.""
And that is probably the underlying theme of the show: that people should be open to radical change in times that seem to be increasingly radical.
What the Constitution Means to Me is playing on Broadway at the Hayes Theater in New York, for more information go to ConstitutionBroadway.com.
This story has been updated on Monday, April 1 at 1:41 p.m. ET, to reflect the show's move to Broadway.