What is Convalescent Plasma? Governor Cuomo Discusses Possible Medical Treatment Ahead of COVID-19 Vaccine
Nearly one month into New York's stay-at-home order, Governor Andrew Cuomo presented several approaches to transition the state toward a "phased reopening" during his daily coronavirus briefing on Wednesday.
In the absence of a vaccine to protect against the disease, which Cuomo acknowledged will likely require 12 to 18 months of trials before it becomes available, the governor reviewed three medical treatments that he said could prompt a "natural end" to the COVID-19 outbreak. In addition to hydroxychloroquine, which has been widely debated as a coronavirus management therapy, he cited two possibilities: antibody testing and convalescent plasma.
The Food and Drug Administration (FDA) has not approved any of the treatment options for widespread use in coronavirus patients. However, the agency did issue preliminary guidelines on Monday for healthcare providers and researchers currently investigating the effectiveness of convalescent plasma, an antibody transfer technique that uses blood from a previously infected person to cure a current patient. The method has been employed during various disease outbreaks throughout history, including mumps, measles and influenza, though its success in combating COVID-19 has not yet been proven.
In recent guidelines, the FDA limited use of convalescent plasma as a coronavirus treatment strategy to randomized clinical trials, though it offered allowances for patients with "serious or immediately life-threatening COVID-19 infections." In those cases, physicians can submit individualized requests to the FDA for expanded access.
Clinical trials to test the treatment options efficacy are already underway in New York City, where researchers and clinicians belonging to the city's Mount Sinai hospital system have asked for convalescent plasma donations to potentially help critically ill patients and study results.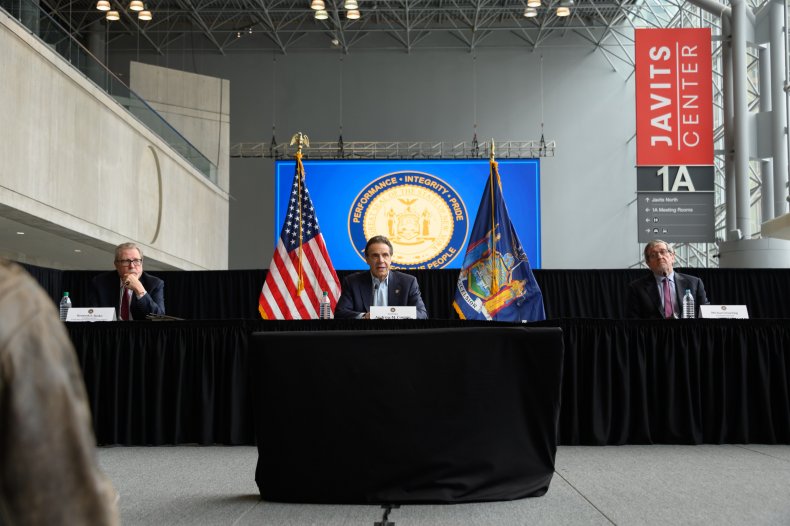 During Wednesday's briefing, Cuomo also announced that New York has developed an antibody test to identify health care professionals and other essential workers who have already contracted the coronavirus. He said the state plans to begin administering 2,000 tests per day starting this week and has asked the FDA for expedited approval of the assessment in an effort to expand access.
Regarding the development of a coronavirus vaccine, Cuomo said, "the sooner the better." He emphasized New York's eagerness to assist in the testing process however it can.
"Anything we can do to work with the federal government to get the vaccine done faster, we are all in. You want to use New York state as laboratory? We are ready, willing and able," he expressed. "Any way the New York State Department of Health can work with the FDA to reduce that testing period, we are all in and energized and creative and ambitious about it. So, anything we can do to accelerate that vaccine, we will do. You need a place to test it in large numbers? Think of New York."
As of Wednesday afternoon, New York had confirmed 203,377 cases of the new coronavirus statewide, as well as 11,586 deaths. Cuomo said 752 people had died since Tuesday's briefing, following more than a week of comparably high single-day fatality counts.