What the Coronavirus Task Force Says About Memorial Day 2020 Outdoor Activities Like Beaches, Golf and More
Some members of the White House Coronavirus Task Force have weighed in on the measures Americans should take as the country gets ready for Memorial Day weekend in the middle of the coronavirus pandemic.
Dr. Anthony Fauci, the director of the National Institute of Allergy and Infectious Diseases, said on CNN's Global Town Hall Thursday that he will spend Memorial Day taking hikes with a mask on, and he said Americans can likewise go out as long as they take measures to stay safe.
"It depends in the dynamics of the outbreak where you are, but wherever you are—I mean Memorial Day is a very important holiday. Hopefully the sun will be out, we'll be having people who want to get out there and get fresh air—you can do that. We are not telling people to just lock in, unless you are in a situation where you have a major outbreak going on—we don't have to much of that right now in the country," Fauci said.
"Go out. Wear a mask, stay six feet away from anyone just so you have the physical distancing, and go out. Go for a run, go for a walk, go fishing—as long as you are not in a crowd and you are not in a situation where you can physically transmit the virus," Fauci said.
At an unscheduled press conference Friday, Dr. Deborah Birx, the White House coordinator for the Coronavirus Task Force, reiterated that even people who seem healthy may be carrying the new coronavirus, and she told Americans who are planning to go out for Memorial Day to continue social distancing protocols, adding that she knows "the American people can do this."
"Please, as you go out this weekend understand you can go out, you can be outside, you can play golf, you can play tennis with marked balls, you can go to the beaches if you stay six feet apart. But remember that is your space, and that is the space that you need to protect and ensure you are social distanced for others," Birx said.
In an interview on WTMJ 4 in Milwaukee Wednesday, Alex Azar, the Secretary of Health and Human Services, said that there are "appropriate things" people should do, but they can go out to enjoy the weekend while observing local and state laws.
"I would encourage you as always to evaluate and know your own circumstances. What is your own level of risk as well as those of your household members because that can help play into your decision making," Azar said.
"Going to your lake place in Wisconsin, keeping appropriate distance from non-family members, wearing a face mask if you are in settings where you are going to have to be closer than six feet from people—these are appropriate things we can do. We can get outside, we can enjoy life, enjoy the great weather. That is all part of getting America back up and running again," Azar said.
Newsweek reached out to the White House for further comments from the Coronavirus Task Force, but they did not respond back in time for publication.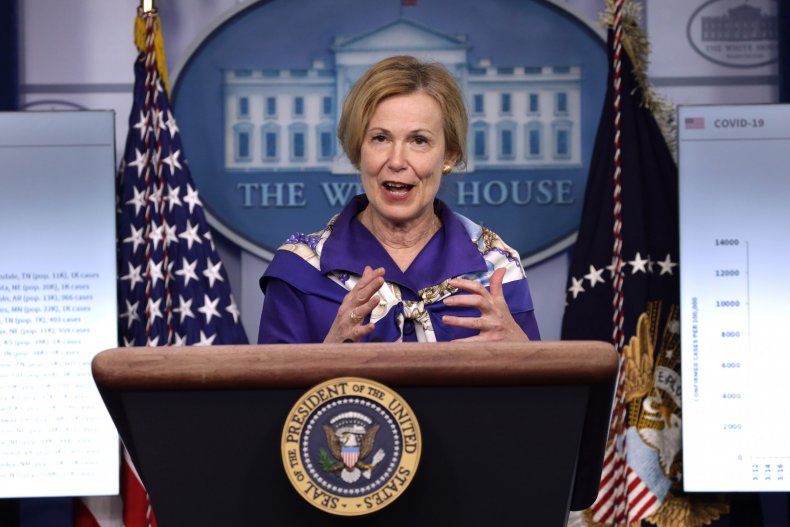 What the Coronavirus Task Force Says About Memorial Day 2020 Outdoor Activities Like Beaches, Golf and More | U.S.