What Could Stall Another Stimulus Check? Offering Protection From Coronavirus Lawsuits
Although Republicans are warming to the idea of authorizing a second round of individual checks, a partisan impasse over a seemingly obscure issue—limited liability—could delay any federal relief from getting approved anytime soon.
The political fight over liability protections for businesses, schools and hospitals that operate amid the coronavirus pandemic escalated Tuesday, with 21 Republican governors throwing their support behind the demand from GOP congressional leaders that the legal safeguards be included in a forthcoming economic stimulus bill.
The safeguards shield those entities from civil lawsuits, Republicans have argued, and that it is a crucial step for reopening the country.
"To accelerate reopening our economies as quickly and as safely as possible, we must allow citizens to get back to their livelihoods and make a living for their families without the threat of frivolous lawsuits," the GOP governors wrote to congressional leaders. "To be clear, liability protections are not a license for gross negligence, misconduct, or recklessness."
The open letter was addressed to Senate Majority Leader Mitch McConnell (R-Ky.), House Speaker Nancy Pelosi (D-Calif.), Senate Minority Leader Chuck Schumer (D-N.Y.) and House Minority Leader Kevin McCarthy (R-Calif.). It was signed by the governors of Indiana, Texas, Arizona, Alabama, Arkansas, Alaska, Idaho, Iowa, Maryland, Mississippi, Missouri, Nebraska, New Hampshire, North Dakota, Ohio, Oklahoma, South Carolina, Tennessee, Utah, West Virginia and Wyoming.
However, Democrats vehemently oppose the push for such legal impunity, arguing that it could place workers and members of the public at a greater risk for being exposed to unsafe environments and contract the virus. In contradictory fashion from what Republicans have said about liability protection, the Trump campaign has forced rally attendees to sign legal waivers that declare them free of responsibility if anyone catches coronavirus.
McConnell has declared liability protections to be his "red line" and has support from the White House on the subject.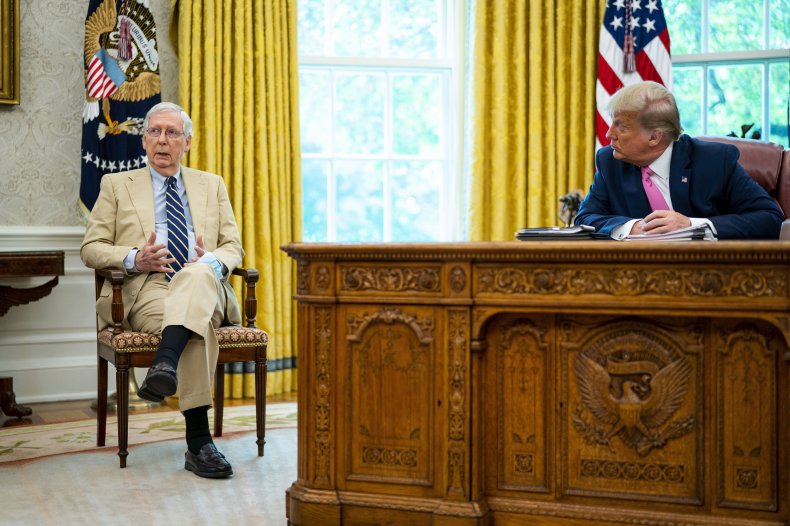 "The American people will not see their historic recovery gobbled up by trial lawyers who are itching to follow the pandemic with a second epidemic of frivolous lawsuits," McConnell said Tuesday. "Gross negligence will still be actionable, but we are creating a safe harbor for institutions that make good-faith efforts to follow the guidelines available to them."
Limited liability protections are just one of several subjects that Republicans, the White House and Democrats need to agree upon. But it's a major area of disagreement that could delay the approval of a fresh round of stimulus checks—which Trump supports and a growing number of Senate Republicans have signaled they also do.
McConnell said the second installment of direct payments would "keep driving out national comeback."
"Helping to create more American jobs is an urgent moral priority, and these are just some of the policies we're discussing that will help that happen," he said.