What Is a Coup? Meaning of Term Amid Venezuela Military Uprising, Battle Between Guaidó and Maduro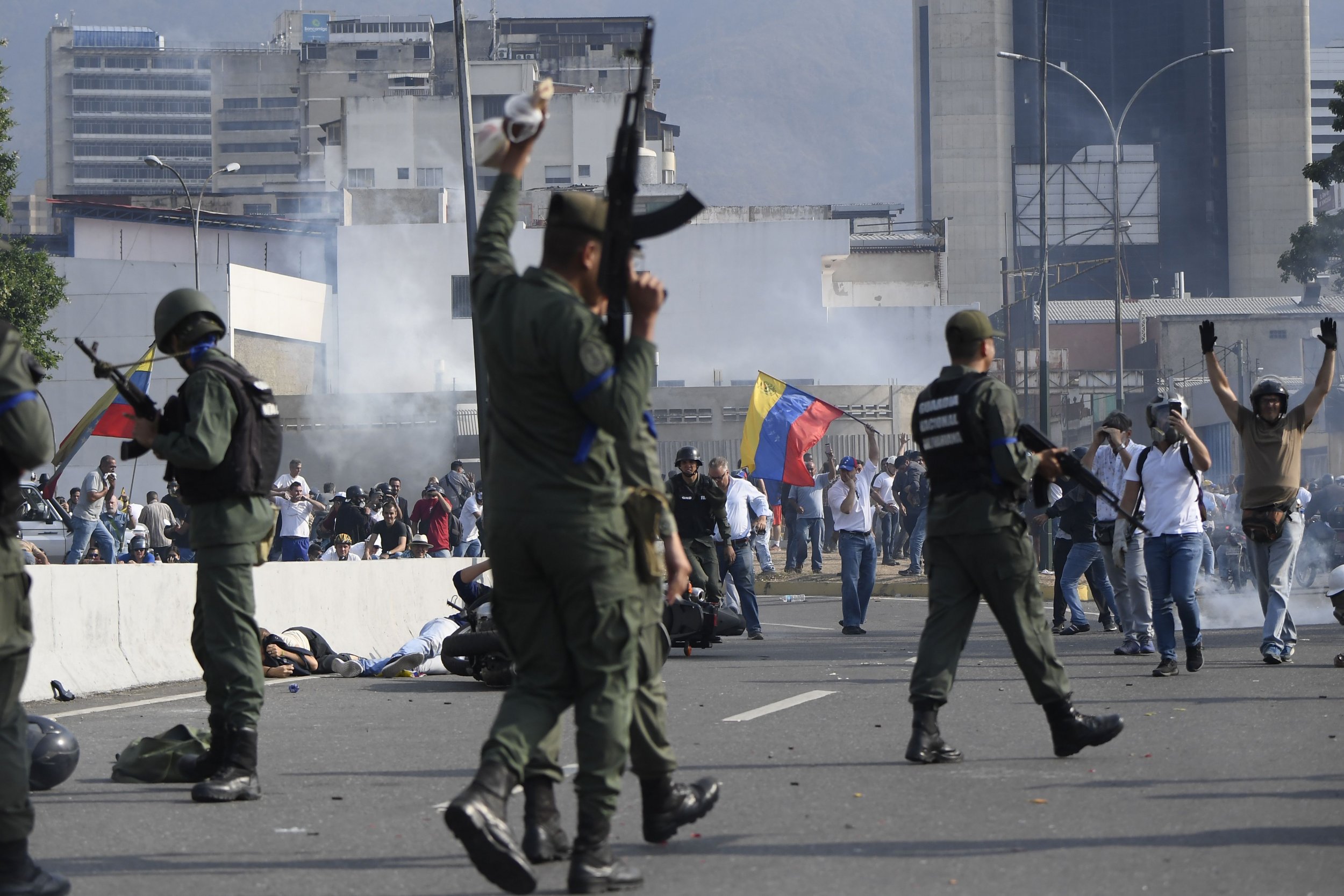 Juan Guaidó's ambassador to the United States has denied that Venezuela's opposition leader had launched a "military coup" to overthrow the country's president, Nicolás Maduro. Earlier on Tuesday, Guaidó took to the streets with members of the country's armed forces, encouraging citizens to rise up and seize power from Maduro.
The administration of Maduro, who has faced increasing pressure to step down from the United States–backed Guaidó, immediately labeled the move a "coup attempt," with information Minister Jorge Rodriguez denouncing a "small group of military traitors."
Speaking in Washington. D.C.. later in the day, however, the U.S. ambassador to Guaidó denied that was the case.
"This is not a military coup, this is a constitutional crisis, led by the Venezuelan people," Carlos Vecchio said. "This is only the beginning," he added. "This is an operation that is developing right now. You will see more events in the hours and days to come."
Guaidó declared himself Venezuela's interim president in January amid an economic crisis that has crippled the once oil-rich country in recent years and what he said were increasing moves on behalf of Maduro to stifle democracy. Guaidó's claim to the interim presidency was quickly recognized by the United States, Canada, several major European nations as well as neighbors Colombia and Brazil.
The fact that Guaidó and his allies consider him the legitimate president explains the rejection of the term "coup" to describe Tuesday's actions.
The Oxford English Dictionary defines a coup, or coup d'etat as "a sudden, violent, and illegal seizure of power from a government." The word is typically used to refer to an illegal seizure of power.
But others have argued that a coup does not have to be illegal and could even be democratic.
In a 2002 article for the Harvard International Law Journal, Ozan Varol, a law professor at Lewis & Clark Law School argued that, while most coups are inherently undemocratic, some can advance democracy in a country.
While not using the word "coup," the Trump administration backed Guaidó's move on Tuesday.
"Today interim President Juan Guaidó announced the start of Operación Libertad," tweeted Secretary of State Mike Pompeo. "The U.S. Government fully supports the Venezuelan people in their quest for freedom and democracy. Democracy cannot be defeated."
John Bolton, President Donald Trump's national security adviser, was even more explicit in his call for the Venezuelan military to rise up against Maduro.
"Venezuelans have made clear that the current path toward democracy is irreversible," he wrote on Twitter. "Venezuela's military has a choice: embrace democracy, protect civilians and members of the democratically elected National Assembly, or face more man-made suffering and isolation."
Photos and videos posted on social media showed violent clashes between government-controlled forces and protesters. One video showed a National Guard vehicle running over protesters in the streets of the capital Caracas.