What Is CTE? UNC Coach Questions Evidence on Brain Disease Linked to Football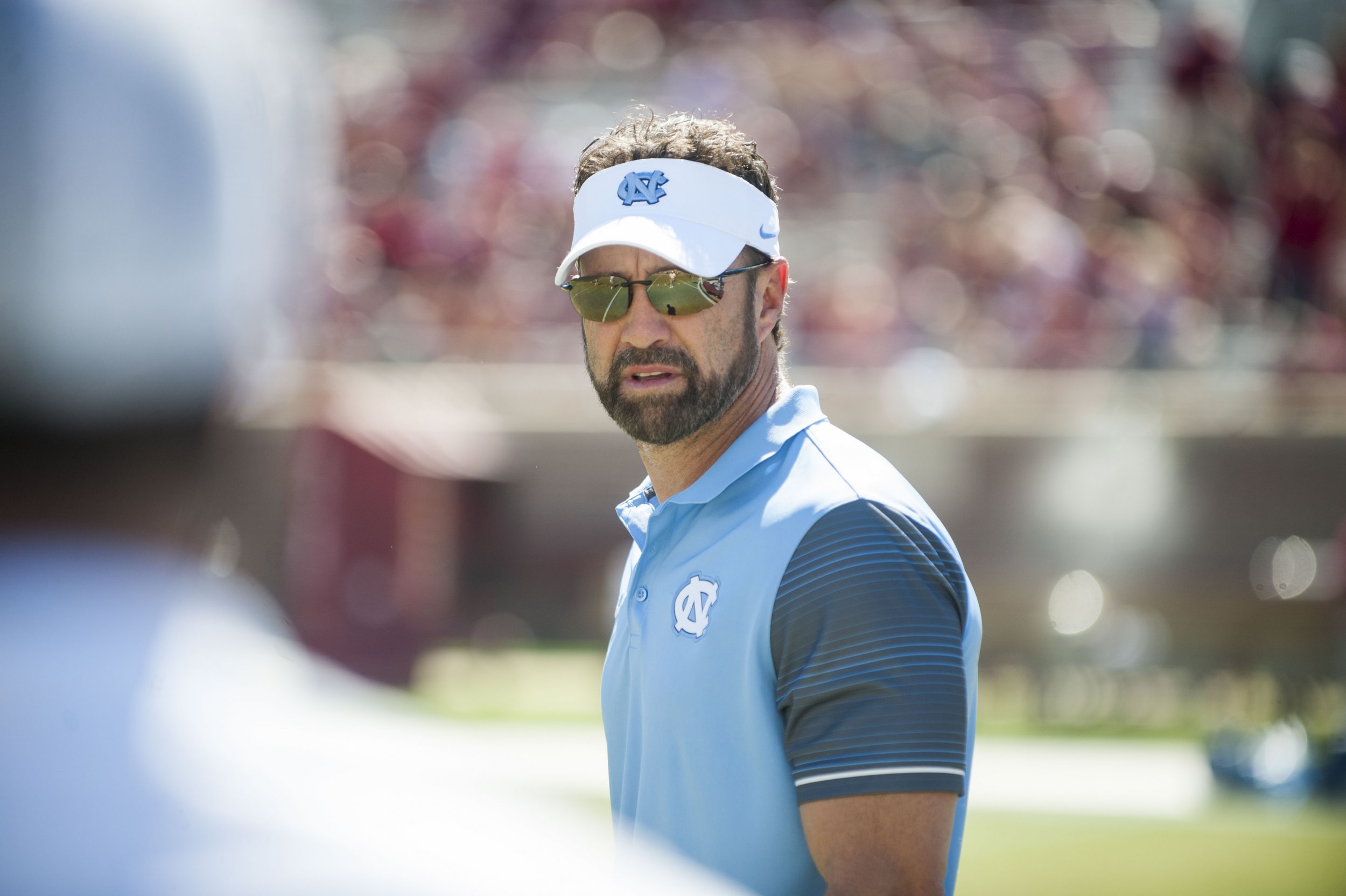 University of North Carolina at Chapel Hill football coach Larry Fedora has sparked controversy for questioning the scientific basis of studies that link the sport to a degenerative brain condition.
Speaking at the Atlantic Coast Conference's media days in Charlotte, he said that football was "under attack" and that the game would not be recognizable in 10 years, ABC News 11 reported. "And I do believe that if it gets to that point, that our country goes down too."
Fedora also said he was unconvinced football was linked to chronic traumatic encephalopathy (CTE).
"I can take the data and I can make it look one way, and you can take the data and make it look another way, and whoever is presenting it is the one that gets the say-so," he said.
In a subsequent interview, Fedora sought to clarify his comments and said, "I'm not sure that anything is proven that football, itself, causes [CTE]."
He went on, "My understanding is repeated blows to the head cause it, so I'm assuming that every sport, football included, could be a problem with that, if you've got any kind of contact. That doesn't diminish the fact that the game is still safer than it's ever been because we continue to tweak the game to try to make it safer for our players."
UNC declined to offer a statement on behalf of the university or Fedora in regard to his comments.
However, Chris Nowinski, co-founder and CEO of the Concussion Legacy Foundation, told Newsweek: "There is no question CTE is linked to football. The leading public health authority, the CDC, recently published fact sheets stating repetitive head hits are the only known risk factor for CTE."
CTE is a progressive neurodegenerative disease associated with brain trauma from concussion and repeated hits to the head known as sub-concussive head impacts. These events are common in such sports as football and boxing.
It's unclear how common CTE is across the U.S. population, as most studies have involved only athletes and military service members.
Currently, a definitive CTE diagnosis can be made only after a person dies, when doctors assess the individual's brain for the tau protein linked to the condition.
The symptoms of CTE vary from person to person. Some may experience depression or anxiety and go on to develop problems with their memory and thinking skills.
Related: Why being skinny fat could be just as dangerous as being obese
However, others may experience these symptoms in reverse. The condition can also trigger problems with an individual's movements, including coordination, and raise the risk of falling or body tremors.
Nowinski said all tackle football players should be taught that the condition can be a consequence of the sport, "although we don't know the absolute risk they will develop CTE."
"Football is the primary or only source of repetitive head hits in hundreds of football players diagnosed with the disease. CTE is not seen in individuals who have not received head impacts," he said.
Describing Fedora's original comments as "inflammatory," Nowinski said the coach was correct to walk back his initial stance and "acknowledge that the evidence supports repeated head impacts put athletes at risk for CTE."
"As an authority figure in football, many coaches look up to him, and coaches have perhaps the greatest ability to prevent CTE by reducing hitting in practice. So we need coaches to buy in. I would have rather Fedora spent more time talking about how he has supported research on his players and changed how he coaches to prevent injury, which we should acknowledge he has done."
Children should no longer be allowed to play tackle football before high school, and hitting in practice at the high school and college levels should be "dramatically" reduced, as it is at the professional level, he said.
In May, NHL player Jeff Parker was diagnosed with severe CTE. In 2017, he died at age 53 from a heart and lung infection.
Parker retired from the Hartford Whalers in 1991 after he experienced two concussions in a fortnight and was left with ringing in his ears, sensitivity to light and headaches. As he aged, he developed mood swings, dampening of his hearing and taste and vertigo.
To raise awareness of CTE, his family released the results of a test on his brain.