What Is 'Cyber Rodeo?' Elon Musk's Event Expected to Draw Thousands
Electric vehicle maker Tesla will welcome up to 15,000 people for an event in Austin, Texas to celebrate the opening of a new factory.
The event, dubbed "Cyber Rodeo," will take place at the new facility, known as the Gigafactory. The factory is located in Del Valle, Texas, just outside of Austin.
Tesla's billionaire owner Elon Musk tweeted about the event early Thursday morning.
"Grand opening party tomorrow! Doors open at 4, festivities at 8," Musk wrote. "I will give a talk around 9," he added.
KVUE reported last month that Tesla had secured a permit to host up to 15,000 people for the event at the new Gigafactory. It will be invitation-only, per Bloomberg, but Musk said on Twitter that "the door won't be super strict."
Musk also tweeted out the preparations being made for the event, including a stage with cars on it and bright lights, and a neon sign shaped like the state of Texas with the words "Cyber Rodeo" and "Giga Texas" written inside of it.
Newsweek reached out to Tesla for additional details and comment about the "Cyber Rodeo" event but did not receive a response before publication on Thursday afternoon.
In October 2021, Musk announced that Tesla would be moving its headquarters from California to Texas. The Austin Chamber of Commerce said at the time that the company is expected to generate "10,000 jobs across the employment spectrum, from entry-level roles to skilled labor and management with career pathways."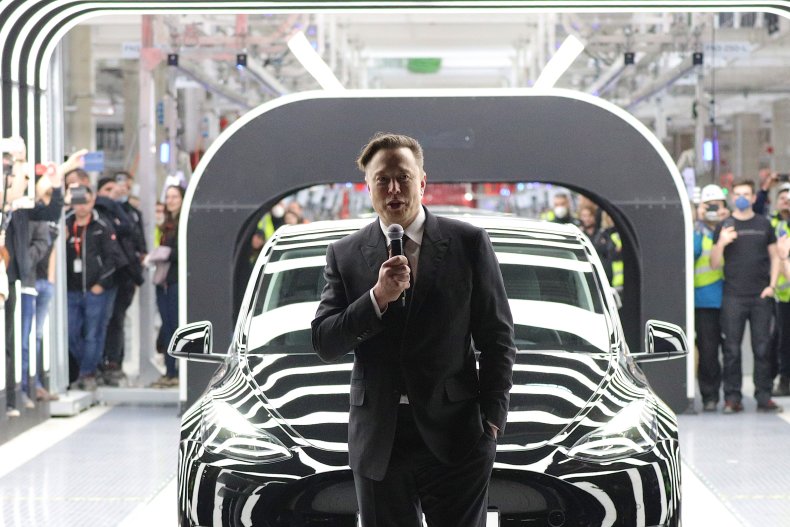 Though the company's headquarters has relocated, Musk said at the time that Tesla still planned to operate its factory in Fremont, California, and increase production there by 50 percent.
Tesla began working on the $1 billion Texas Gigafactory in the summer of 2020 and has factories all over the world. In addition to California and Texas, the company has facilities in New York, China, Germany and Nevada.
Musk made news earlier this week after he bought more than a 9 percent stake in Twitter Inc., earning a spot on the social media company's board of directors.
"Looking forward to working with Parag & Twitter board to make significant improvements to Twitter in coming months!" Musk tweeted on Tuesday, referring to Twitter CEO Parag Agrawal.
Newsweek reported that while Musk purchased a large number of shares in the company this week, he would need 50 percent of all of them to have a controlling stake in the company. Without support from other investors, Musk won't be able to make changes to the company's policies.