What Dave Filoni's Promotion at Lucasfilm Means For 'Star Wars,' Kathleen Kennedy
Star Wars fans were sent into a frenzy on social media when they realized Dave Filoni had been promoted at Lucasfilm.
He is now believed to report directly to Lucasfilm president Kathleen Kennedy, who is the producer on a reel of past and future Star Wars films.
A representative from Lucasfilm told Variety the promotion actually took place a while ago but was only recently updated online.
The American film director has become well-known among Star Wars fans for his role in creating and producing fan-favorite projects such as Star Wars Rebels and The Mandalorian.
Filoni worked his way up at the production company and in 2005 was selected by the franchise's director George Lucas himself to work on Star Wars: The Clone Wars. The series, which spanned the course of seven seasons, began in 2008 and won four Emmy Awards, including the Emmy for Outstanding Special Class Animated Program.
Filoni was then kept on to create Star Wars Rebels, in 2014, which was heavily praised for broadening the Star Wars universe. It also went down well for its inclusion of character Ahsoka Tano, who is adored by fans.
He was also made executive producer, episodic director and writer on The Mandalorian and is now creator and executive producer on the latest animated series in the Star Wars universe, Star Wars: The Bad Batch.
Fans spotted Filoni's role on Lucasfilm was recently updated to Executive Creative Director and Executive Producer on the company's website. Prior to this, Filoni worked on various Star Wars projects as an Executive Producer, on a case-by-case basis.
Newsweek has contacted Lucasfilm for comment.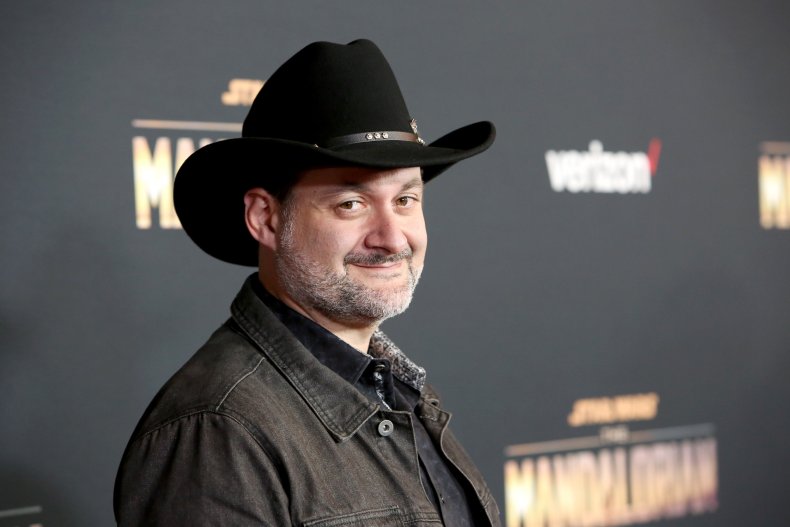 The news excited fans of the franchise online who felt the future of Star Wars is now brighter than ever with Filoni higher up the ranks.
Twitter user @JasonHusak wrote: "This decision is obviously the best move. @dave_filoni has done nothing but deliver excellent #StarWars content time and time again. I'm incredibly happy for him. Star Wars fans will have a lot of quality stories to look forward to in the coming years. I can't wait!"
"Dave Filoni is absolutely the right guy to be in charge of creative decisions for Lucasfilm," @GhibliBlog posted. "He is a true student of George Lucas, was indeed hand-picked by him for the Clone Wars series. Star Wars will be in good hands. Can we get the Lucas Sequel Trilogy now, please?"
Over the years, Kennedy has met some criticism from fans over the storylines in new Star Wars trilogy, Star Wars: The Force Awakens (2015), Star Wars: The Last Jedi (2017) and Star Wars: Episode IX (2019).
Following news of Filoni's promotion on social media, a debate erupted online about how much control creative control Kennedy will, or should have.
"DAVE FILONI being promoted to Executive Creative Producer at Lucasfilm is a move that came about 9 years too late," @priceoreason wrote. "Even if Kathleen Kennedy left right now (she hasn't), Filoni taking charge of Star Wars would be like him captaining the Titanic."
@Movie_Chumps added that whilst fans respect Kennedy, she is not right for the franchise anymore.
User @jason_d_ivey said they hoped the producer will "salvage the wreckage that is Star Wars from Kathleen Kennedy."
"I disagree IMMENSELY that Kathleen Kennedy's tenure as the de facto head of Star Wars at Disney was a failure, but the recent news of Dave Filoni's promotion at Lucasfilm feels like the fulfillment of a decades old prophetic dream," @_oz___
added. "Today is a good day. This is the way."
One user, with the handle @TroyBrownfield, argued that Kennedy has approved everything fans like about Star Wars.