What David Perdue and Jon Ossoff Have Said About Another Stimulus Check
Senator David Perdue voted in favor of the CARES Act that sent direct payments to millions of Americans, but it's his Democratic challenger, Jon Ossoff, that is leading the charge for another round of stimulus checks.
Perdue and Ossoff are in the middle of a tough battle for a Senate seat in Georgia and ousting the Republican incumbent from office could shift control of the Senate to Democrats. Ossoff has criticized Perdue for his record on stimulus checks, a relief provision that has broad support, and been a vocal advocate for another round of payments.
During Sunday's debate that Perdue opted not to attend, Ossoff asked why he "continues to oppose $1,200 stimulus checks" for Americans. He asked why he opposed them in the first place and why he wasn't championing the provision in Washington, D.C.
Ossoff tweeted "direct stimulus checks now," on Sunday and has advocated for another round of checks for months.
"If I were in the Senate right now what I would be supporting is a legislative package that delivers immediate direct stimulus checks to the American people," he told MSNBC's Joy Reid on Saturday.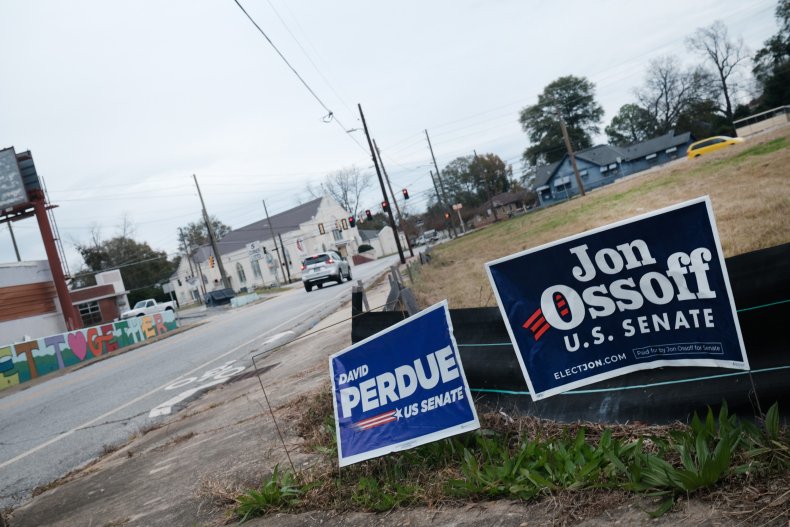 Democrats and Republicans have both expressed support for another round of checks but the latest bipartisan proposal, worth $908 billion, doesn't include more direct payments. Ossoff told Reid he "applauded" the bipartisan spirit of the proposal, but said there needs to be immediate "direct relief."
Perdue said he "personally opposed" stimulus checks but in March, he voted in favor of the CARES Act, a $2.2 trillion relief package that unanimously passed both chambers. One measure in the package was $1,200 direct payments to eligible individuals, with an additional $500 payment afforded for each eligible dependent child.
Perdue and Senator Kelly Loeffler, who is in a runoff election of her own, reminded voters of their support for the CARES Act in a joint statement on Monday. The two support more "targeted relief," according to the statement, which includes another round of the Paycheck Protection Program and an extension of "critical relief" through the end of the year. The statement didn't mention another round of stimulus checks.
Newsweek reached out to Senator David Perdue for comment but did not receive a response in time for publication.
Monday's the last day to register to vote in the Georgia runoff election and early voting is set to begin on December 14. If Loeffler and Perdue lose their seats in the Senate, it'll create a 50-50 split, effectively giving Democrats control because it will be up to Vice President-elect Kamala Harris to cast the tie-breaking vote.
Polls put Ossoff and Perdue neck and neck in the fight for the Senate seat and an October poll found a majority of likely voters nationwide supported another round of checks, including more than half of Republicans.
With President-elect Joe Biden in the White House, taking control of the Senate would give Democrats both chambers of Congress, as well as the executive branch, an advantageous position for moving policies through. That could include additional rounds of relief so even if the bipartisan package passes, there may be another opportunity for Americans to receive another stimulus check.