What Is Dax Shepard's Prognosis Following Brutal Motorcycle Accident?
Dax Shepard will soon be undergoing surgery after the actor revealed he broke four ribs in a horrible motorcycle accident.
On the latest episode of his podcast Armchair Experts, released on Tuesday, the 45-year-old explained that he was riding the bike on the Sonoma Raceway racetrack in California when flew off his motorcycle.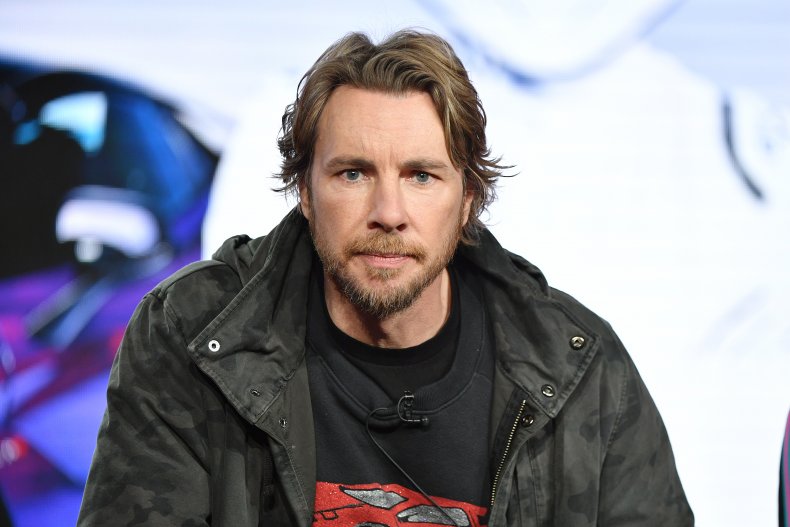 "I was braking very, very hard—hard enough that the back wheel was off the ground for a good 100 yards," Shepard said, noting that he was "totally at blame."
"I thought I would be able to slide in between, but someone turned in and I was already under full brake and I couldn't go anywhere," he continued. "I clipped their bumper and I went over the handlebars and I landed pretty hard."
Although his shoulder and hand were feeling the pain of the accident almost immediately, the father-of-two, who is married to actor Kristen Bell, said he completed two more sessions on the race track after only icing his body for an hour-and-a-half. Of course, that only made things worse and Shepard said he was taken to the emergency room the day after the incident.
"I've been at the hospital for seven hours today," he said. "The final tally was four broken ribs, the clavicle is broken in three places, and I need surgery."
Along with all those injuries, Shepard revealed he also re-injured a finger that he had broken earlier this year.
Bell shared the details of that gruesome injury during an appearance on The Ellen Degeneres Show in May, explaining that Shephard shattered his hand during an "essential off-roading trip" he took by himself before the coronavirus pandemic forced Californians indoors.
"It was by himself but he was off-roading in the mountains and he had a buddy with him, but they were in separate off-road vehicles, and he got to an edge of a cliff," Bell said. "He was sitting on the edge of a cliff and he put his hand up just to look out and the weight of his arm tipped his Polaris RZR over. You don't get injured when you're inside them, but I will tell you something, it did crush all the bones in his hand."
Ever the thrill-seeker, Shepard went on to pull out one of the surgical pins doctors placed in his hand after that injury, which bell captured in an Instagram video in April.
Considering all the injuries Shepard has endured so far this year, one would think he would stick to riding in standard automobiles going forward. However, the host of Discovery's newly revived motor show Top Gear America claimed he had no intention of giving up motorcycles for good, but rather would stick to enclosed vehicles for the time being.
"I might be willing to quit riding for the remainder of 2020," Shepard teased on his podcast.