What Did Amber Heard Write to Johnny Depp in Their 'Love' Journal?
Johnny Depp's legal team continued its cross-examination of Amber Heard on Tuesday and entries from a "love" journal that Heard and ex-husband Johnny Depp used to communicate were shown to the jury.
As the high-profile trial between the two actors continues into week six, Depp's lawyer, Camille Vasquez, brought up journal entries that Heard wrote to Depp in 2015.
Their "love" journal was reportedly shared between the couple, but only Heard's entries were read to the jury as evidence on Tuesday.
Depp is suing Heard for $50 million following an opinion piece she wrote in 2018 with The Washington Post in which she alleged that she was a victim of domestic abuse. Heard is countersuing Depp for $100 million for nuisance.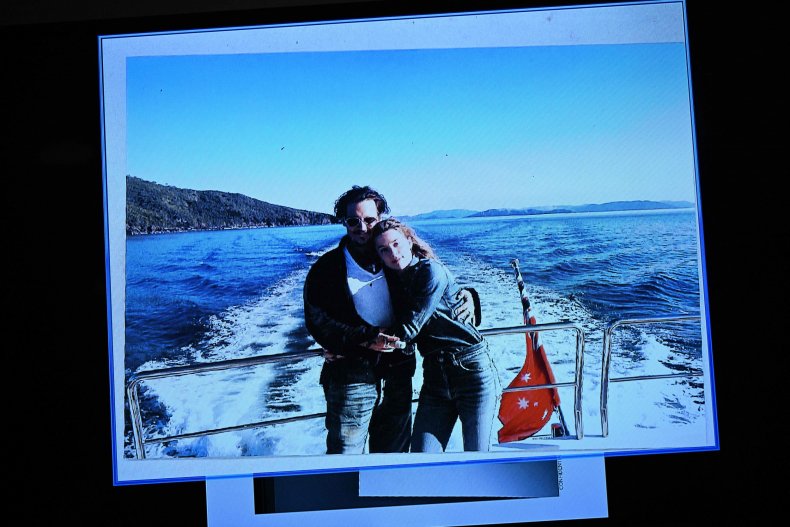 On the inside cover of the journal was a photograph of Depp and Heard on a boat in Australia, and Vasquez pointed out Depp's bandaged hand, noting that the picture was taken after Depp allegedly cut the tip of his finger. Depp's finger is a detail highly disputed in the case, as Depp has alleged that Heard partially severed his finger by throwing a bottle at him, a claim she has denied.
The first entry read on Tuesday was from May 22, 2015, Vasquez noted, as Heard added, "that was during our honeymoon period."
The note from Heard to Depp in the journal read: "True love isn't about just the madness of passion or instead picking the safety of peace. No, it's about having both. Falling madly in love with your friend. That is what has surprised me perhaps most...that I have seen in you the true bones of friendship and respect. But of course, I still [perhaps more than ever] want to rip you apart. devour you and savor the taste. Fret not. Xx Slim."
Several more journal entries were read for the jury, including one dated August 1, 2015. Heard wrote: "That's enough! You've held this book hostage long enough. Although I can't wait to read my note, I also couldn't wait to tell you how much I adore you! What a beautiful, extraordinary, magical, memorable, wonderful, stunning, surprisingly evolving and impulsive adventure. I couldn't have imagined a more gorgeous honeymoon."
Another entry from August 15 began: "Why do we fight? Ever -- why? I love you more than anything else."
Several other entries discuss the more tumultuous aspects of their relationship. One entry written by Heard said: "Let me try to patch this. Let me try to make your heart better. You deserve it. Hell, maybe even I do."
The entry continued: "I hate it when we fight. I hate having you hurt. I hate that you're hurting. I love you more than anything."
After the entry was read, Heard testified: "I think it's important in any relationship to apologize when you're trying to move past fights."
A final entry was read in which Heard wrote: "I am sorry I can get crazy. I am sorry I hurt you. Like you, I can get wicked when I am hurt."
The trial will continue in Fairfax, Virginia, and closing arguments are expected on May 27.
Update 5/17/22, 11:37 a.m. ET: This story has been updated with additional information.