What Did Bill Burr Say at the 2021 Grammy Awards Premiere Ceremony?
Comedian Bill Burr began trending on Twitter Sunday afternoon as he presented a series of awards at the 2021 Grammy Awards Premiere Ceremony.
Burr is up for his first ever Grammy award this year, with Paper Tiger, his newest Netflix comedy special, receiving a Best Comedy Album nomination. The comedian also appeared onstage at the Premiere Ceremony hosted by Jhene Aiko, where most of the award winners were announced, to award nearly a dozen winners.
The comedian's brief appearance riled up a slew of critics online, with some calling on the internet to "cancel" him again for his jokes.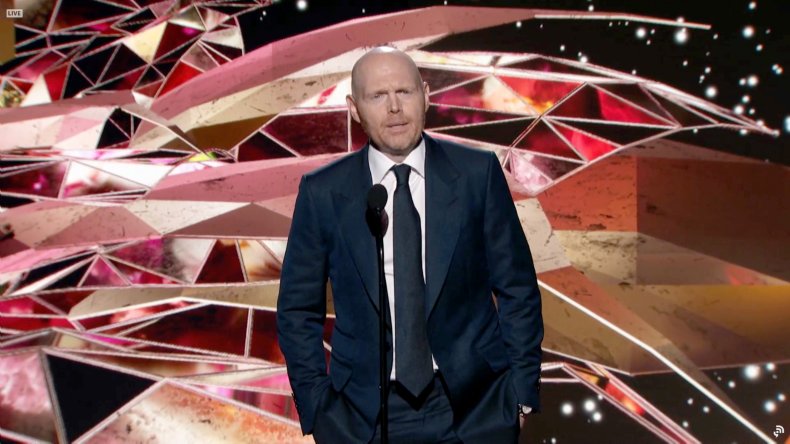 Here's what he said:
As he walked onstage, the comedian immediately made a joke about the lengthy piano performer that played before him. Burr followed it up with another joke about the coronavirus pandemic forcing several artists to accept their awards from home.
"Was I the only one that wanted to kill himself during that piano solo? I bought a suit for this. I thought I was going to be on TV, I'm such a moron, I'm losing so much money right now," he said. "Shout out to all the rock stars that I wanted to meet tonight who are watching at home instead. I'm talking to you Don Dokken. What? I'm old! That was my first concert."
Burr went on to present a slew of awards, including for Best Latin Rock or Alternative Album, Best Choral Performance, Best Classical Instrumental Solo Performance, Best Classical Solo Vocal Album and Best Classical Compendium.
As he presented the Best Regional Mexican Music Award, which went to Natalia Lafourcade, Burr mispronounced the singer's name. He quickly apologized for the error.
"I can't say this name. And the Grammy goes to Natalia Lafourcade. I will accept on behalf of her. If I butchered her name, I'm sorry. Natalia you won. That's it," he said.
The comedian went on to make a joke while presenting the next award: Best Tropical Latin Album.
"The feminists are going nuts, 'Why is this cis-white male doing all this Latino stuff.' And the Grammy goes to Grupo Niche," he said.
The comedian continued on to present over half a dozen additional awards with a straight tone, without making any jokes.
Shortly after he left the stage, "Bill Burr" started to trend on Twitter, with more than 10,000 tweets referencing his appearance on the Grammy stage. Some users were furious with the allegedly politically incorrect joke that he made. Others jumped to his defense and accused the internet of overreacting to a comedian making jokes onstage.
"It's the quarterly attempt at cancelling Bill Burr for being hilarious I see," tweeted comedian Bridget Phetasy.
"ban bill burr. actually just ban white men. a disgrace," tweeted user @modooborahae.
"Everyone watching bill burr butcher his entire segment like," tweeted user @evermet.
"Bill Burr is trending so I'm assuming all the right people are mad about something," tweeted podcaster Stephen L. Miller.
"I see Bill Burr is pissing off the 'buzzword brigade' today," tweeted user @guy2_just.
Newsweek reached out to Bill Burr's representatives for comment.