What Did Trump Know? Timeline of President's Actions Before Misleading Statement
The president has spent weeks distancing himself from a widely reported meeting Donald Trump Jr. arranged with a Kremlin-linked lawyer and others to gain Russian government-backed intelligence on his Democratic campaign opponent, Hillary Clinton. But reports Monday night that Donald Trump himself directed his son to cover up the event's true purpose—claiming the meeting was arranged to discuss sanctions against Russian adoptions, and not Clinton—suggest the president knows far more than what he's led the public to believe.
So, what did Trump know about the meeting involving his eldest son, two of his top campaign aides and Russian operatives in Trump Tower during the final months of the 2016 presidential election, and why did he attempt to misinform the press about it?
Related: Here's how Donald Trump could actually be impeached
A timeline of the president's statements and those from his lawyers and aides leaves little doubt Trump was aware the meeting happened earlier than the White House indicated. But what exactly he knew about its focus and key players has not been disclosed.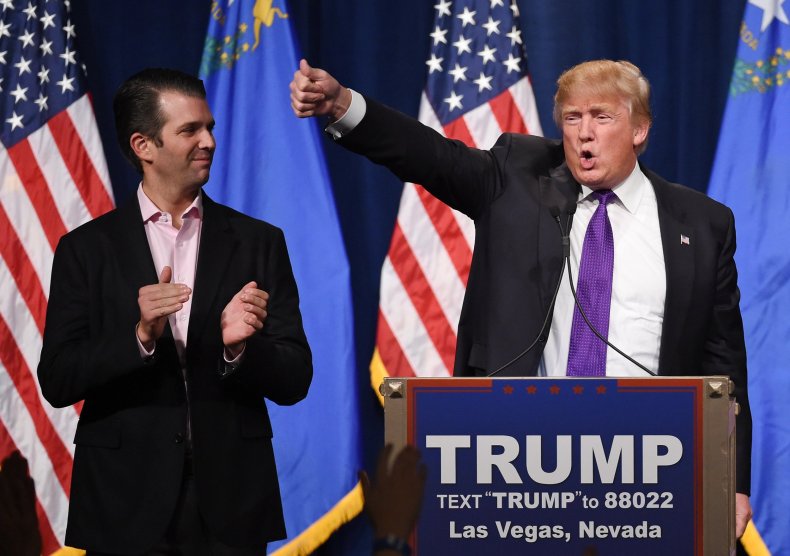 June 3, 2016: Rob Goldstone, a publicist and Trump family acquaintance who has been linked to Russian President Vladimir Putin, emails Trump Jr. about arranging a meeting to discuss "official documents and information that would incriminate Hillary and her dealings with Russia and would be very useful to your father." Top campaign aides Jared Kushner and Paul Manafort are forwarded a thread of emails from Trump Jr. stating the information "is part of Russia and its government's support for Mr. Trump."
June 7, 2016: The meeting is officially arranged for the following Thursday. Donald Trump teases a "major speech" he suggests would damage Clinton's chances at the presidency. "I am going to give a major speech on probably Monday of next week, and we're going to be discussing all of the things that have taken place with the Clintons," then–presidential candidate Trump says. "I think you're going to find it very informative and very, very interesting. I wonder if the press will want to attend. Who knows?"
June 9, 2016: Kushner, Trump's son-in-law, Manafort, then the campaign manager (he later registered as a foreign agent) and Trump Jr. meet with Russian lawyer Natalia Veselnitskaya and other Kremlin operatives in Trump Tower at approximately 4 p.m. Goldstone also attends the meeting—and checks into Trump Tower on Facebook.
Trump leaves a Trump Victory fundraising lunch at the Four Seasons in Manhattan at 1:02 p.m., heading back to Trump Tower, where he remained for the rest of the night. Manafort leaves the Four Seasons for Trump Tower at 2:18 p.m.
July 27, 2016: Trump never delivers a speech incriminating Clinton. At a campaign rally in Florida, the Republican candidate broadcasts a message for Russia, "I will tell you this, Russia: If you're listening, I hope you're able to find the 30,000 emails that are missing. I think you will probably be rewarded mightily by our press."
November 9, 2016: Goldstone shares on Instagram a photo of himself wearing a blue-and-white shirt with the word Russia in red and the caption "Hedging bets." Trump wins the election.
July 7, 2017: Trump meets with Russian President Vladimir Putin along the sidelines of the G-20 summit in Germany. Their first official meeting, it extends nearly 90 minutes. It's later reported the leaders may have met multiple times after their initial closed-door conversation.
During their meeting, Trump reportedly asks Putin whether Russia meddled in last year's election, and Putin strongly rejects all accusations. The two then discuss creating a joint U.S.-Russia cybersecurity group.
July 8, 2017: The New York Times releases the first report on Trump Jr.'s meeting with Veselnitskaya.
Trump Jr. responds to the report, claiming the meeting was to discuss Russian adoptions, marking the first of his many contradictory and misleading statements.
The Washington Post reported Monday night, "Flying home from Germany on July 8 aboard Air Force One, Trump personally dictated a statement in which Trump Jr. said that he and the Russian lawyer had 'primarily discussed a program about the adoption of Russian children' when they met in June 2016, according to multiple people with knowledge of the deliberations."
July 9, 2017: The Times drops a report indicating the meeting was organized with the intention of delivering dirt on Clinton to the Trump campaign. Trump Jr. walks back his initial statement, claiming he was aware of the meeting's purpose but didn't receive any damaging material on his father's opponent.
July 10, 2017: Emails between Trump Jr. and Goldstone show the Russian government's efforts to provide Trump aides with intel on Clinton, the Times reports.
The White House releases a statement saying Trump learned of the meeting only "in the last couple of days."
July 11, 2017: The Kremlin claims it was also previously unaware of the meeting. "We can't monitor all meetings Russian lawyers hold both in Russia and abroad," Kremlin spokesman Dmitry Peskov said.
Trump Jr. publishes screenshots of a single thread of emails sent to arrange the meeting after the Times breaks the story on that chain. Trump praises his son for his "transparency."