What Did Donald Trump Say to Vladimir Putin in Their 'Very Good Call'?
President Donald Trump's congratulatory call to Russian President Vladimir Putin on his re-election touched on foreign policy issues but reportedly made no mention of Russia's alleged interference in the U.S. election, the White House has revealed.
In a conversation between the leaders described by Trump as a "very good call," the president congratulated Putin on his Sunday victory, which saw him win with 77 percent of the vote—amid claims the election was a sham, due to a lack of real opposition and reports of corruption.
"We had a very good call," Trump told reporters on Tuesday, the Los Angeles Times reported, "and I suspect that we'll be meeting in the not-too-distant future to discuss the arms race, which is getting out of control."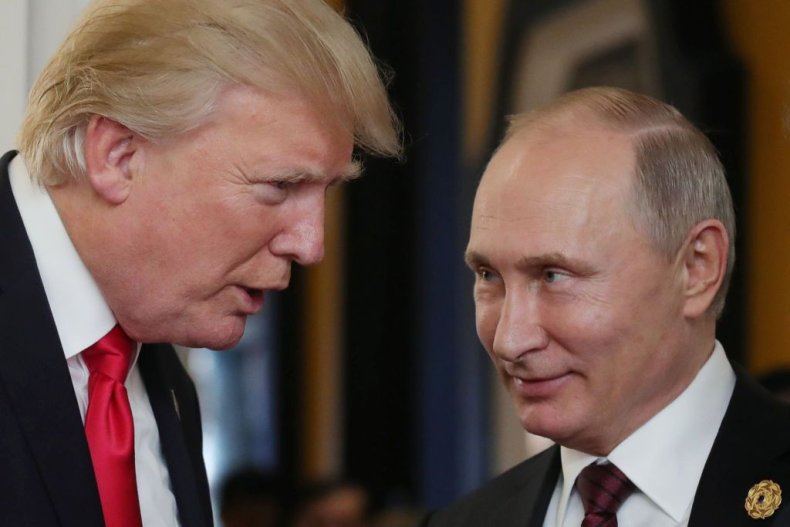 His comments came shortly after the White House suggested there would be no phone call between the leaders, despite both French President Emmanuel Macron and German Chancellor Angela Merkel making calls to Putin.
White House spokesman Hogan Gidley told reporters that Trump had not called Putin and had no plans to do so.
But shortly afterwards, the president confirmed that a phone call had been made.
"I had a call with President Putin and congratulated him on the victory, his electoral victory," he told reporters, explaining that he would meet with Putin to discuss topics that could include the arms race, North Korea and Syria.
"So, I think probably we will be seeing President Putin in the not too distant future," he added, according to CNN.
During his statement to reporters, Trump did not mention whether he had discussed alleged Russian interference in the U.S. elections, or the expulsion of Russian diplomats from the U.K. following the poisoning attack on Sergei Skripal and his daughter that the British government has deemed Russia responsible for.
Asked whether U.S. election meddling was mentioned during the phone call between Trump and Putin, White House Press secretary Sarah Huckabee Sanders told reporters: "I don't believe it came up."
What Did Donald Trump Say to Vladimir Putin in Their 'Very Good Call'? | U.S.