A story published on Tuesday claimed ESPN removed anchor Sage Steele from its programming for a week following a positive test for COVID-19 and also for remarks she made during a recent podcast appearance about former President Barack Obama, women and vaccine mandates.
Front Office Reports wrote Steele got pulled off the air more so because of her controversial comments than her COVID-19 diagnosis. A news release from ESPN also indicated viewpoints she expressed recently caused some friction with the sports channel.
"At ESPN, we embrace different points of view—dialogue and discussion makes this place great," ESPN said in a statement. "That said, we expect that those points of view be expressed respectfully, in a manner consistent with our values, and in line with our internal policies.
"We are having direct conversations with Sage and those conversations will remain private," the statement added.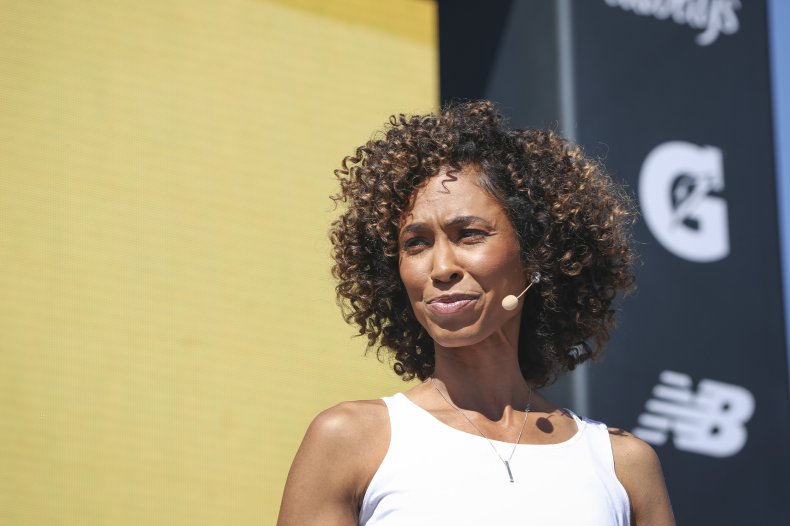 Steele appeared on the podcast Uncut With Jay Cutler in an episode that was released on September 29. During her talk with Cutler, a former NFL quarterback, Steele questioned Obama's racial identity.
"I'm like, 'Well, congratulations to the president. That's his thing.' I think that's fascinating considering his Black dad was nowhere to be found, but his white mom and grandma raised him," Steele said.
She also spoke out against young female sports journalists who she feels dress in a sexually provocative way.
"So, when you dress like that, I'm not saying you deserve the gross comments, but you know what you're doing when you're putting that outfit on, too," Steele said. "Like, women are smart, so don't play coy and put it all on the guys."
Michael McCarthy of Front Office Sports broke the story of Steele's on-air removal and COVID diagnosis.
News of the positive test result comes after she also criticized EPSN on Cutler's show for implanting a vaccine mandate. She told the host she received the vaccine out of fear of repercussions from the Walt Disney Company, which is ESPN's parent company.
"I respect everyone's decision. I really do. But to mandate it is sick, and it's scary to me in many ways," Steele said on the podcast. "I'm not surprised it got to this point, especially with Disney. I mean, a global company like that."
Steele subsequently received widespread criticism on social media following her podcast appearance. On Tuesday, she issued an apology.
"I know my recent comments created controversy for the company, and I apologize," Steele said in a statement. "We are in the midst of an extremely challenging time that impacts all of us, and it's more critical than ever that we communicate constructively and thoughtfully."
Newsweek contacted ESPN for further comment but did not hear back in time for publication.
Uncommon Knowledge
Newsweek is committed to challenging conventional wisdom and finding connections in the search for common ground.
Newsweek is committed to challenging conventional wisdom and finding connections in the search for common ground.
About the writer
Jon Jackson is an Associate Editor at Newsweek based in New York. His focus is on reporting on the Ukraine and Russia war. Jon previously worked at The Week, the River Journal, Den of Geek and Maxim. He graduated Summa Cum Laude with honors in journalism and mass communication from New York University. Languages: English.