What Did Michael Flynn Do? A Look Back at the Case
News that a federal appeals court ordered a judge to dismiss charges against Michael Flynn spread quickly on Wednesday, but some might be unsure what the former Trump administration official did to get into trouble in the first place.
A three-judge panel on the U.S. Court of Appeals for the District of Columbia Circuit ordered a lower court to dismiss the case against Flynn, President Donald Trump's former national security adviser. In a 2-1 ruling, the panel said U.S. District Judge Emmet Sullivan overstepped his authority in appointing an outside counsel to counterargue the Justice Department's decision to drop charges against Flynn.
In May, the Justice Department dismissed the case because of recently disclosed evidence that the FBI's questioning of Flynn lacked a proper investigative basis, according to Attorney General William Barr. Three years earlier, in 2017, Flynn pleaded guilty in federal court to making false statements to the FBI about his communications with Russia.
In a sentencing memo, special counsel Robert Mueller said Flynn made "multiple false statements, to multiple Department of Justice entities, on multiple occasions."
The first of those false statements occurred during a January 24, 2017, interview with the FBI, when Flynn wasn't truthful about his contact with Russia. Flynn, according to Mueller, falsely told the FBI he didn't ask Russian ambassador Sergey Kislyak to not escalate matters in response to sanctions imposed by the Obama administration. He also falsely claimed to have no memory of subsequent conversations with the ambassador, during which Kislyak said he acceded to Flynn's request.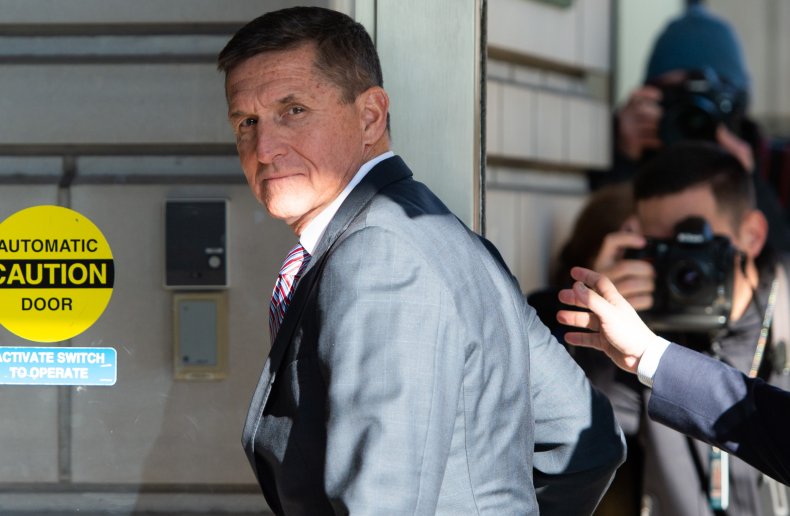 Mueller also wrote in his December 2018 sentencing memo that Flynn made false statements about his 2016 interactions with the Russian government about a pending U.N. Security Council resolution.
Flynn also made false statements to the Justice Department about his contacts with Turkey, specifically on March 7, 2017, when documents he submitted under the Foreign Agents Registration Act omitted the fact that Turkey officials supervised and directed a project his company performed, Mueller wrote.
Detractors use Flynn as an example of corruption within the Trump administration, while supporters champion him as the target of an unfair investigation. Regardless of anyone's opinion of him, his case has been a long and winding saga that's lasted three years.
A Brief Timeline of Flynn's Legal Battles:
November 18, 2016: President-elect Donald Trump names Flynn as his national security adviser.
December 29, 2016: President Barack Obama's administration sanctions Russia for election-related hacking. Flynn speaks with Russian ambassador Sergey Kislyak on the phone.
January 24, 2017: The FBI interviews Flynn.
February 13, 2017: Flynn resigns from his position.
December 1, 2017: Flynn pleads guilty in federal court to making false statements to the FBI about his communications with Russia.
June 6, 12, 2019: Flynn fires his legal team and hires attorney Sidney Powell to represent him.
October 25, 2019: Powell files a motion for the court to dismiss the prosecution for "outrageous government conduct."
November 2019: Judge Sullivan postpones Flynn's sentencing until Inspector General Michael Horowitz's report on the Russia probe is released.
January 7, 2020: The Justice Department asks that Flynn be given a sentence of six months in prison, a change from the prior recommendation for a sentence on the low end of the guidelines range.
January 14, 2020: Flynn withdraws his guilty plea, citing a "breach of the plea agreement" by the government.
February 14, 2020: Barr assigns Jeff Jensen, U.S. attorney for the Eastern District of Missouri, to review Flynn's case.
May 7, 2020: The Department of Justice moves to drop the case against Flynn.
May 12, 2020: Sullivan won't immediately rule on the request to drop the case and asks outside groups to weigh in.
June 3, 2020: The Department of Justice files a brief asking an appeals court to direct Sullivan to dismiss the case against Flynn.
June 10, 2020: Former federal Judge John Gleeson, who was asked to advise on the path forward in the case, recommends Sullivan proceed with sentencing Flynn.
June 24, 2020: The appeals court sides with the Department of Justice and orders Sullivan to dismiss the case.
Newsweek reached out to Powell, Flynn's attorney, for comment but did not hear back before publication.