What Did Millard Fillmore Do? Here's Why a Buffalo Town Wants His Name Removed From Their Buildings
Millard Fillmore won't be so ubiquitous around Buffalo anymore. The Buffalo Common Council approved to remove the 13th President of the United State's name from properties throughout the city on Tuesday. WKBW Buffalo reported that residents were concerned about Fillmore's association with slavery, and allowing it to exist across the Buffalo region.
"Citizens of Buffalo have expressed concern over Millard Fillmore being such a symbol that is incongruent with places and institutions that bear his name," a resolution that the Council unanimously adopted Tuesday read, as per The Buffalo News.
The structures that honor the former president include Fillmore Avenue in Buffalo's Broadway-Fillmore neighborhood, and the Millard Fillmore Suburban Hospital in Amherst. Additionally, Fillmore's home in East Aurora is considered a National Historic Landmark.
He was buried in Forest Lawn cemetery, and there is a statue outside of Buffalo City Hall commemorating him. Inside City Hall's lobby, there is a bust of him as well.
What Buffalo will rename their properties remains to be seen. Through October 1, the city will be accepting suggestions to take under consideration.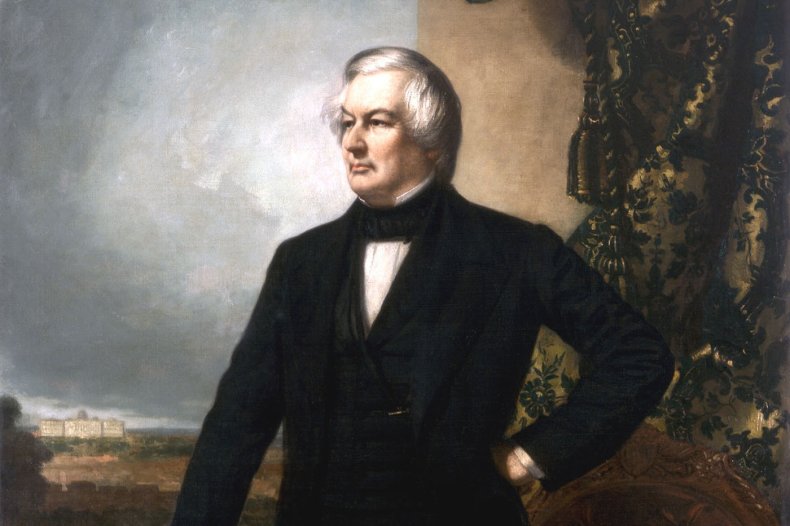 Fillmore was president from 1850 until 1853, after succeeding Zachary Taylor who died during his presidency. He opposed slavery throughout his political career, which was a dividing issue leading up to the Civil War, but his actions as president appeared to contradict these views.
Fillmore agreed with and signed the Compromise of 1850, which placated the Southern states. This bill included the Fugitive Slave Act, which increased the punishments for anyone who harbored escaped slaves and failed to help them return to their owners. It also required that all slaves must be returned to their masters upon capture. Regardless of their stance on the issue of slavery, officials and citizens of free states had to obey this mandate.
Fillmore's compliance with the notion of slavery has become a major point of contention in Buffalo amid the cultural conversations about police brutality and systemic racism.
The action of removing Fillmore's name throughout Buffalo come just after the University of Buffalo removed Fillmore's name from their campus this August. As per WKBW, the Millard Fillmore Academic Center, which is home to academic departments, student residences and other services on campus, has been temporarily renamed the Academic Center.
"Clearly, historical namings on our campus — whether academic buildings, residential halls, interior spaces or thoroughfares — carry important symbolic value," President Satish K. Tripathi said during a UB Council meeting at the time, as per a press release. "We want to ensure that these symbols align with our mission — namely, that we are a diverse, inclusive scholarly community."