Robert De Niro launched another scathing attack against President Donald Trump, this time during an appearance onstage at the Tony Awards.
The Oscar-winning actor was introducing singer Bruce Springsteen when he delivered his expletive-laden put-down of the president.
"I'm going to say one thing: F**k Trump," the veteran actor said to cheers and applause from large sections of the audience, with some even giving him a standing ovation.
"It's no longer down with Trump, it's f**k Trump." De Niro could then be seen clenching his fists triumphantly following his latest condemnation of the president.
The CBS live broadcast of the ceremony at New York's Radio City Music Hall managed to bleep out the swear words after running on a slight delay, but the outburst was reportedly not censored in other countries.
De Niro eventually did go on to introduce Springsteen, who was being presented with a special Tony award for his sold-out Broadway show Springsteen on Broadway. He performed "My Hometown" later in the night.
"Bruce, you can rock the house like nobody else," said De Niro. "Even more important, in these perilous times you rock the vote. Always fighting for, in your own words, truth, transparency, integrity in government. Boy, do we need that now."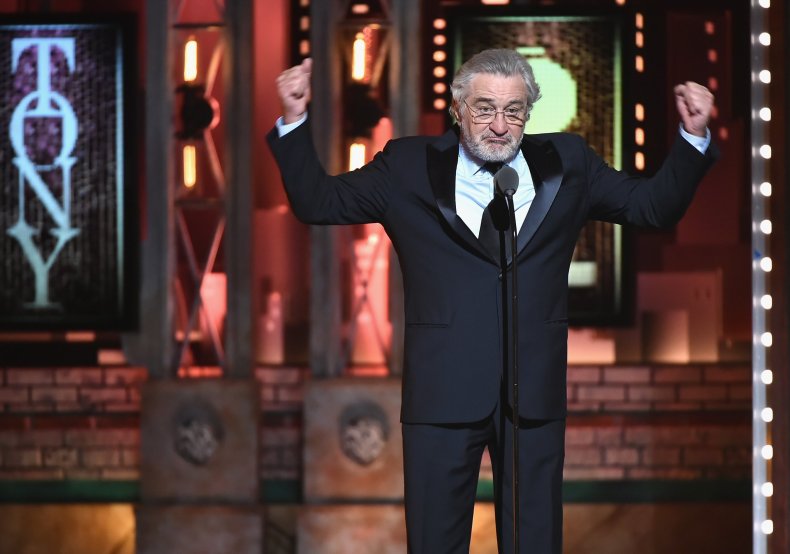 De Niro has been very outspoken about his dislike of Trump, famously referring to him as a "fucking idiot" and the "baby-in-chief" while introducing Meryl Streep at the National Board of Review gala in January.
He also described Trump as an "idiot" who "lacks any sense of humanity or compassion" in a speech at a Los Angeles benefit for the promotion of higher education in March, and banned Trump from ever eating at his chain of Nobu restaurants.
"If he walked into a restaurant I was in, I'd walk out," De Niro told the Daily Mail in May.
At the Tonys, The Band's Visit was the night's big winner, picking up 10 awards including best musical, and its two stars Tony Shalhoub and Katrina Lenk both picking up best performance by a lead actor and actress in a musical.
Harry Potter and the Cursed Child, Parts One and Two won the award for best play. Andrew Garfield was named best lead actor in a play for his role in Angels in America. Glenda Jackson won best lead actress in a play for her role in Three Tall Women.
British composer Andrew Lloyd Webber received the lifetime achievement award for a career spanning more than 50 years.