What Did Russia Hack? 7 Russians Indicted After Being Caught 'Red-handed' in Massive Cross-Border Hacking Operation
The Department of Justice announced Thursday that it had indicted seven Russian military spies in relation to several attempted cyberattacks.
The hackers, who were affiliated with the Russian military intelligence agency GRU, were accused of attempting to leak data on the drug tests of Olympic athletes in order to subvert efforts to crack down on doping by Russian Olympic athletes. Part of those activities included traveling to Brazil and Switzerland to target the computers of anti-doping agency officials. In addition, they had also launched a cyberattack against a power plant in Pennsylvania, and attempted to hack into the Switzerland-based laboratory that is analyzing the deadly nerve agent Novichok that was used against former spy Sergei Skripal in Salisbury, England, in March.
Four GRU officers had been "caught red-handed" in The Hague while attempting to launch a cyberattack against the Organization for the Prohibition of Chemical Weapons, which is investigating a chemical weapons attack against a former Russian double agent in the United Kingdom, officials from the Netherlands, the UK, and the U.S. revealed Thursday.
"The disruption of this attempted attack on the Organization for the Prohibition of Chemical Weapons was down to the expertise and professionalism of the Dutch security services, in partnership with the UK," the British Ambassador to the Netherlands Peter Wilson said in a statement Thursday. "This disruption happened in April. Around that time, the OPCW was working to independently verify the UK's analysis of the chemical used in the poisoning of the Skripals in Salisbury. As we know, the OPCW confirmed the UK's analysis that a Novichok nerve agent was used in the Salisbury attack—which we now know for certain was carried out by serving GRU officers."
The Russians were traveling on diplomatic passports and were subsequently escorted out of the country, according to officials.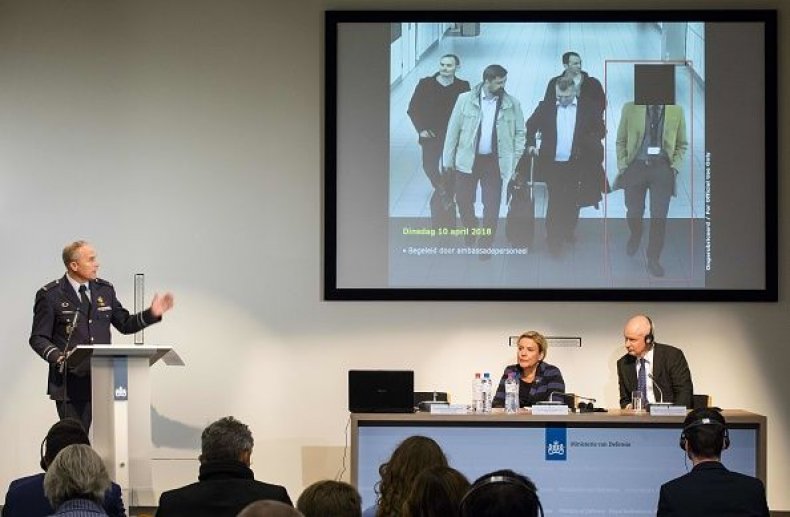 Experts say the Department of Justice indictment helps shed light on the severity of attempts by Russian military intelligence to interfere abroad.
"Exposure is part of the toolkit in helping to deter this type of hacking," Michael Carpenter, a former deputy assistant secretary of defense in charge of Russia, Ukraine, and Eurasia, told Newsweek. "They are all Russian intelligence officials, so they won't be traveling to the U.S., they don't have assets here, so there won't be repercussions in that sense. But that doesn't mean it isn't important. It shows how aggressive the GRU has been. They are doing so much around the world, they were involved in the Montenegro coup and now this."
Carpenter added: "What stands out is that these guys were traveling to foreign countries and trying to penetrate hotel Wi-Fi networks. This isn't hacking from some basement in Moscow. These guys are unhinged and very aggressive. We need to wake up to this threat."
The U.K. and the U.S. have blamed Russia for the poisoning of Skripal and his daughter Yulia Skripal, in England, while Moscow has categorically denied its culpability. Nevertheless, Russian President Vladimir Putin lashed out at Skripal on Wednesday, calling him a spy and likening his work to that of a prostitute. Thursday's indictment specifically called out Putin's government as the mastermind behind the widespread cyberattacks.
"Our indictment today charges some of the same Russian operatives caught in The Hague, along with their colleagues in Moscow, as part of a conspiracy to hack a variety of individuals and organizations, in the United States, Canada, and Europe, to obtain information or access that was then exploited for the benefit of the Russian government," the Justice Department said Thursday.
"More specifically, this indictment alleges a conspiracy to use computer hacking to obtain non-public, personal health information about athletes and others in the files of anti-doping agencies and sporting federations in multiple countries, and to release that stolen information selectively, and sometimes misleadingly.... Other targets of this conspiracy were the chemical weapons laboratory in The Hague and a nuclear power company here in America," the Department of Justice confirmed.
Three of the seven GRU officials indicted Thursday had already been indicted in July by Special Counsel Robert Mueller's office for attempting to interfere in the 2016 U.S. presidential elections. The DOJ and its indictment Thursday are not affiliated with special counsel Robert Mueller's office, which is investigating Russian attempts to interfere in the 2016 U.S. elections. Officials said they believe all of the indicted individuals are still in Russia.
"If we get our hands on them, we're not going to have any problems [bringing charges]," a justice department official told reporters during a press conference Thursday.
This was the third time a case against Russian nationals was brought by U.S. federal prosecutors this year. In July, the Mueller team indicted 12 GRU officers for their interference in the 2016 elections, including the hacking of then-candidate Hillary Clinton's presidential campaign. In February, a Russian troll farm, known as the Internet Research Agency, was indicted along with 13 other Russian nationals for trying to influence the elections through disinformation campaigns using social media.