What Did Track Palin Do? Sarah Palin's Son Facing a Year in Custody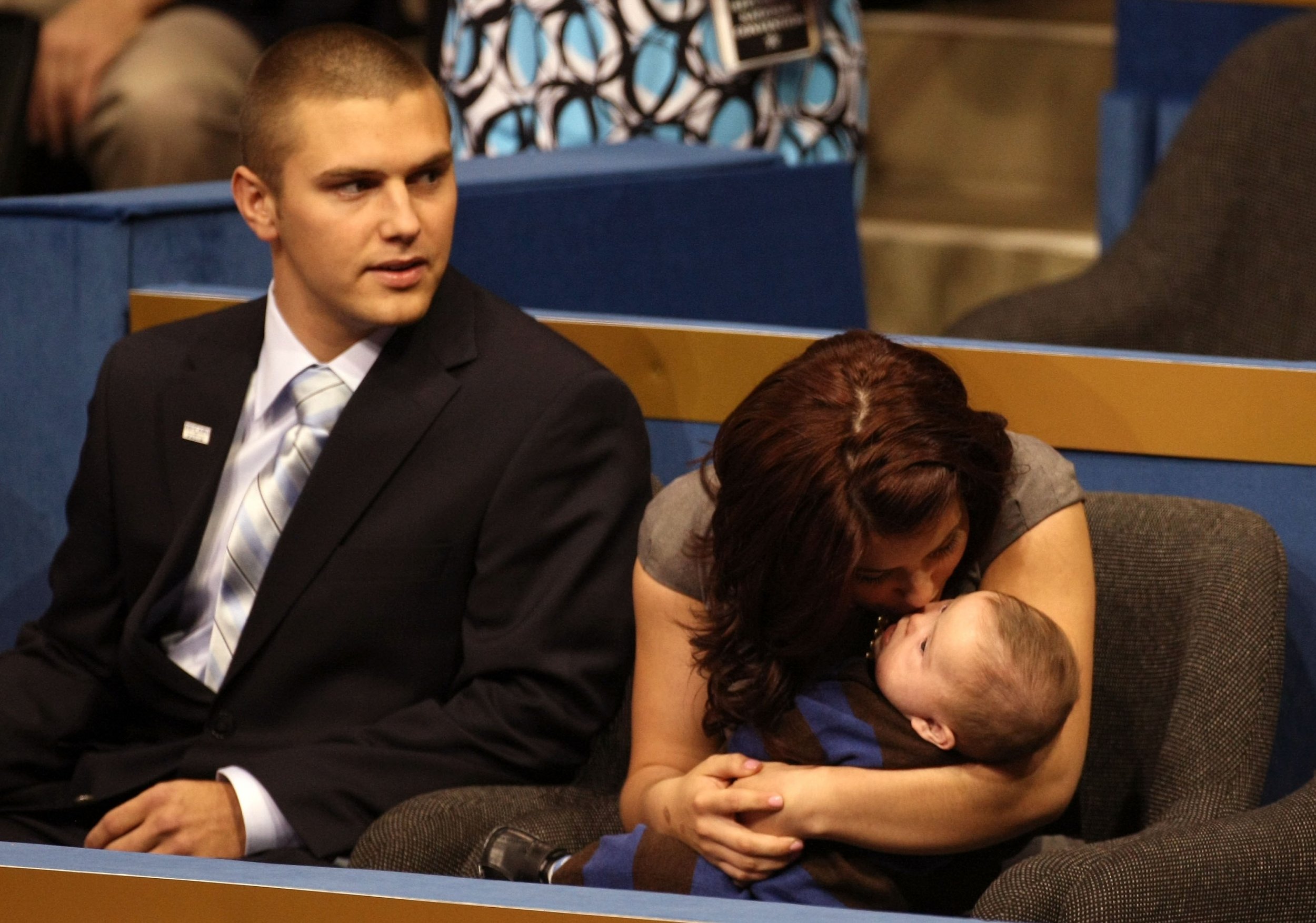 Track Palin, the eldest son of former Alaska Governor Sarah Palin, is facing a year in custody after he allegedly assaulted his former partner in front of their son and then resisted arrest when state troopers tried to detain him.
Palin, 29, who served in Iraq for a year, was discharged from the Anchorage's Veterans Court because of the incident, following a request by Anchorage District Attorney Rick Allen, the Associated Press reported.
The Veterans Court allows for a mental health treatment program instead of a custodial sentence if offenses are committed. Under a previous plea deal relating to a different case, Palin was placed under the supervision of the Veterans Court.
But now he faces serving his year sentence in either a halfway house or jail, a decision to be made by the Department of Corrections, over an incident of domestic assault.
Palin is accused of repeatedly hitting his ex-partner Jordan Loewe, 25, when she dropped off their son, Charlie, 2, at his home last Friday night. He allegedly refused to let her leave, demanded she hug him, then took her phone when she tried to call police, according to the AP report.
When police arrived, Palin allegedly resisted arrest and threw his head back at a state trooper. Palin is now facing misdemeanor charges for assault, resisting arrest and disorderly conduct.
According to news station KTTU, the one-year sentence relates to a previous assault conviction and does not include the current domestic violence case, the pretrial proceedings for which will begin at the end of November.
"In this situation, a domestic violence case involving the mother of his child with a child present, and then resisting arrest with three Alaska state troopers, I mean that's just simply a bridge too far," Allen told KTUU.
This follows two prior incidents. Palin allegedly broke into his parents' house and assaulted his father, Todd Palin, in December 2017, and he allegedly punched his girlfriend in 2016. In the latter incident, assault charges were dismissed when he pleaded guilty to possessing a firearm while intoxicated.
Palin's attorney, Patrick Bergt, said in a statement that while he is "disappointed in my client's removal from the program, I understand the decision."
Back in January 2016, when Palin was charged in a domestic violence incident, his mother suggested he suffered from post-traumatic stress disorder (PTSD).
"What my own son is going through, what he is going through coming back, I can relate to other families who feel ramifications of PTSD and some of the woundedness that our soldiers do return with," Sarah Palin said at a Donald Trump rally in Tulsa, Oklahoma, according to CNN. Palin was John McCain's running mate in the 2008 presidential race.