What Did Trump Know and When Did He Know It? A Timeline of Major Events in the Ukraine Controversy
A new report that shows President Donald Trump was briefed on the anonymous whistleblower complaint by White House lawyers before he released nearly $400 million in U.S. military aid to Ukraine is throwing into question what the president knew and when he knew it—and could undermine his impeachment defense.
The New York Times story comes as the House Judiciary Committee will begin holding public hearings next week before determining which articles of impeachment to draft against the president. The findings show the president privately began denying there was a "quid pro quo" before the scandal publicly emerged, and that he released the aid only after he was informed of the whistleblower complaint that triggered the impeachment inquiry.
Here is a timeline of major events, including The Times' revelations, that have unfolded throughout the Ukraine controversy.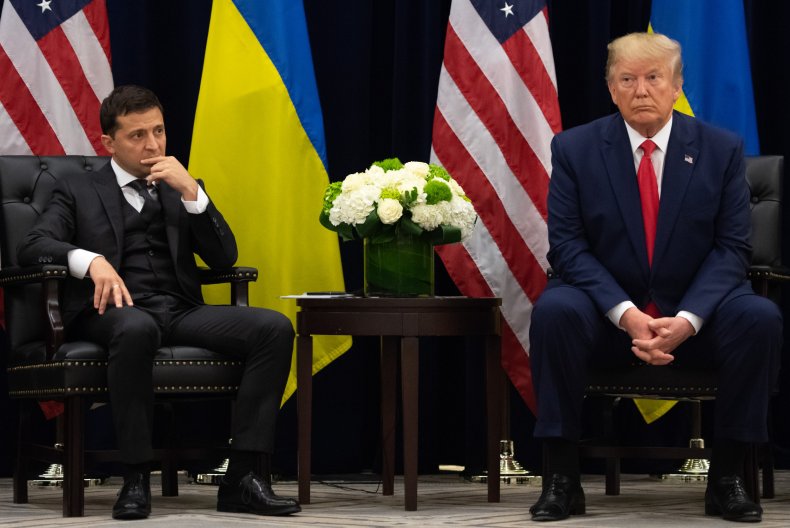 April 21: Former TV comedian Volodymyr Zelenskiy is elected president of Ukraine. Trump and Zelenskiy hold a "brief congratulatory call," according to the whistleblower complaint.
May 7: Outlets report that the State Department has recalled U.S. Ambassador to Ukraine Marie Yovanovitch two months early, in what Democratic lawmakers describe as a "political hit job."
May 9: Rudy Giuliani, Trump's personal attorney, tells The Times he plans to travel to Ukraine to meet with Zelenskiy and to urge him to conduct investigations into the origins of the Russia investigation and the involvement of former Vice President Joe Biden's son, Hunter, with a Ukrainian gas company, Burisma.
May 11: Facing allegations of attempted election meddling, Giuliani cancels his Ukraine trip, Politico reported.
June 12: Trump tells ABC News he would accept dirt on his political opponents from foreign governments. "I think you might want to listen, there isn't anything wrong with listening," Trump says. "If somebody called from a country, Norway—'We have information on your opponent'—oh, I think I'd want to hear it."
June 19: Trump begins inquiring about the nearly $400 million in U.S. military assistance to Ukraine meant to fend off Russian aggression after seeing a media report about it, according to White House Budget Office official Mark Sandy's testimony to Congress.
July 12: Sandy learns Trump has ordered a freeze on the aid after receiving an email from Robert Blair, a top aide to Mick Mulvaney, the acting White House chief of staff and director of the Office of Budget and Management.
July 18: Trump's order to Mulvaney to put a hold on the aid is reported by The Washington Post.
July 24: Former special counsel Robert Mueller testifies to Congress, speaking about his report that described several alleged instances of obstruction of justice committed by Trump and detailed Russia's endeavor to meddle in the 2016 U.S. election, in addition to the country's continued efforts in influence American politics.
July 25: Trump and Zelenskiy speak by phone. A partial White House transcript that is released after impeachment hearings in the fall reveals Trump requested the Ukrainian president to investigate two matters: a discredited conspiracy theory involving internet security company CrowdStrike that suggests Ukraine—not Russia—was behind 2016 hacks into the Democratic National Committee and Hunter Biden's involvement with Burisma.
"I would like you to do us a favor though because our country has been through a lot and Ukraine knows a lot about it," Trump says before bringing up Crowdstrike.
Later in the call, Trump says Giuliani and Attorney General William Barr will be in contact with Zelenskiy about the investigations: "The other thing, there's a lot of talk about Biden's son, that Biden stopped the prosecution and a lot of people want to find out about that so whatever you can do with the Attorney General would be great. Biden went around bragging that he stopped the prosecution so if you can look into it. . . . It sounds horrible to me."
That same day, the staff of Deputy Assistant Secretary of Defense Laura Cooper receives an email from the State Department stating that Congress and the Ukrainian embassy are aware of the hold on aid and are inquiring about it, she later tells lawmakers in November.
"On July 25, a member of my staff got a question from a Ukrainian Embassy contact asking what was going on with U.S. security assistance," Cooper later testifies.
July 26: David Holmes, a diplomat stationed at the U.S. embassy in Ukraine, overhears a phone conversation between Trump and U.S. Ambassador to the European Union Gordon Sondland. Holmes testifies to Congress in November that he is told by Sondland after the call that Trump doesn't give a "[expletive] about Ukraine" and is more interested in the "big stuff like the Biden investigation that Mr. Giuliani is pushing.'" In his own testimony, Sondland does not deny the account but said he does not remember mentioning Biden.
August 12: The anonymous whistleblower files a complaint with the Intelligence Community's inspector general, which is later made public.
August 28: Politico reports that the administration is withholding $250 million in foreign military aid to Ukraine.
Late August: Trump is notified by the White House counsel's office about the whistleblower complaint, according to the new Times report, and questions swirl around whether they must hand the complaint over to Congress.
September 1: Sondland tells a top aide to Zelenskiy that the money will not be released until the investigations Trump previously requested are publicly announced, the ambassador later told Congress. Sondland stated he derived this conclusion based on "the absence of any [other] credible explanation."
That same day, Bill Taylor, the career diplomat who came out of retirement to fill the place of ousted Yovanovitch as U.S. ambassador to Ukraine, speaks with Sondland. Taylor later tells Congress that Sondland explained that the aid and a White House meeting with Trump was contingent on a public statement from Zelenskiy about the investigations.
September 9: Intelligence Community Inspector General Michael Atkinson relays the whistleblower complaint to the appropriate members of Congress after deciding it is of "urgent concern."
That same day, three House committees—Intelligence, Foreign Affairs and Oversight—launch an investigation into the actions of Trump and Giuliani involving Ukraine.
Also on this day, Trump tells Sondland in a phone call about what he wants in exchange for allowing the military assistance to flow. "And he just said, 'I want nothing. I want nothing. I want no quid pro quo. Tell Zelensky to do the right thing,'" Sondland later tells Congress.
September 11: The withheld aid is released to Ukraine.
September 24: House Speaker Nancy Pelosi (D-Calif.) announces the official launch of an impeachment inquiry, prompting dozens of fellow Democrats to state their support.
September 25: The partial transcript of Trump's July 25 call with Zelenskiy is released by the White House.
September 26: The White House declassifies the whistleblower complaint.
October 17: Mulvaney concedes there was a quid pro quo with regard to the investigation into Crowdstrike and releasing the aid. "We do that all the time with foreign policy... And I have news for everybody: get over it," he tells reporters. "There's going to be political influence in foreign policy." Mulvaney later attempts to backtrack that in a statement.