What Did Xi Jinping and the Governor of Oregon Find So Funny?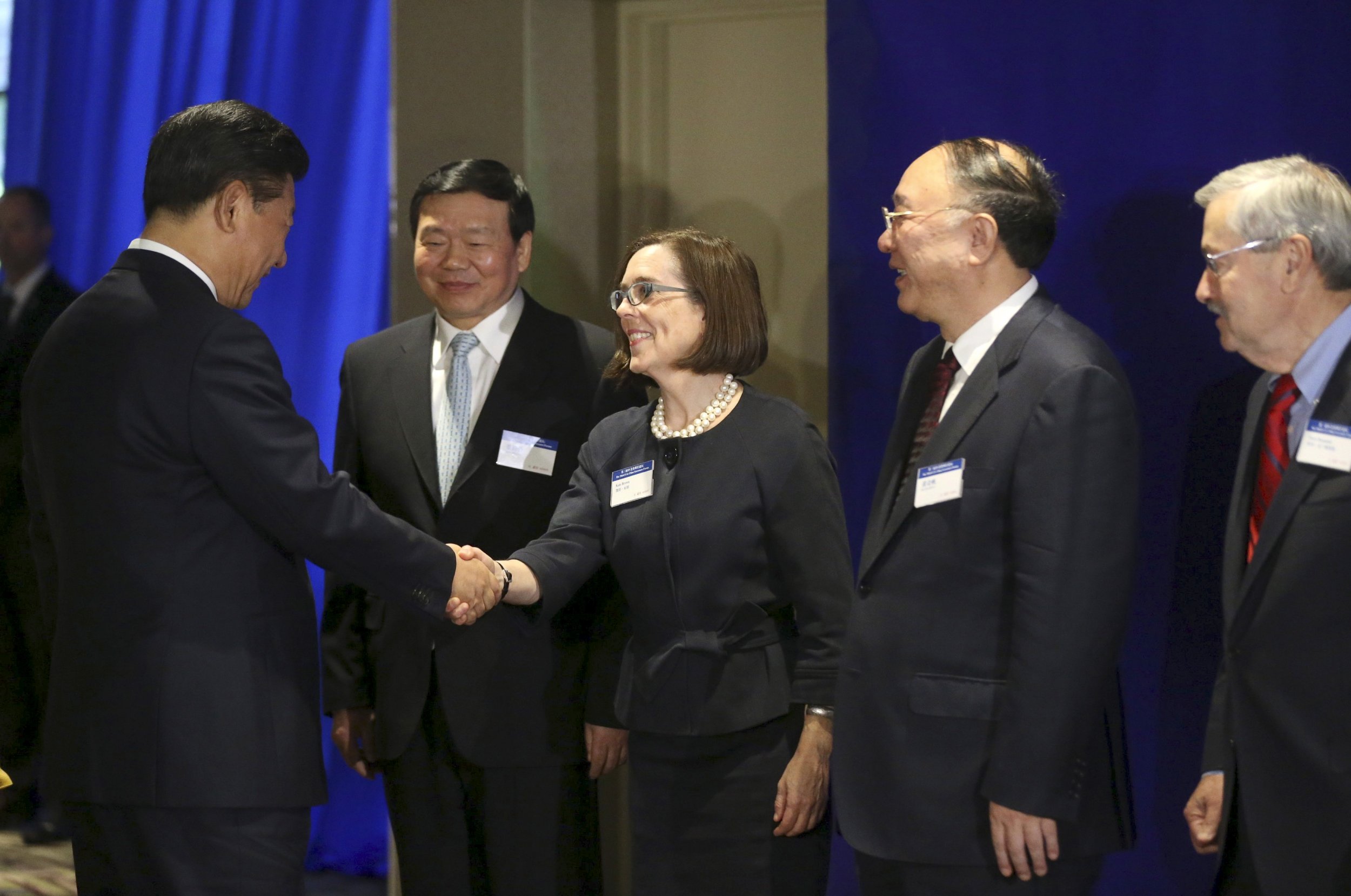 After an identification check, credential letter presentation, badge assignment, metal detector and sticker attachment, I found myself face-to-face on Tuesday with the president of the People's Republic of China, Xi Jinping.
OK, not exactly face-to-face. President Xi just happened to be facing my general direction, in a brightly lit ballroom at the Westin Hotel in downtown Seattle, addressing a forum of U.S. and Chinese governors. In Mandarin. His handlers, who had corralled me and the reporters from the Associated Press, Bloomberg and the Los Angeles Times for the previous hour in anticipation of this exchange, apparently assumed we all spoke Mandarin. The Times reporter shot me a bewildered look. I shrugged. Xi said something to Oregon Governor Kate Brown that she found hilarious. We asked for a transcript of his remarks. We were not given one.
Make no mistake about it: Xi's first stop on a weeklong tour of the U.S. was about media, about demonstrating both to American outlets and to people from his country that he's over here glad-handing with some of the most important U.S. statesmen, cutting deals, being treated as the important and respected power that he is, as the leader of the world's second-largest economy. But the substance of that discussion? Less important, really. Xi's visit comes amid growing tension between two of the world's biggest superpowers and peaking disputes over China's unabashed spying on U.S. companies and aggression in the South China Sea. When the Chinese president arrives in Washington Thursday, President Barack Obama has promised stern words for Xi on all of these subjects, warning that the discord threatens a trade relationship that now represents hundreds of billions of dollars annually. But that tension was mostly hidden beneath a veneer of pleasantries on Xi's first day in the U.S. Tuesday, in true passive-aggressive Pacific Northwest form.
Before Xi arrived at the Westin, the governors had gathered in a different ballroom on a different floor for more glad-handing on the two countries' stellar cooperation on climate change. (This time, the Chinese provided translation devices so we could understand the dialogue.) One by one, the officials present touted their own region's accomplishments and beamed about how happy they were to be working together, these two great nations, on tackling one of the world's most pressing issues. Then, after everyone had read from their scripts, California Governor Jerry Brown couldn't help but add one more thing, as he prepared to sign a vaguely worded climate change agreement between the two countries.
"I just have to make one more comment," Brown said. "The world is on a very dark path in terms of reducing climate change. Don't think the sky is so blue that we don't still have to do heroic efforts to keep our planet on a sustainable path. We're going to have to do a lot more."
An aide pushed the agreement in front of him.
"Did you alter this?" he said, suspiciously. "I see you changed that."
"Only one word," the aide assured him, and Brown scribbled down his name.
Only at a few rare moments like this did the tension beneath the surface of Xi's visit bubble up. Afterwards, the Los Angeles Times reporter and I cornered the governor to see if he'd keep it real. What exactly was in this agreement, we wanted to know? Brown quickly retreated to talking points.
"They are very different than treaties, or more binding kinds of agreements," Brown admitted. "But they do embody practices and commitments, and each year they become more forceful, and they do lead in the right direction. When I compare this with the meeting last year, there's a lot more talk from the Chinese about low-carbon fuel."
Released subsequently, the agreement includes promises by all sides to "exchange information" and "respectively designate their appropriate offices to organize and facilitate this collaboration" and also to "establish a mechanism for regular meetings" on various issues related to climate change. How's that for progress?
"The direction is good but relative to the challenge of climate change, it's not adequate in China, and it's not adequate in the United States," Brown said. "But together, President Obama and President Xi probably are the two most important factors in whether or not the world can make the shift to a lower-carbon economy."
Apparently, someone had whispered in Brown's ear to play nice. I asked the governor if he thought both countries were doing their part. He didn't quite answer the question.
"They're the biggest, and therefore the most important. But we're not at the point where we need to be at," Brown said. "That's just a fact."
Xi's signature event Tuesday was a banquet, where he dined on Northwest steelhead roulade and pan-seared Washington beef, with a side of wasabi rhizome mashers, baby beets, Brussels sprouts and a Syrah demi-glace. But first, more glad-handing. Aside from an occasional mention of "mutual challenges," the short speeches from Washington Governor Jay Inslee and Ford Motor Co. CEO Mark Fields made little mention of the growing conflict clouding Xi's visit. Then U.S. Secretary of Commerce Penny Pritzker stepped up to the podium, and for a moment, things got real again.
"We and our companies continue to have serious concerns about an overall lack of legal and regulatory transparency, inconsistent protection of intellectual property, discriminatory cyber and technology policies and more generally the lack of a level playing field across a range of sectors," Pritzker said. "We expect to have candid and constructive discussions on these matters in the coming days, but it is absolutely in our mutual economic self-interest to resolve these issues."
Cough, cough. Would President Xi respond? In a way, yes. After an attempt to reassure jittery investors in the wake of a turbulent summer in stocks (thanks largely to instability in Chinese markets), Xi fired back at his critics—however indirectly.
"China is a strong defender of cybersecurity," he said. "But it is also a victim of hacking. China will never engage in commercial cybertheft, or encourage or support anyone for doing so. This Chinese government will not in whatever form engage in commercial theft, and hacking against government networks are crimes that must be punished in accordance with the law and relevant international treaties."
Xi also implied a certain baselessness to the U.S. claims. "We will address legitimate concerns of foreign investors in a timely fashion," he said. And while he acknowledged the country's rampant corruption, promising a recent crackdown is "No House of Cards," Xi called for "more understanding and trust, less estrangement and suspicion. We should strictly base judgment on facts, lest we fall victim to hearsay, paranoid or self-imposed bias.... Should major countries time and again make the mistakes of strategic miscalculation, they might create...traps for themselves."
So the gloves came off, however briefly, and Xi made clear he's not in the U.S. to beg for forgiveness. "If China and the U.S. cooperate well, they can become a bedrock of global stability and a booster of world peace," he said. "Should they enter into conflict or confrontation, it would lead to disaster for both countries and the world at large."
Xi was due to tour Seattle industry giants Boeing and Microsoft on Wednesday and to dine with Microsoft founder Bill Gates in the evening, before flying east to meet President Obama later in the week.