What a Difference a Day Makes—Dramatic Before and After Pic Shows Colorado on Fire and Covered in Snow
A lot can change in 24 hours. On Thursday, one Redditor shared an incredible photo of a car outside of a house in Fort Collins, Colorado. The first half of the image shows the sky lit up orange from the wildfires. The second half shows the house and the red of the car covered in snow. It appears that neither of these photos were filtered, which makes them all the more shocking.
Redditors were shocked by the remarkable shift in climate in one day. "That's insane. Nature is wild," one user commented. "Hell, frozen over," another wrote. "Great, now I've got to do all the things I said I wouldn't do until hell froze over. Damnit," a third joked.
"I was so distracted by the difference that I didn't see that you lined up the picture perfectly," one person admitted of the photo's framing, along with the stark difference in climate of the same location.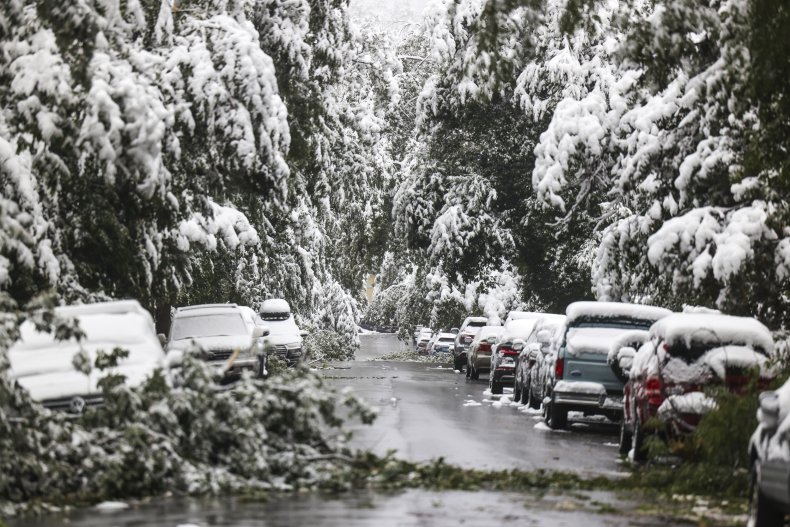 The Cameron Peak Fire expanded to more than 40,000 acres Sunday west of Fort Collins, Coloradoan reported. The fire's growth was fueled by hot and dry conditions, along with high winds in the area. It initially began early Saturday, and turned the skies orange until Monday evening. Temperatures then dropped into the low 20s on Monday evening into Tuesday.
Then, Fort Collins experienced its first snowfall of the season. "The snow greatly diminished fire activity Tuesday and that is expected today Wednesday as well," Paul Bruggink, Cameron Peak Fire spokesperson said Wednesday via Coloradoan. "Then there is a gradual warming trend that will dry things out."
Ultimately, the Cameron Peak Fire received up to 14 inches of snow. The snowfall "changed the footprint" of the blaze, Jon Teutrine, operations section chief for the National Incident Management Organization (NIMO) North Team, said in an update.
NPR reported that Colorado set records for both heat and snow this past week. The state reported .3 inches of snow on Tuesday, making it the "the earliest accumulating snow ever observed in over 130 years of records!" according to the the Colorado Climate Center at Colorado State University in Fort Collins.
The snowfall came after Sunday's 99 degree heat, the highest temperature recorded that late in September. Assistant state climatologist Becky Bolinger explained that climate change is making extreme heat the new normal for Colorado. It was "truly something that I've never seen," Bolinger said of the forecast.