What Is Diverticulitis? John Mccain in Stable Condition After Surgery to Treat Intestinal Condition
The family of Senator John McCain has announced the politician is in a "stable condition" following an operation for an intestinal infection related to diverticulitis.
McCain has been battling an aggressive brain cancer since July 2017, and was hospitalized on Sunday for surgery.
"Senator McCain was admitted to Mayo Clinic in Phoenix, Arizona, and underwent surgery to treat an intestinal infection related to diverticulitis. He is in stable condition," a statement from McCain's office read.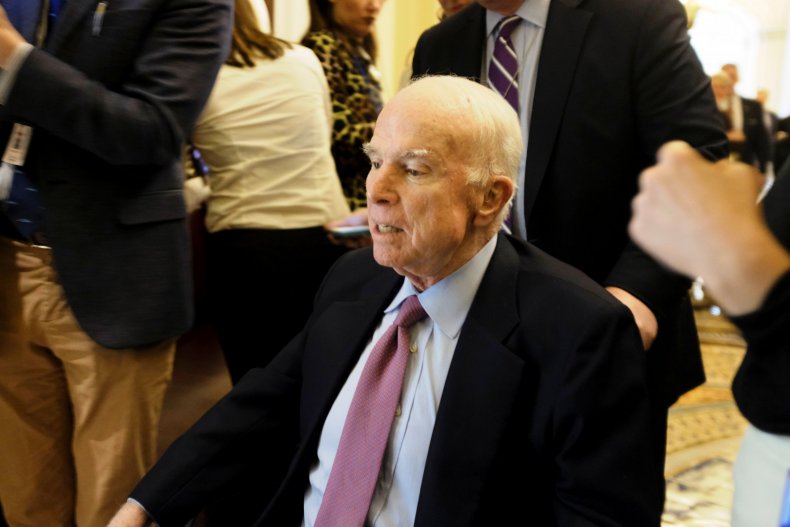 Diverticulitis is an inflammation or infection of the diverticula, which are small pouches that can form in the lining of the intestines. According to the Mayo Clinic, diverticulitis can cause "severe abdominal pain, fever, and nausea," and while mild cases can resolve on their own, severe or persistent cases require surgery.
Among the risk factors for developing diverticulitis is age, with those over 40 more at risk. Surgery is recommended for those who may have a weaker immune system, which is the case with some cancer patients—although it is not clear if this is a relevant factor for Senator McCain.
"Over the last few months, Senator McCain has been participating in physical therapy at his home in Cornville, Arizona, as he recovers from the side effects of cancer treatment. He has remained engaged on his work as Chairman of the Senate Armed Services Committee, and has enjoyed frequent visits from his family, friends, staff and Senate colleagues," the statement said, adding: "Senator McCain and his family are grateful to the senator's excellent care team, and appreciate the support and prayers they continue to receive from people all over the country."
McCain's wife Cindy and daughter Meghan also posted messages to social media, thanking people for thoughts and prayers and announcing the senator was looking forward to returning to Hidden Valley, where the family has a home in Cornville, near Sedona.