What Is Diwali? 'Festival of Lights' Celebrates Triumph of Good Over Evil
Compared with Christianity and Judaism, Hinduism is a minority religion in the United States, so people may be less knowledgeable about its holidays. If you hear "Diwali" and think about The Office's Michael Scott, the start of the festive holiday this week is the perfect time to brush up on your facts.
Diwali, known as the "Festival of Lights" is one of the most important Hindu festivals in India and lasts five days. The main celebration, however, occurs on the third day, which this year falls on Sunday.
Similarly to the Jewish calendar, the Hindu calendar follows a lunar cycle, not a solar one, as the Gregorian calendar does. So even though Diwali is always celebrated on the 15th day of the Hindu month of Kartik, the corresponding date on the Gregorian calendar varies from year to year.
Diwali is sometimes referred to with the Sanskrit word Deepavali, which means "row of lights," and illumination plays an integral role in the festival. On Diwali, people decorate their homes and businesses with oil lamps called diyas and watch huge firework displays.
The overarching theme of the holiday is the celebration of good triumphing over evil and light conquering darkness. However, depending where someone lives, the story of Diwali may vary.
For those in northern India, the story focuses on the deity Rama's return after defeating the demon king Ravana, according to National Geographic. Farther south, it marks the day Lord Krishna defeated Narakasura. People in western India describe it as a commemoration of Lord Vishnu sending the demon king Bali to rule the netherworld.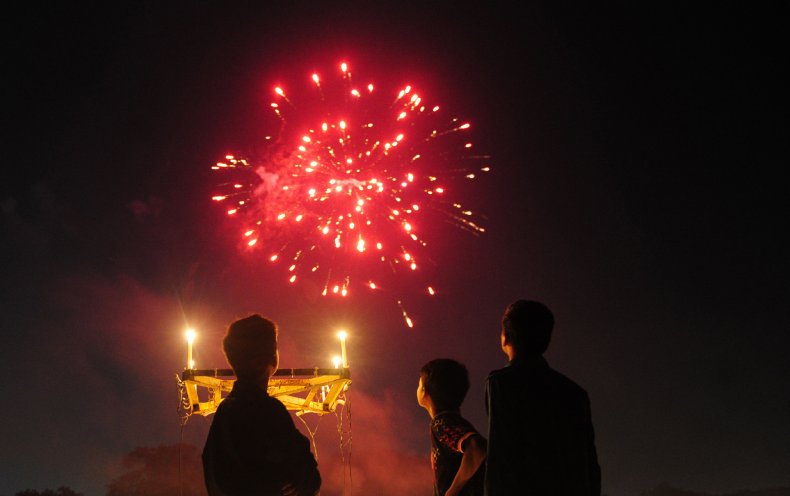 Along with celebrating good's victory over evil, Diwali is a time to honor Lakshmi, the Hindu goddess of wealth. On Sunday, people will ensure their house is spotlessly clean, and some may open their doors and windows to welcome Lakshmi into their home, according to The Times of India. People will also wear new clothing to thank Lakshmi for providing prosperity and good fortune, according to the Hindu American Foundation, and sweet and savory snacks are consumed free of guilt.
Although Diwali is commonly associated with the Hindu religion, several faiths celebrate the festival in their own way. Sikhs celebrate it as the release of Guru Hargobind from captivity, according to the Hindu American Foundation, and Jains consider it to be the day Lord Mahavira reached enlightenment. For some Buddhists, the day is a time to commemorate the moment Ashok Vijayadashami embraced Buddhism as his faith.
Like joyous holidays in other religions, Diwali is about food. It's a time to celebrate with family and friends over a feast. While the celebrations are often most extensive and widespread in India, people around the world get in the festive Diwali spirit.