'What a D**k': Driver Cuts COVID Test Line, Argues With Staff For 40 Minutes in Viral Clip
COVID-19 testing sites remain busy amid soaring cases of the new Omicron variant across the globe, but some patients are attempting to cut corners — and lines.
In a TikTok video viewed nearly 160,000 times, a driver appears to be in a standoff with testing site employees after cutting a line.
The video, posted to Brooke Lambert's TikTok account called @brookelambo, shows the offending vehicle in her rearview mirror.
"This guy has just pushed in, and everyone is so mad, as they should be," Lambert said. "We've been in line for hours and they're trying to usher him out. He will not go. What a d**k."
Her caption stated that the driver argued with the testing site employees for about 40 minutes before driving away.
According to the Australian Government Department of Health, there have been nearly 48,000 new cases reported in the last 24 hours at press time. In 24 hours, there were more than 200,000 tests administered.
Omicron is a recently discovered variant of the coronavirus and is known to spread more easily than the other variants.
Per the Centers for Disease Control and Prevention, individuals who are fully vaccinated may experience a breakthrough infection, but the vaccine is effective at preventing severe illness, hospitalizations and death. The CDC identified Omicron and Delta as variants of concern.
Hashtags on Lambert's video indicated that the testing site was located in Sydney of New South Wales.
The government's department of health stated there are more than 157,000 active COVID-19 cases at press time, 494 of which were reported in the last 24 hours.
Lambert told Newsweek she was waiting for about an hour at the testing site and noted that the lines were moving slowly. Many drivers were sitting in their cars that were turned off and some were distracted while waiting.
She theorized that the woman originally behind her may have been looking down or was distracted when she was cut off.
"I was so shocked as it was so rude," she said.
Other drivers immediately showed their outrage by honking their horns in protest.
Lambert said the woman then got out of her car to speak with the driver who cut her off. Not long after, another man did the same thing.
"I just kept shaking my head at him and was going to tell the testing people not to test him once I got there," she said.
As the line crept forward, another person on line told one of the testing site employees. Although the driver was directed to get off of the line, he refused to do so and argued with the employees for about 40 minutes. He then argued with them outside of his car for another 10 minutes before he drove away.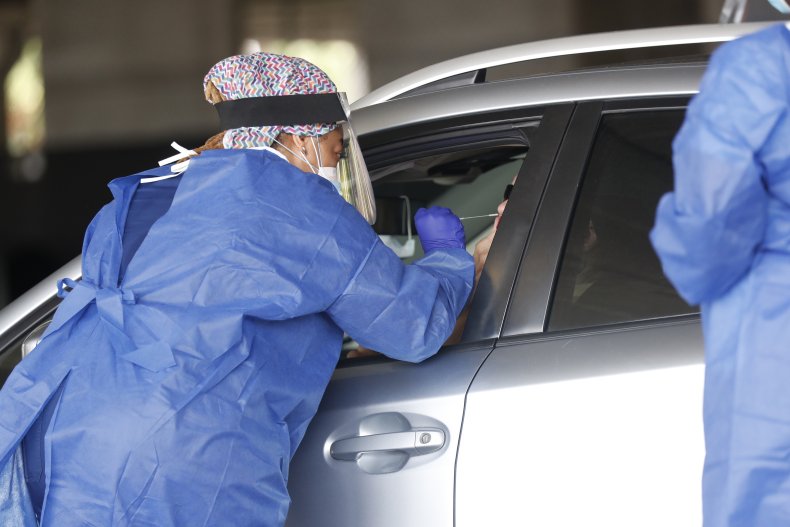 Two employees can be clearly seen in the video and one is standing directly in front of the car. One employee next to the car is gesturing while speaking with the driver.
"Props to the workers for standing their ground," a commenter wrote under Lambert's video.
Many called the driver "entitled" to have cut ahead of an entire lane of other cars.
Some shared that something similar happened to them while waiting to be tested for the virus.
"We had heaps of people push in up ahead of us, and after hours the line was cut off two cars ahead of us," one commenter wrote.
"This happened to us too," another wrote. "Cops drove past as it happened and made her leave the line haha. Instant karma!"