What Do Other Countries Think of Donald Trump? U.S. Image Falls and China Rises, Poll Says
The public image of the United States has dropped internationally under the administration of President Donald Trump—and many see China as a rising power, according to a leading poll agency.
The Pew Research Center published Monday the results of its survey entitled "U.S. Image and Global Balance of Power," which explores worldwide opinions of Washington's traditional economic and political leadership. The figures showed a declining trend in those who trust Trump and the U.S. in general with playing a top role in international affairs.
Overall, international confidence in Trump was at 27 percent, placing him well below the heads of traditional U.S. allies German Chancellor Angela Merkel (52 percent) and French President Emmanuel Macron (46 percent), and underneath Chinese President Xi Jinping (34 percent) and Russian President Vladimir Putin (30 percent) as well.
France and Germany had among the lowest faith in Trump, with 90 percent of respondents from both countries saying they had "no confidence" in him to do the right thing. Northern neighbor Canada polled at 75 percent no confidence in the Republican leader, while southern neighbor Mexico nearly topped the list with 91 percent. Spain led with 93 percent no confidence, whereas Israelis had 63 percent confidence in Trump and up to 83 percent in the U.S. a whole.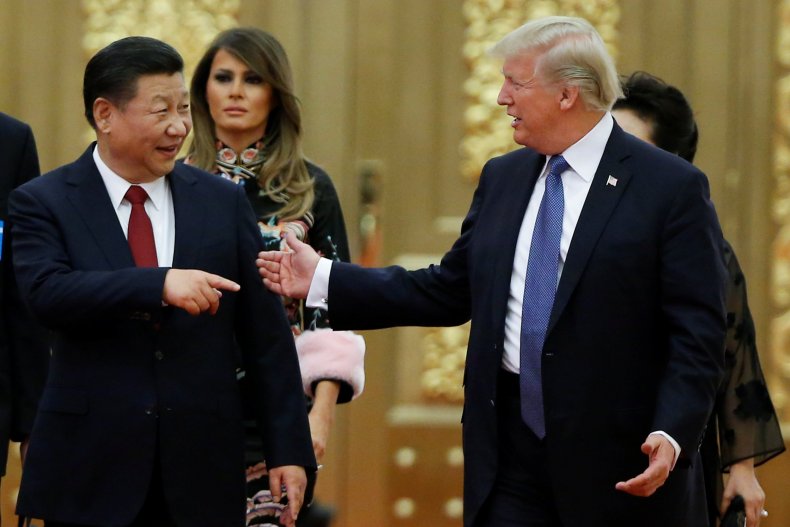 With the U.S. seen as stumbling on major issues, many nations have begun to look at China as a potential global powerbroker. While 63 percent said they preferred U.S. leadership to Chinese, a plurality of 34 percent that the U.S. was stepping back its involvement abroad and 70 percent said that China has played a greater part in international affairs in the past decade. Meanwhile, a plurality of 39 percent said that the U.S. remained in the number-one slot and China came in close second at 34 percent. The U.S. also gets a 50 percent favorability rating, with China at 45 percent.
Washington and Beijing have for years competed economically and their bout has grown increasingly intense in recent months, as Trump announced steel and aluminum tariffs he argued served the interests of U.S. national security. At the same time, China has responded in kind and the two have escalated with further tit-for-tat measures, while a number of countries—including Canada, the EU, Mexico and India—have also challenged the U.S. at the World Trade Organization.
Trump has also alienated friends and foes abroad alike by pulling out of multilateral agreements, such as the 2015 Iran nuclear deal and the Paris Climate Agreement ratified by former President Donald Trump, and by withdrawing from international bodies like the United Nations Educational, Scientific and Cultural Organization (UNESCO) and the Human Rights Council. The Trump administration's threats to sue the International Criminal Court have also attracted scorn.
These unilateral U.S. decisions may have contributed to a rise in the number of countries who felt that Washington was in it for itself. A median of 70 percent of respondents said that the U.S. does not take their country's interests into account. This level was about that of 2007, when fellow Republican former President George W. Bush was in office.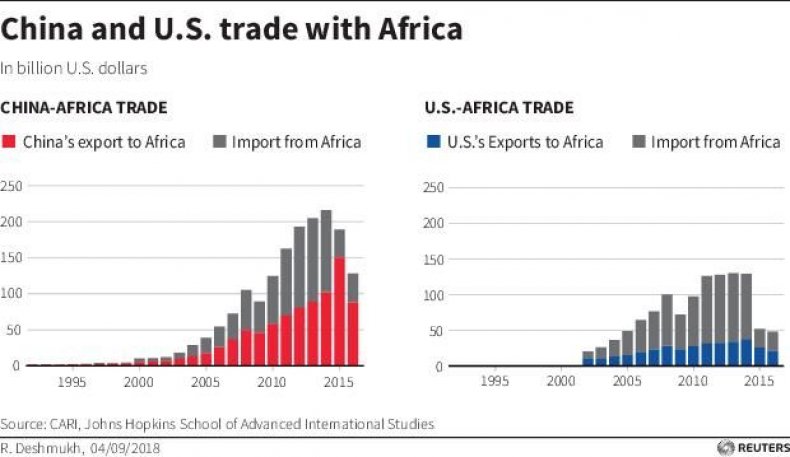 In addition to its economic dispute with China, the U.S. has accused its rival of undermining democracy and pursuing a destabilizing military rise. Beijing, which has launched sweeping defense reforms and a push for a more powerful and modernized armed forces, has argued its moves were necessary to defend its sovereignty. China has also joined Russia in criticizing an inflated U.S. defense budget.
Beijing and Moscow have sought to take advantage of waning U.S. influence by enhancing their own global clout and bolstering their bilateral relations. As European leaders frustrated with U.S. financial dominance develop an alternative payment system to avoid U.S. sanctions in doing business with Iran, Xi and Putin—whose countries were also parties to the Iran deal— have pledged to expand the role of their national currencies when trading, therefore reducing the power of the U.S. dollar as the weight of the world's economic power moves from West to East.