Sony recently canceled the December 25 premiere of The Interview, a film that depicts actors Seth Rogen and James Franco on a manic mission to assassinate North Korean leader, Kim Jong Un.
Plans to release the slapstick comedy were shelved after threats against moviegoers by anonymous hackers, believed to be the same group behind the massive Sony Pictures Entertainment hack earlier this month. The U.S. government now believes the hackers are affiliated with North Korea and perpetrated the hack in retaliation for the film.
Hollywood types expressed their displeasure at the news:
The fate of the film is up in the air. Will it go straight to DVD? Will it be picked up by Netflix, as Quartz's Jason Lynch hopes? Will it be released at a later date, once tensions have cooled? Or will it simply be shelved—forever?
If it's shelved, here's what you'll never get to see, beginning with the final scene (in GIF format), the death of Kim Jong Un which was leaked online Thursday by an anonymous source.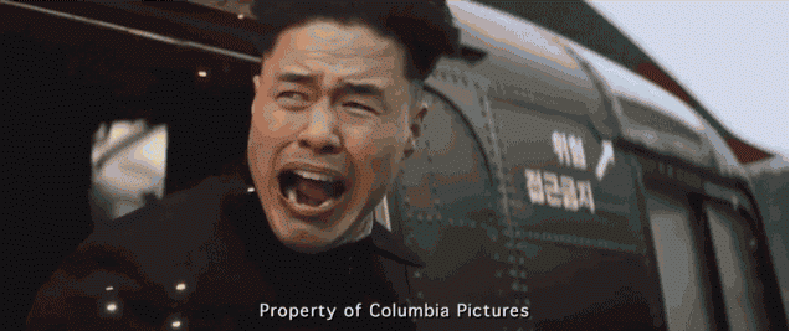 Few reviewers were given the chance to see the film before it was yanked by Sony. It currently has a 44 percent positive rating on Metacritic and has garnered mixed reviews.
"An evening of cinematic waterboarding awaits," quipped Variety.
"Considering the controversy and chaos Sony Pictures Studios is undergoing because of it, The Interview fails to live up to the hype," says USA Today.
Entertainment Weekly says it's "bereft of satiric zing."
Time Out New York, on the other hand, loved it: "The Interview confirms Rogen as the most ambitious mainstream comedian in Hollywood. In the unlikely event that it proves to be Sony's downfall, at least they'll go out with a bang." The film "shows off the Franco-Rogen duo as millennials' answer to Bob Hope and Bing Crosby," writes The New York Times's Dave Itzkoff.
What else do we know? There are four characters named "Hot Korean Girl," according to IMDB. James Franco sips margaritas and sings Katy Perry songs in a tank.
"We're not the first people to shed light on how crazy North Korea is, the myths that exist there and the oddities of the regime," Rogen told the Times in an interview about the film, published Thursday. An editor's note, appended to the interview, explained it was conducted before the threats were revealed and the movie's release was canceled. This week, a source told the New York Daily News the actors had been given a "giant 'round-the-clock bodyguard."