What Do You Say on Hanukkah? Prayers, Songs and Quotes for Festival of Lights
The festival of lights is upon us and that means it's time to brush up on what to say as we light our menorahs, some songs to play for our socially-limited gatherings and quotes to post on Instagram.
Judaism is a minority religion in the United States and those who don't have experience with the winter holiday may be confused as to how to appropriately commemorate it. Unlike the somber nature of Yom Kippur, Hanukkah is a celebration and it's perfectly acceptable to wish someone a "happy" Hanukkah.
Often called the "festival of lights," Hanukkah is a reminder of the oil that burned for eight days despite being enough for only one. It also commemorates the Maccabee's triumph over the Syrians and the rededication of the Temple.
The centerpiece of the holiday is the Menorah, a nine-pronged candelabra. On the first night, a person lights the "helper" candle usually located in the center, known as the shamash, and then one other candle. Before lighting the first candle, three prayers are said:
"Baruch atah, Adonai Eloheinu, Melech haolam, asher kid'shanu b'mitzvotav v'tsivanu l'hadlik ner shel Hanukkah."
Translation: "Blessed are You, Lord our G‑d, King of the universe, who has sanctified us with His commandments, and commanded us to kindle the Hanukkah light."
"Baruch atah, Adonai Eloheinu, Melech haolam, she-asah nisim laavoteinu v'imoteinu bayamim hahaeim baz'man hazeh."
Translation: "Blessed are You, Lord our G‑d, King of the universe, who performed miracles for our forefathers in those days, at this time."
"Baruch atah, Adonai Eloheinu, Melech haolam, shehecheyanu v'kiy'manu v'higiyanu laz'man hazeh."
Translation: "Blessed are You, Lord our G‑d, King of the universe, who has granted us life, sustained us, and enabled us to reach this occasion."
On all other nights, only the first two prayers are said.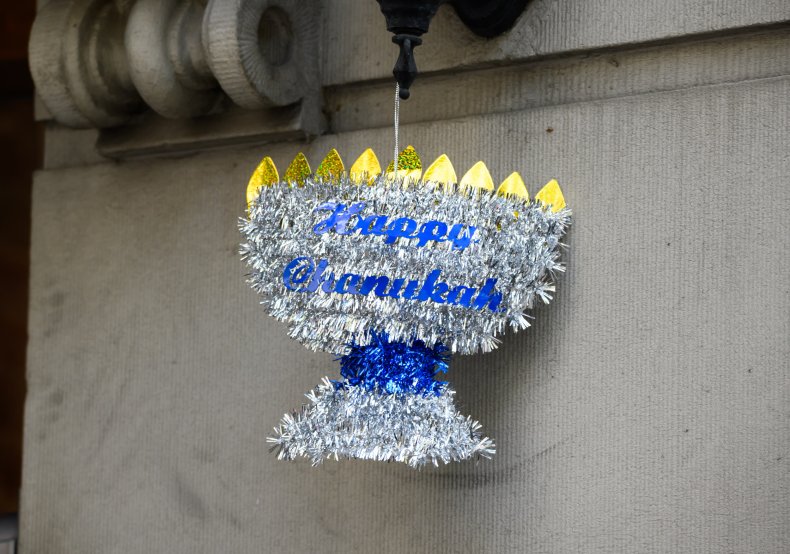 While Christmas may have swaths of albums and songs to choose from, Hanukkah music choices have significantly increased over the past few years. At the top of the list is one of the most well-known Hanukkah songs from Adam Sandler, aptly titled "The Chanukah Song."
Matisyahu also has a popular song titled, "Happy Hanukkah," and Jack Black will get people doing the hora with his song, "Oh Hanukkah."
If you're reading this and thinking, "Wait, Hanukkah? Chanukah? Is that a typo?" There's a song for that. "How do you spell for Channukkahh?" by The LeeVees will clear up that confusion for you (kind of). At the very least, it'll make you feel better if you've ever been confused as to how you spell the proper name for the festival of lights.
One of the most recent Hanukkah songs to come out is Daveed Diggs' "Puppy for Hanukkah," which was released on December 4. Diggs' mother is Jewish and he attended Hebrew School as a kid, according to the New York Daily News.
"I was honored when Disney Channel approached me to come up with a fresh Hanukkah tune and embraced the opportunity to share my love of music and a little piece of my culture," Diggs said in a statement.
Jon Stewart and Stephen Colbert also have a song called "Can I Interest You in Hannukah?" and if you're looking for a full album of Hanukkah songs, the Maccabeats, an Orthodox Jewish acapella group, is a great way to go.
This year, Hanukkah celebrations are likely to look different than other years and many families will opt to host individual celebrations. With fewer people to celebrate with in person, social media is one of the ways people can stay connected.
Looking for a quote for an Instagram caption? My personal favorite is "Happy Hanukkah, gin and tonica," an appropriate ode to Sandler's hit song. If you're hoping for a more inspirational sentiment, try one of the ones below:
"The proper response, as Hanukkah teaches, is not to curse the darkness but to light a candle." —Rabbi Irving Greenberg
"There is a crack in everything. That's how the light gets in."—Leonard Cohen
"A candle is a small thing. But one candle can light another. And see how its own light increases, as a candle, gives its flame to the other. You are such a light." —Rabbi Moshe Davis
"You're my light in this hardest time. Yes you bring peace to my mind." —Matisyahu
"We light candles in testament that faith makes miracles possible." —Rabbi Nachum Braverman.