What Do You Say on Yom Kippur? Prayers, Greetings and Kol Nidrei for Jewish Day of Atonement
While "merry" or "happy" before a holiday name would be an appropriate greeting on several occasions, on Yom Kippur it's customary to wish someone a good, easy or meaningful fast.
Yom Kippur, the most significant holiday in the Jewish religion, marks an end to the 10 days of repentance. It's a time for people to reflect on their sins and transgressions from the past year and ask God for forgiveness.
Jewish holidays align with a lunar calendar, not a solar one as secular holidays do, so the date of Yom Kippur varies each year. In 2019, Yom Kippur will begin at sundown on Tuesday and end at sundown on Wednesday.
The holiday stems from the time when Moses ascended Mount Sinai to pray to God for forgiveness for worshipping a golden calf after the exodus from Egypt, as detailed in the Torah. On the 10th day of the month Tishrei, Moses obtained forgiveness and came down from the mountain, forever marking the day as Yom Kippur, also known as the Day of Atonement, according to Chabad.
What Do You Say on Yom Kippur?
For those who aren't Jewish but want to acknowledge their friend's religion on Yom Kippur, it can be a bit stressful knowing what's appropriate to say. Do you wish them a happy Yom Kippur? What about telling them to have a good Yom Kippur? Or is there a better message to send them?
In an act of self-denial, on Yom Kippur, Jews fast, meaning they abstain from eating or drinking. Therefore, the most appropriate way to acknowledge Yom Kippur is to tell someone to have an easy, meaningful or good fast. For those who observe Yom Kippur but do not fast, it's common to say, "Good Yuntif" or "Yom Tov," which means "Have a good holy day," in Yiddish and Hebrew, respectively. Don't know if your friend is fasting? Go with "Yom Tov" or "Good Yuntif," and they likely won't be offended.
You could also go with "Gmar chatimah tova," a more traditional greeting, which roughly translated to English means "a good final sealing."
While some people will even abstain from brushing their teeth on Yom Kippur, not everyone fasts. Children under the age of nine and those who are ill or could be put in danger by fasting are not required to abstain from food and drink. Women who are pregnant or nursing may fast, but if it could be hazardous to their or their child's health, they may forego fasting or eat and drink in small quantities.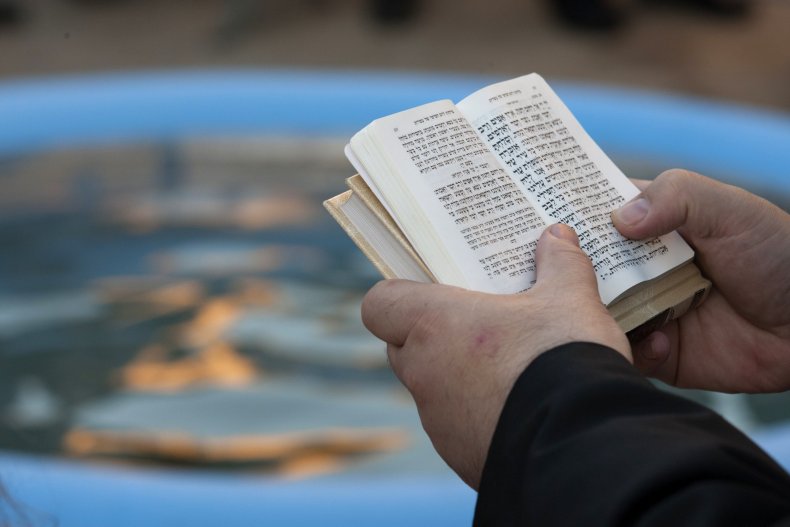 Yom Kippur Prayers and Blessings
Those observing Yom Kippur, regardless of their decision to fast, will be in synagogue for services during most of the holiday. There are five prayer services, identified by Chabad as:
Maariv, a Kol Nidrei service occurring on the eve of Yom Kippur
Shacharit, a morning prayer including a reading from Leviticus
Musaf, a description of the Yom Kippur Temple service
Minchah, reading of the Book of Jonah
Neilah, a "closing of the gates" service at sunset followed by a shofar blast
Following the somber nature of services, people return from synagogue to share a meal breaking the fast with friends and family. Since the people hosting the meal have likely been fasting for the past day, the menu often includes foods that can be prepared ahead of time and either served cold, at room temperature, or quickly reheated in the oven.
Kol Nidrei
One prayer said during Yom Kippur is the Kol Nidrei, which opens services on Yom Kippur eve. During Kol Nidrei, the Ark is opened, the Torah scrolls are taken out and then returned to the Ark, which is a receptacle or an ornamental closet of sorts that holds the Torah.
For those who aren't Jewish but recognize the name Kol Nidrei, it may be because there's a relatively popular composition by the same name. In the 1880s, composer Max Bruch created a cello and orchestra composition for Kol Nidrei after learning about the beauty of the prayer from Berlin's then-cantor-in-chief Abraham Lichtenstein. Given that it's a Jewish prayer, many people assume Bruch was Jewish, however, he was actually Protestant, according to WRTI.
Along with abstaining from food and drink, people observing Yom Kippur are not supposed to work. Although it's not a federal holiday, many schools will be closed on Yom Kippur to enable students and their families to better observe the holiday.