What Does the Blackwater Founder Know of Podesta Email Leak?
This article first appeared on Verdict.
Erik Prince, the founder of Blackwater, testifies on Thursday afternoon before the House Intelligence Committee in the Russia investigation. The committee will later release a transcript.
Prince's testimony will include questions about whether he served as a secret backchannel between the Trump transition team and Russia, in a manner that would avoid informing the US intelligence community. (CNN's Marshall Cohen and Liz Stark have a good summary of the reported meeting in the Seychelles and events and leading up to it.)
In the context of his testimony on Thursday and any potential involvement in Trump-Russia events, one item to recall from Prince's past statements is his apparent attempt to discredit the U.S. intelligence community's assessment of the Russian hack.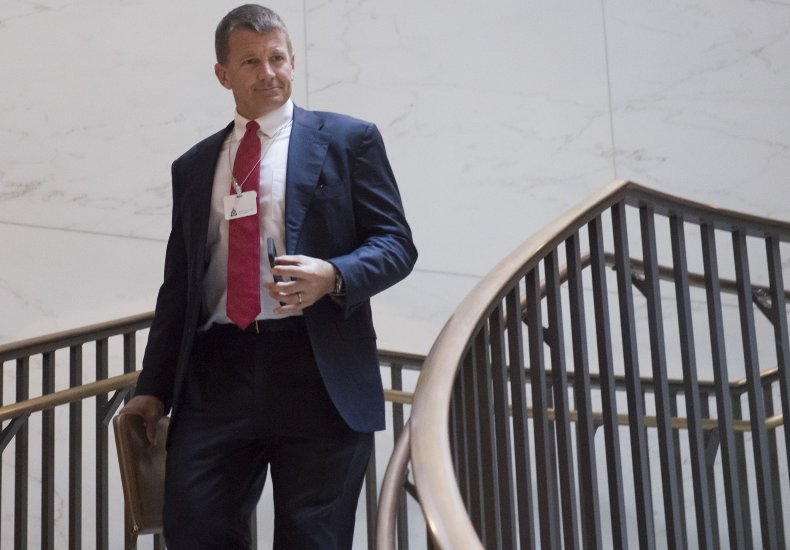 On Friday, October 7, 2017, the U.S. government released the following statement:
The U.S. Intelligence Community (USIC) is confident that the Russian Government directed the recent compromises of e-mails from US persons and institutions, including from US political organizations.

The recent disclosures of alleged hacked e-mails on sites like DCLeaks.com and WikiLeaks and by the Guccifer 2.0 online persona are consistent with the methods and motivations of Russian-directed efforts. These thefts and disclosures are intended to interfere with the US election process.

Such activity is not new to Moscow—the Russians have used similar tactics and techniques across Europe and Eurasia, for example, to influence public opinion there. We believe, based on the scope and sensitivity of these efforts, that only Russia's senior-most officials could have authorized these activities.

Joint Statement from the Department Of Homeland Security and Office of the Director of National Intelligence on Election Security , October 7, 2016
Five days later, Prince went on Breitbart radio to discuss these issues. Here was the first question he received, and his answer:
Question: I want to ask you about the Wikileaks dump and in particular the Left and Democratic Party's insistence that it's Russia whose done, who's behind all this. What do you make of that claim?

Erik Prince: Well the volume of Wikileaks, as the previously caller said, is large and likely growing, and of course the Left tries to chop away at its legitimacy by claiming it's the Russians. It's not. … John Podesta's emails, I can assure you, did not come from the Russians.

… So this idea that the Left, and even the administration, even some in the intelligence community, are now claiming it's all the Russians is entirely too cute and very, very thin on any kind of fact or legitimacy.
Ryan Goodman Co-Editor-in-Chief of Just Security, is the Anne and Joel Ehrenkranz Professor of Law at New York University School of Law, and Former Special Counsel to the General Counsel of the Department of Defense (2015-2016).