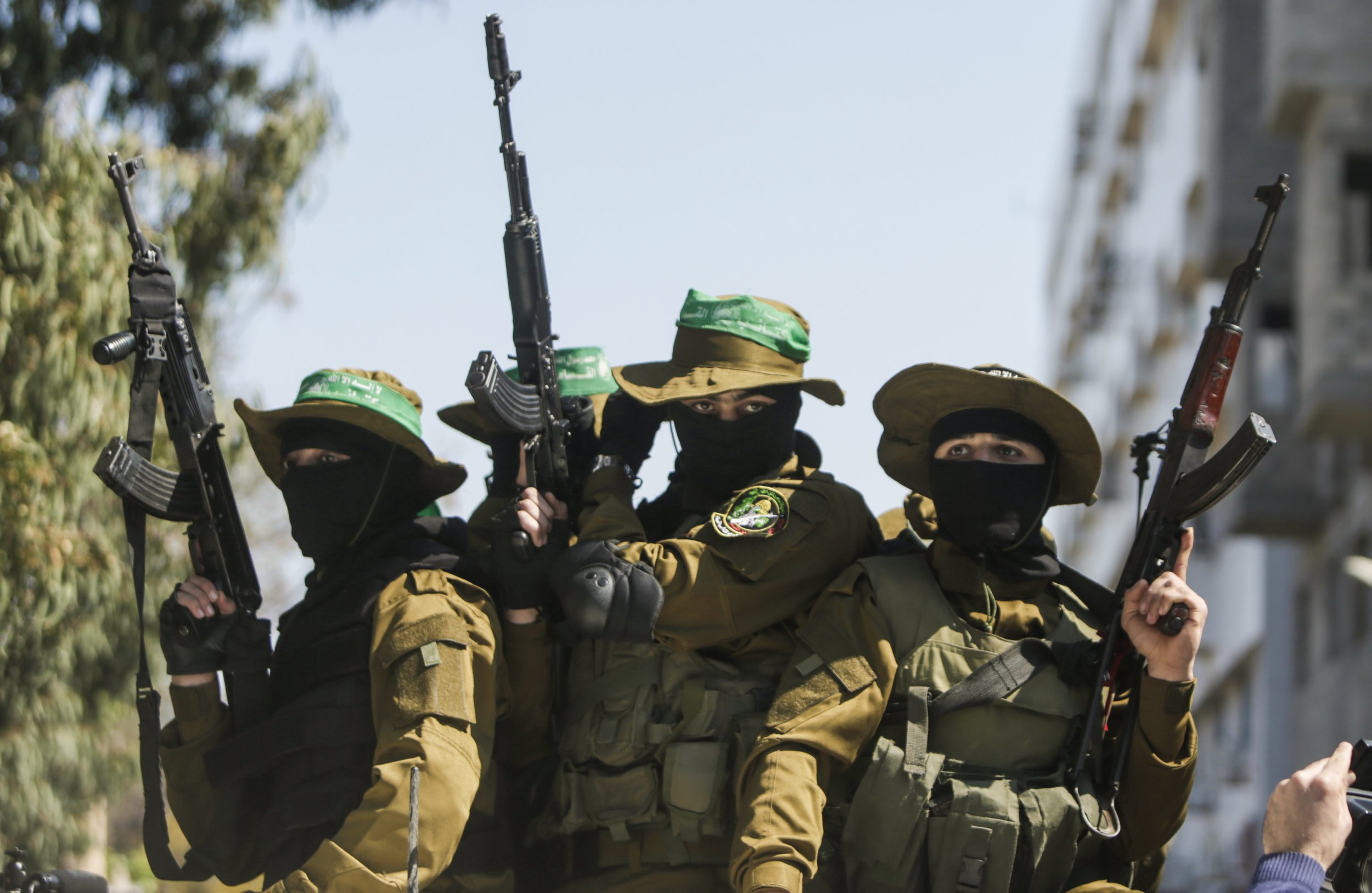 Updated | Ever since it seized the Gaza Strip from rivals Fatah in 2007, Palestinian militant group Hamas has been anything but predictable.
In April 2014, it had looked as if Hamas was finally ready to come in from the cold in a short-lived unity deal with Mahmoud Abbas's Fatah. But only a few weeks later Hamas picked a fight with Israel that descended into a third bloody conflict with the Israelis since 2008, leaving 2,100 Palestinians and 73 Israelis dead—and effectively torpedoing any deal with Fatah.
Then in May 2017, Hamas again surprised with a pledge to accept in principle a deal that would see a Palestinian state established on 1967 borders, paving the way for a role in peace talks—even if it retained its commitment to establishing a Palestinian state "from the river to the sea." But less than a month later, it appointed Yahya Sinwar as its new leader—an individual so extreme that he had opposed his own release from Israeli jail in a prisoner swap, rejecting outright any negotiations with the Israeli state.
Read More: Mahmoud Abbas's Legacy is More Elusive Than Ever
On Sunday, Hamas threw another curveball, announcing that it was dissolving its administration in Gaza and would agree to a general election that would end its decade-long feud with Abbas and Fatah. Fatah officials have cautiously welcomed the announcement, coming as it does just two days before Abbas is due to head to New York for what could well be the 82-year-old president's final United Nations visit.
Whether Abbas takes the bait—and the Palestinian Authority (P.A.) re-enters the strip from which it has been absent since 2007—remains to be seen. Abbas is 13 years into what was supposed to be a four-year term, and last time he called parliamentary elections in the Palestinian Territories (in 2006), Hamas not only took Gaza but won significant majorities in Nablus, Hebron and even Ramallah, a Fatah stronghold.
The reason for that defeat was not only Hamas's popularity (although that was a significant factor). As Amir Tibon and Grant Rumley explain in their 2017 book The Last Palestinian: The Rise and Reign of Mahmoud Abbas, Fatah botched the election campaign, managing to anger its base to the extent that many of its members ran as independents, splitting the vote and handing an easy majority to Hamas.
Abbas, who had won presidential elections a year earlier, initially tried to work with a Hamas-dominated parliament, but within a year Fatah had been violently ousted from the strip and Hamas all but banned in the West Bank.
Since then, Gaza has been sealed on three sides by Israel and on its southern border by Egypt. Hamas has had various suitors—including Egypt under Mohammed Morsi's Muslim Brotherhood and Qatar—but three wars and an ongoing blockade has made life all but impossible. Since early 2017, the P.A. has refused to pay Gaza's electricity bills, making life even more difficult for 1.4 million Palestinians in the strip.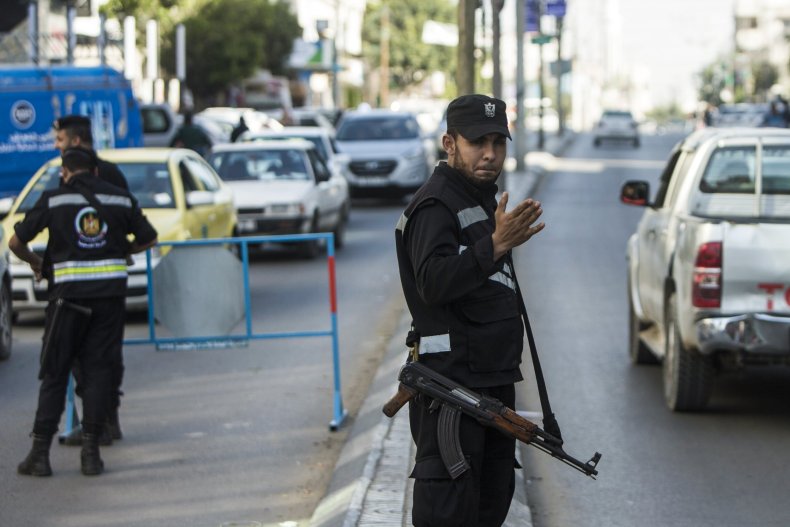 Meanwhile, Hamas has found itself challenged not only by Israel, Egypt and Fatah but by religious fanatics inside the strip inspired by the Islamic State militant group (ISIS). These militants, buoyed by an ISIS-inspired militancy in Sinai, have launched rockets into Israel, for which Hamas is usually blamed.
As life has gotten worse in Gaza, Hamas leader Sinwar has struck a more conciliatory pose with regard to Ramallah. Speaking earlier this year, he described the split between the West Bank and Gaza as "suicide for the Palestinian national liberation project" and signaled that Hamas was ready to disband its executive committee—a promise that Sinwar made good on this Sunday.
The ball is very much in Abbas's court ahead of next week's U.N. meeting, but re-engaging in Gaza is by no means simple. If Abbas consents to elections, Fatah could lose, provoking not only a political crisis for his party but for the Palestinian Territories as a whole. Hamas is considered a terrorist organization by the U.S., which may, as it did in 2006, slash funding to the P.A. should the Islamists join a Palestinian government.
"I think the timing indicates they're trying to corner Abbas," Rumley tells Newsweek.
"On paper, they've met all his demands and therefore he should suspend the sanctions. Each day that goes by where he doesn't will only play to Hamas' side on the street.
"He's also scheduled to meet Trump in a few days, and can't exactly ask for US commitment to the two state solution if he's just formed another agreement with a US-designated terror group. He'll play this slow and try to delay it, but Hamas has called his bluff and put him in a bind."
There are also personal reasons that Abbas may be wary of this latest offer. Palestinian journalist Daoud Kuttab, writing in al-Jazeera, points out that at the forefront of negotiations in Cairo between Hamas and Egypt that preempted the September 17 statement was Mohammed Dahlan, the former Fatah leader in Gaza and arch nemesis of Abbas since both men vied for influence under the late Yasser Arafat.
Dahlan, 55, is a favorite within the international community as successor to Abbas, particularly with Cairo and with the deep-pocketed United Arab Emirates (UAE). Although Dahlan is very much a persona non grata in Gaza since the 2007 war—when his Fatah militia was renowned for its violence towards Hamas rivals—the Islamists may be willing to overlook his role in a deal that helped boost its coffers with UAE funds.
Whether Abbas—whose hatred for Dahlan is vitriolic even by the standards of Palestinian politics—is willing to forgive and forget remains to be seen.
And then, of course, there is Israel. Israeli Prime Minister Benjamin Netanyahu criticized Abbas in April 2014 for his efforts towards reconciliation with Hamas, accusing him of preferring peace with a terrorist group over Israel. Indeed, the inclusion of Hamas at any senior level within a Palestinian negotiation team would likely be resisted by Israel—let alone by the U.S.
Whatever happens, Abbas and Netanyahu—whose performances in recent years at the U.N. have tended to be rather predictable and anti-climatic—have gone from optional viewing to must-sees at next week's summit in New York.
This article was amended on 18 September to make clear that Hamas in 2017 introduced a policy document that would see it accept a Palestinian state on 1967 borders, it did not amend its charter, as stated. The article also no longer refers to Tel Aviv as shorthand for the Israeli government, in adherence with Newsweek style.