What Does the Iran Deal Mean for Oil? Gas Prices to Increase if U.S. Leaves
President Donald Trump is set to announce Tuesday whether the U.S. will waive sanctions against Iran as part of landmark nuclear agreement or exit the deal, a move that experts and officials have said could have a huge impact on oil and gas prices.
Despite the International Atomic Energy Agency verifying Iran's adherence to the agreement, numerous reports anticipated Trump would not waive sanctions, plunging Iran's cautious re-entrance to the energy market into deep uncertainty, along with global prices carefully monitored by the Organization of the Petroleum Exporting Countries (OPEC), of which Iran is a member.
"Whatever extraneous factor that affects supply or demand, will no doubt send the market into disequilibrium, which is not in the interest of producers, or the interest of consumers," OPEC Secretary General Mohammad Barkindo told CNN Money in a recent interview.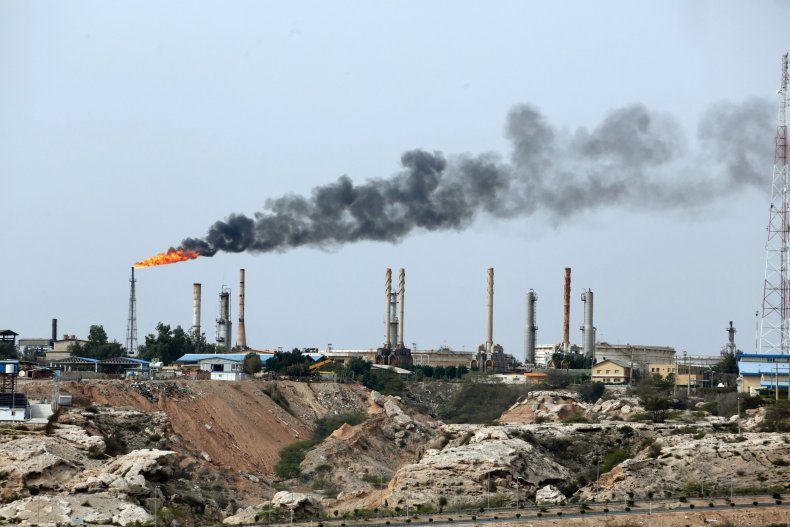 A report by Dubai-based bank Emirates NBD found that the world's oil supply could fall by some 800,000 barrels per day if Trump decides to slap new sanctions on Iran.
"Anything that's slightly less than that—by which I mean he may delay his decision, or he may not impose the same amount of sanctions previously—I think markets would react favorably to that, given that markets are currently pricing in probably the worst-case scenario," Tim Fox, head of research and chief economist at Emirates NBD, told CNBC's Capital Connection.
"If sanctions are reinstated, the U.S. could see potential impact on gas prices this summer, leading to the national average ranging between $2.80 and $3.00. Any immediate impact will be to crude oil prices, which will then trickle over to retail later this summer," Devin Gladden, a spokesman for the American Automobile Association, told Newsweek in a statement, noting that on Monday the West Texas Immediate—one of the benchmarks in oil pricing—hit its highest point this year at $70, but had since gone down to $68.68.
Wendy Sherman, who served as undersecretary of state under the Obama administration and helped craft the historic nuclear deal with Iran, said during a phone call Tuesday that new U.S. sanctions would likely amount to higher gas prices. She said the move may not only anger U.S. citizens but allies abroad who have urged Trump to stay in the nuclear agreement.
Related: What is the Iran nuclear deal and what will happen if the U.S. withdraws from it?
"I think the irony of what the president might do [is that it] will isolate the U.S., not isolate Iran," Sherman said during the call, which was hosted by the progressive National Security Action and Diplomacy Works coalitions.
Iran joined OPEC along with fellow founding members Iraq, Kuwait, Saudi Arabia, and Venezuela in 1960. The multinational organization was established seven years after a U.S.-backed coup ousted the democratically elected Iranian Prime Minister Mohammed Mossadegh, who advocated for nationalizing the country's oil industry—a move deeply opposed by the U.K. and other Western powers.
Tehran remained a part of OPEC after its pro-West monarchy was overthrown by the 1979 Islamic Revolution, but its economy was beset by an eight-year war with neighboring Iraq. U.S.-led sanctions rolled out in response to allegations that Iran was developing nuclear weapons. After the 2015 deal, Iran again began to rebuild its energy sector as OPEC spared it from production cuts imposed on other members in an effort to raise oil prices.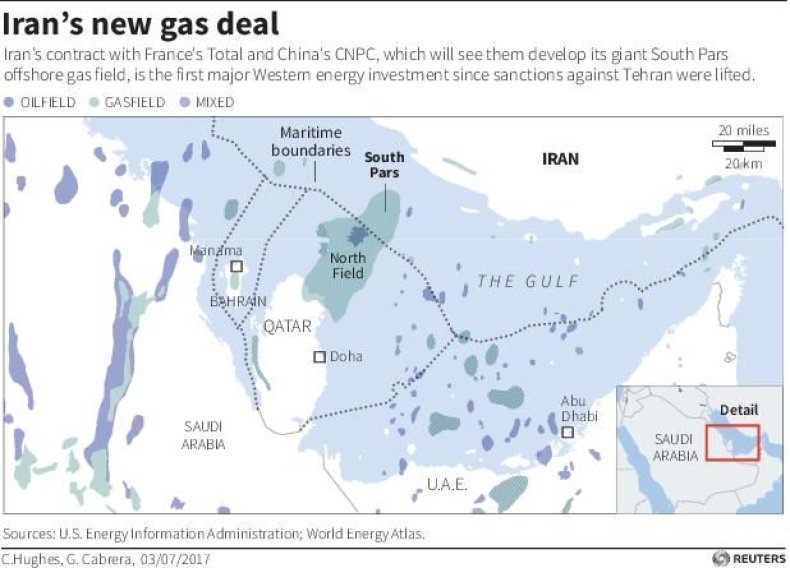 While many Western firms were slow to enter the lucrative Iranian market, French oil company Total signed a $5 billion, two-decade joint venture with Iran and China last July to develop the South Pars offshore natural gas field, located in the Persian Gulf, as the Associated Press reported Monday. Patrick Pouyanné, chairman and CEO of Total, said in February he personally appealed to Trump not to leave the deal, as it would hurt the aspirations of Iranian reformists who championed it, despite pushback from Iran's hard-line religious leadership.
Pouyanné told the Financial Times at the time that he remained "fully committed" to the project but said Total had "several ways to exit" if sanctions were reimposed. "If the framework, the rules of the game, change, of course we will have to re-evaluate," he added.
The deal, known officially as the Joint Comprehensive Plan of Action (JCPOA) was signed in 2015 under the administration of former President Barack Obama and saw Iran largely end its nuclear activities in exchange for billions of dollars' worth of sanctions relief. Iran and the deal's other signatories, including China, France, Germany, Russia and the U.K., continue to support the agreement, but Trump has said it did not go far enough to tackle Iran's backing for militias abroad and missile development at home.