What London's Orlando Vigil Meant to Me as a Gay Muslim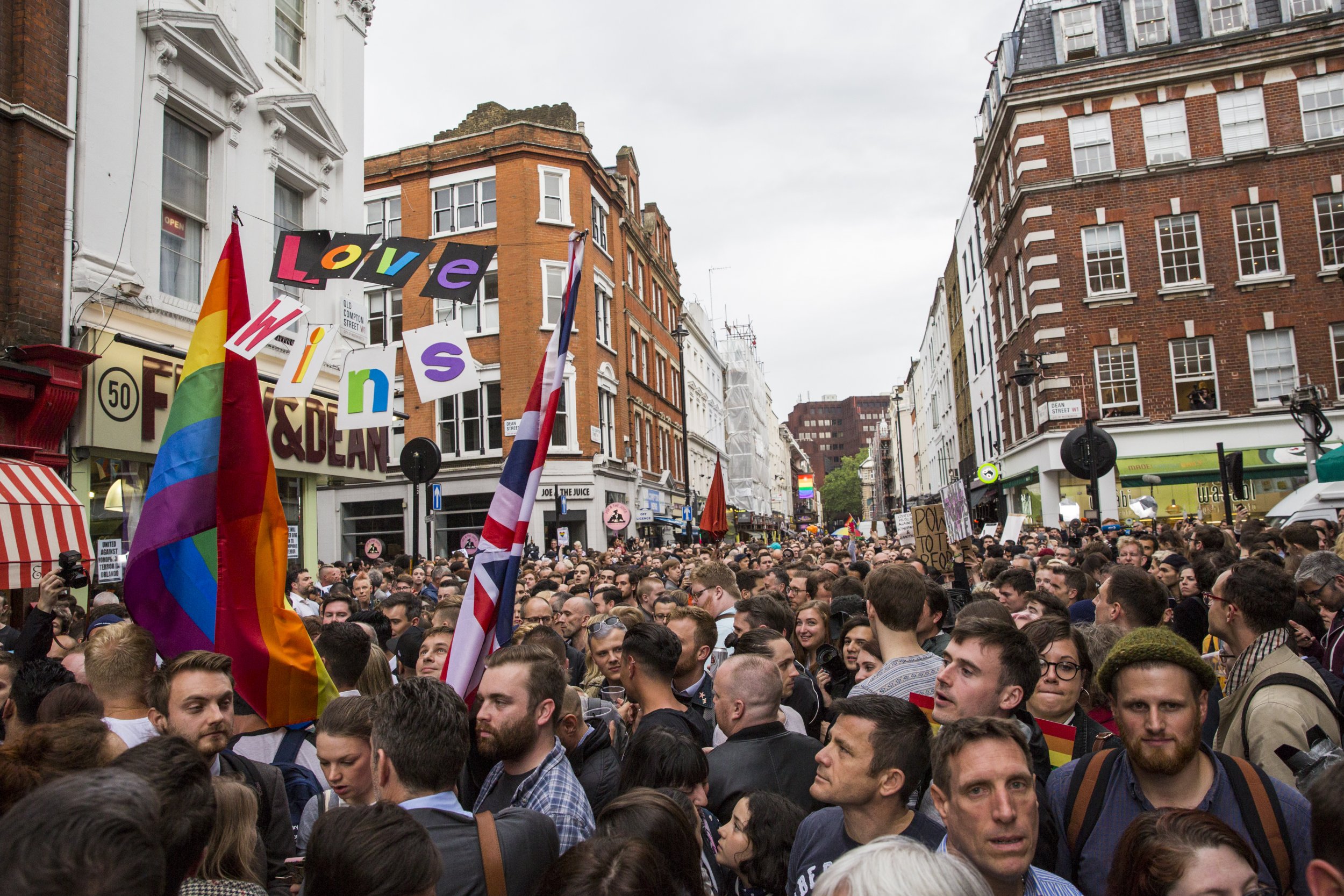 Walking up Old Compton Street is one of my favourite things to do in London. It's a beautiful street that I often push my bicycle along while watching the people watching others from the various cafes. I—like so many other members of the LGBT+ community—feel a sense of peace and belonging here. You just have to see the photos of it full during Pride events to realise that it's something special.
Walking along the street an hour before the vigil to remember those killed and injured in Orlando was a much more sombre experience. For a Monday it was reassuringly busy. You could tell that even 45 minutes before official 7pm start time that it was going to be incredibly packed and as I bumped into a number of friends on the streets it felt like we were finally pushing away from our keyboards, putting down the hashtags and getting out there to take a stand.
One of the first conversations I had was with Mark Runacus, an advertising planner, who told me what Old Compton Street meant to him. "You're probably not old enough to remember when the Admiral Duncan [a pub on the street] was bombed back in 1999. Two gay men and a pregnant woman were killed. There was a vigil back then too—you can feel echoes of that today."
His story is evidence of the fact that the LGBT+ community has always been persecuted, even in recent times. And when it attacked, it comes together in full force. The more people I spoke to, the more they told me that they view what happened in Orlando first and foremost as a homophobic attack and that as a group we have to come together to combat hatred.
I was surprised. Walking into the vigil I was nervous that it would be labelled predominantly as a terrorist attack. I was worried that a level of Islamophobia would be ignited within the LGBT+ community as a result. My assumptions were proven wrong. As I spoke to people about my experiences of being a gay Muslim there was no shock, surprise or even contempt for my identity.
Quite the opposite—from the Hindu playwright to a heterosexual Muslim ally, I found so many other people who just wanted to unite to speak up about their own experiences that focus on acceptance. They all knew that growing up in a certain framework—be it Muslim, Christian, Hindu or even atheist—isn't always going to gel easily with homosexuality.
Speaking up and speaking out isn't something that comes easy to Muslims, let alone gay Muslims. The suggestions about Omar Mateen's sexuality this morning confirm that. Tough conversations about sexuality and difference don't happen often, which means that the gay Muslim community—on the face of things at least—might barely exist. The community contains sham marriages, sad stories of suicides and a lot of sorrow and unhappiness from conversations that never happened. The stories I heard yesterday painted a different story.
Once the official vigil was over and the streets started to clear I got talking to a fellow gay Muslim. I was knocked for six (an English cricketing expression meaning I was overwhelmed) by the way he spoke about the shame he felt growing up, the homophobic rhetoric he'd heard just that morning about those in Pulse being 'perverts' and the anger he carried within him. His story is one of many, and places like Old Compton Street give him the platform and community to speak about what he's going through.
And that's really what we need to remember about Pulse. Pulse, like the places along Old Compton Street, provides a space for people to form friendships, bonds and relationships. To realise that we are not alone. That is what has been attacked and taken away. That's what really got to me while standing in silence. The places we frequent in London are those safe spaces to be whoever we want to be. If the places where this happens are taken away or threatened, there is so much at stake. Gentrification is coming for them; we can't let hatred take over too.
And so yesterday we united to not just protect these spaces but to protect the world from hate. Hate has the capability to spread quickly as it gathers momentum from various angles. I felt comforted by the fact that London showed—quite clearly—that no matter what background or faith you belong to, love can—and will—win.
Asad Dhunna is a LGBT member of Britain's Muslim community and a communications expert from London. He has written for The Independent, VICE and The Huffington Post.